ON-PROPERTY tours such as those organised during Beef 2018 next week are a great way for cattle producers to see best practice in action. But to what extent do they also pose a biosecurity risk for the host properties?
One producer who will be hosting a property tour in Southern Queensland next week said he is concerned about the ongoing mystery surrounding the cause and spread of pasture dieback in Central Queensland, and whether hosting a tour could pose a risk of transmission.
Graziers negotiate land access agreements with resource companies that require mining and gas vehicles to be washed down upon entry to minimise the risk of biosecurity problems being transported from other areas onto their property.
What biosecurity regimes are in place to minimise the risk of property tours spreading vehicle or people-borne disease or weed problems, the landholder asked in a question to Beef Central.
We forward that question on his behalf to the CEO of the Livestock Biosecurity Network, Duncan Rowland.
In reply Mr Rowland said the Beef Australia committee had "fully considered all aspects of minimising potential biosecurity risks and should be congratulated on their efforts".
The official tours conducted by Beef Australia themselves are overseen by an on-property tour committee which includes a biosecurity representative.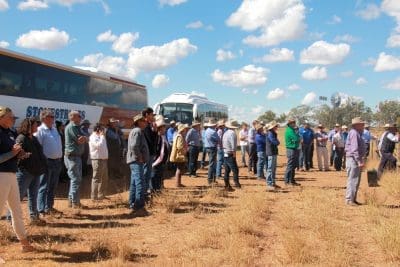 While the same buses will be used to carry property tour groups, the official Beef Australia tours will only visit one property per day, and the underside of the buses will be washed down between property visits.
Where property tours are being conducted by private touring companies that are not part of the official Beef Australia program, it will be up to the host producer to negotiate satisfactory vehicle wash down procedures with the tour company involved.
The use of biosecurity measures on farm, such as footbaths, are also up to the host producer themselves to undertake.
Mr Rowland said if a producer is allowing groups to leave the bus and walk through their paddocks, the advice would be to make sure footbaths are available when visitors first step off the bus, to allow them to clean muck off and disinfect boots.
"That can be as simple as an alkaline truck wash detergent in a foot bath," Mr Rowland said.
"Believe it or not the best sort of brush you can have to get rid of some soil on the soles is a $2 plastic toilet brush.
"It has a long handle so you don't have to bend down as far, put your foot on your knee and scrub the sole."
While some bugs were acid resistant, very few are alkaline resistant. An alkaline truck wash detergent was ideal for a footbath.
"I would get some plastic tubs from Bunnings, the black heavy duty ones you can step into, put some truck wash and water in the bottom, dip your foot in, have a clean side and a dirty side, and also, when they are leaving the property, doing exactly the same thing getting back on the bus.
"Do it back at the shed when they first arrive and again when they leave."
Mr Rowland said it was important to remember that managing biosecurity was all about minimising risk, and there was only so much a property owner could do.
"The issue with pasture dieback is that they still don't know what is causing it, they don't know what is involved, so it is a matter of applying everything you can do as a matter of course, but being aware that it is only risk minimisation, and that is what biosecurity practices are," he said.
Hosts of property tours aligned with the official Beef Australia program will also receive a full list of visitors to their property for traceability purposes.