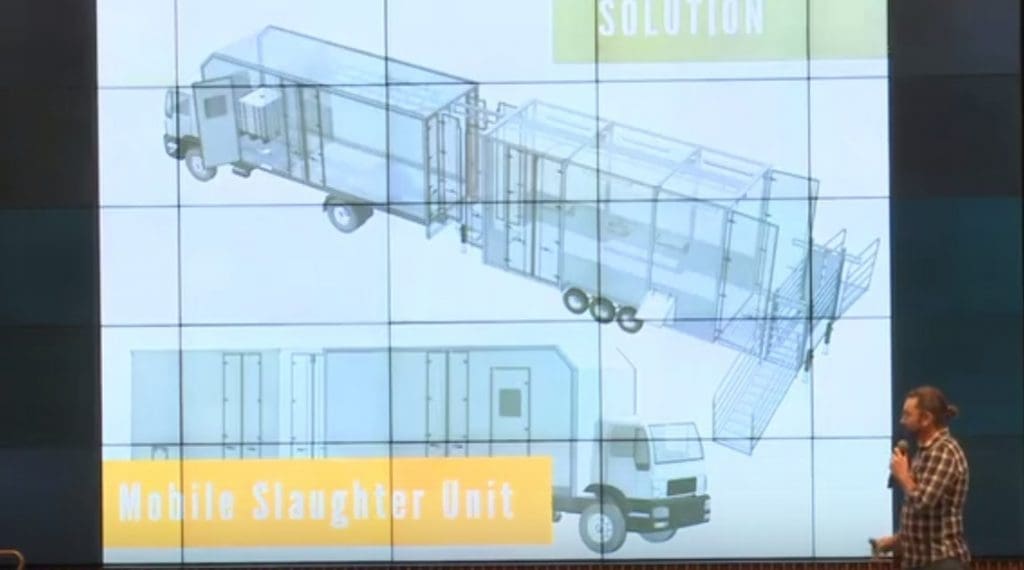 A BROAD spectrum of technologies ranging from virtual fencing systems to mobile abattoirs, logistics solutions, livestock monitoring and objective meat quality assessment systems will line-up as finalists in the 2018 ag-tech Pitch in the Paddock event to be held at Beef 2018 in Rockhampton next month.
The eight top finalists in the inaugural Pitch in the Paddock ag-accelerator event will pitch to a well-credentialed group of judges including business leaders, innovators and investors, in front of a live audience. Winners will take home fantastic cash prizes and incentive packages.
The event provides a forum for the next wave of industry leaders to cultivate their bright business ideas, exposing them to the entire red meat supply chain and local and international leaders.
Pitch in the Paddock is about providing the best of Australia's many entrepreneurial beef sector innovators with the opportunity to showcase their solution to the industry, receive constructive feedback, and access expert start-up coaching insights.
Here's a quick summary of this year's finalists, and what their innovation entails:
Chris Balazs, Farm Gate MSU
FarmGate MSU is developing a mobile on-farm beef processing system, based on transportable slaughter and chilling facilities (pictured above). The company says the project directly addresses the cattle producers' need for more accessible processing facilities, and the consumers demand for high animal welfare standards.
Farmgate says the system has added attraction of building provenance and traceability into beef products, by processing on-farm, and shortens the supply chain between farm of origin and the end customer.
As part of the concept FarmGate has developed what it describes as a new category of red meat,  identified by its brand name, Provenir, guaranteeing consumers full provenance and traceability, and identifying the property of origin and slaughter location on the label.
"It will become synonymous with highest animal welfare standards and excellent eating quality, while allowing farmers to move up the value chain," the company said.
FarmGate MSU won a previous ag tech pitch – click here to read Beef Central's article.
Nick Dyer, Fluxx
Alpha (Central Queensland) beef producer Nick Dyer has developed Fluxx, a peer-to-peer general freight web-based platform, which he describes as "Uber for freight."
The online platform pairs a freight requirement with a freight contractor/courier/peer moving in the same direction as the requirement, providing efficiency and avoiding empty back-loads. Click here to view a short video
Tim Cannon, Livestock Labs:
The Livestock Labs company has developed EmbediVet, an implantable health tracking device for livestock.
It says the technology reduces the need for costly herd-wide inspections and treatments.  Livestock Labs says the implant is safe, small, reliable and low cost. In addition livestock producers can use accompanying analytics to target treatments and best manage their herds, using metrics at the individual animal, herd or farm level. An app is used to display alerts and real-time data; provides health history; and predictive analysis on finishing. Features include fertility notifications, distress alerts and key health metrics. Data can be sent to the users' vet for remote diagnostics.
Jordy Kitchske, MEQ Probe
As the industry progresses towards objective measurement on meat quality and yield traits instead of using subjective manual grading, a range of potential technologies are emerging to fill the space. One of these prospects is MEQ Probe, a new technology which gives meat processors the ability to make objective measurements of the quality of meat while it is being processed.
MEQ probe is a new solution that utilises spectral analysis to determine the lean meat to intra-muscular fat ratio of beef on a carcase-by-carcase basis. Developers say the technology utilises a blend of physics plus chemistry plus biology, coupled with advanced proprietary data analysis algorithms and big-data sets to provide meat processors with an objective measure.
MEQ Probe provides real-time information to meat processors which can be shared up the supply chain (distributors, butchers, consumers) and down the supply chain (producers, lotfeeders), with details on the quality of their meat; thereby providing more transparency to the supply-chain and improving the overall quality of meat.
The MEQ Probe company will also host one of the many sponsored seminar sessions being held during Beef 2018. The company will showcase its new technology in a seminar from 2-3pm on Friday, 11 May in the James Lawrence pavilion.
Frank Wooten, Vence Corp:
California-based Vence Corp will pitch its virtual fencing solution, Vence, in Rockhampton.
Vence uses artificial intelligence to optimise rotational or strip grazing to maximise the yield of land. Virtual fences can be created anywhere on a property using the Vence smartphone or web app, employing static or dynamic boundaries to dictate grazing behaviour or specify protected areas, such as waterways. The app also provides real-time information about the well-being of animals, collected from sensors in the rugged lightweight devices worn by the livestock. Vence claims to reduce fencing and labour costs, and increases protein yield by optimising grazing. It also reduces animal management costs: with the touch of a finger, cattle can be rotated  through pastures or brought in for management treatments. No labour, ATVs, or dogs needed.
Fiona Soulsby, ProAgni:
ProAgni aims to provide solutions for securing global food supply through ethical and sustainable production that is good for human health, animal welfare and industry performance.  The company says its pro-biotic additives present an opportunity to accelerate the removal of ingested antibiotics from animal feed and optimise the productive potential of the red meat industry.
ProAgni is developing a dry form pro-biotic product which will be a stable in-feed additive. ProAgni says the pro-biotic presents an opportunity to accelerate the transition time from grass to grainfed production systems, from the industry average of 14-20 days down to 3-6 days. While the role of pro-biotics in enhancing the efficacy of grain feeding has long been understood, it has been commercially impractical as products are in wet form, have required cold chain handling, had a very short shelf-life, and manual drenching of individual animals was required.  The process being used by ProAgni removes the need for cold chain and allows the product to be simply added to existing feed additives and supplements.
Darryl Lyons, Watersave:
Watersave's mission is to reduce water and power consumption on farm. The system takes the guess-work out of irrigating by placing affordable LoRaWAN gateways, micro-weather stations, pump flow meters and soil moisture sensors on irrigated farms used for hay, forage or pasture.
By receiving real-time alerts the moment a paddock is sufficiently irrigated, managers can save up to 20pc in power and water costs, the company says. Solutions can be retrofitted to current irrigation systems, which reduces the cost of adoption.
"Most importantly, farmers are no longer at the mercy of telecommunications companies as our sensors do not require SIM cards to operate," Watersave says. A farmer purchases a single gateway, which can communicate with up to a thousand sensors as required. End-of-row sensors, flow meters and soil moisture probes are fitted in a single paddock. These sensors trigger an alert the moment a paddock is sufficiently irrigated.
Mico-weather stations record local data, which can be collated with various farming outputs. This data can be stored for a number years, assisting farmers and agronomists in their decision making. The collection of historical data also assists to identify trends. Data can be accessed via a mobile platform and easily plug into software platforms as required by the farmer.
Heidi Smith, All Quotes Direct
Mt Isa based All Quotes Direct has developed a simple online platform providing a free, secure and quick way to get a quote for farm inputs from fencing to sheds, steel requirements, stock handling equipment and water equipment.
The inaugural Pitch in the Paddock had attracted a range of phenomenal ideas, Beef Australia 2018 chief executive Denis Cox said.
"This event is being run for the first time at Beef Australia 2018, and judging by the responses and talent, it will be the first of many competitions to come, and will also set a huge benchmark for future years," he said.
It  will enable the best and the brightest entrepreneurial minds in the industry to come together and pitch their ideas to a panel of five successful business owners and operators who are well respected in their own fields.
"This is a chance to discover new talent and to make a real difference to the industry and to our finalists," Mr Cox said.
Judges include:
Ben van Delden, head of ag-tech and head of markets, KPMG Australia. "I believe that innovation and evolution have much in common; breakthroughs happen right at the edge, closest to the problem that needs a solution," he said.
Glen Richards, veterinary physician, entrepreneur and investor who is also a 'Shark' on the Shark Tank TV show. "Food security and food technology is an interesting space to invest. I'm looking forward to hearing about innovations in the beef industry."
Markus Kahlbetzer, founder & CEO of BridgeLane Group
Sarah Nolet, founder and CEO, AgThentic
Susan McDonald, managing director, Super Butcher
When: Wednesday 9 May, 2pm-5pm
Where: Rockhampton State High School Sports Complex, Rockhampton. Click here for additional information, www.beefaustralia.com.au.
Tickets: Tickets ($20) are now on sale, or can be bought at the gate.