SOME of the best-known celebrity chefs from across Asia, Europe, the Middle East and Australia are already booked for presentations at next May's Beef 2018 industry Expo in Rockhampton.
Latest to join the smorgasbord of exceptional talent presenting at Australia's premier beef industry event is Britain's internationally renowned Michelin-starred chef, Tom Kerridge.
Kerridge is a household name on popular British TV cooking and foodie shows, mostly airing on BBC 2.
He has worked at a number of top British restaurants, including the Michelin-starred Rhodes in the Square and Adlards. He opened the gastropub The Hand & Flowers in 2005 and within a year gained his first Michelin star, adding a second in 2012 – the first time a gastropub had done so.
Kerridge describes himself as "not a Michelin-star kind of guy", which influenced his choice to open his gastropub.
He will join a stable of high-profile chefs already enlisted for Beef Australia 2018's Celebrity Chef Program. In May, Beef 2018 announced that one of Japan's famous 'Iron Chefs', Hiroyuki Sakai, will deliver cooking presentations during next year's event. Iron Chef has gained cult status worldwide for its quirky approach, celebrating Japan's unique food culture.
From the Middle East, MLA's chef ambassador Tarek Ibrahim will also deliver presentations in Rocky next year.
Brisbane's Matt Golinski will also be returning to the stage as one of the Australia chefs in 2018 after his first successful appearance at Beef Australia 2015.
Golinski is a highly-regarded professional chef with a passion for creating cuisine using fresh, seasonal and local ingredients. Well known as one of the original team members of the popular 'Ready Steady Cook' television series, he has worked as executive chef at some of Queensland's leading restaurants and founded his own catering company.
More chefs will be added to the Celebrity Chef lineup as the Beef 2018 event draws closer.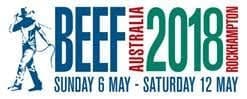 Source: Beef 2018