ELEVEN months, twenty-six days. The countdown to the Beef Australia 2018 industry event in Rockhampton is now well and truly on, as the awareness about the next national beef expo got underway last night with an official launch in Brisbane.
Planning is now in full-steam for the next three-yearly industry expo, and organisers promised last night's gathering that the 2018 event will be taken to the 'next level.'
First held as a 'one-off' beef industry gathering as part of the nation's bicentennial celebrations in 1988, the Beef Australia expo proved so popular that it has become the Australian beef industry's single largest gathering point.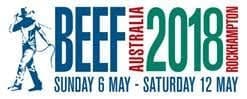 This, the eleventh week-long event, will be held from 6-12 May 2018. Principal event partners include the Federal Government, which has committed $3 million towards the expo, Meat & Livestock Australia, the Queensland Government and the Rockhampton Regional Council.
The broad palate of events next year will cover everything from stud and commercial cattle shows on a vast scale, carcase competitions, a five-day information-packed conference and seminar program covering every conceivable industry topic, to enormous commercial trade displays, property tours, food and entertainment.
Event chairman Blair Angus promised guests attending last night's Brisbane launch that the 2018 event would be bigger and better than ever.
"The Expos continue to grow, now being recognised as a world-class cattle and beef industry event, a celebration of all facets of the Australian beef industry," he said.
The last event in 2015 attracted 90,000 domestic and international visitors over seven days, and prospects are strong that next year's event will crack the magic 100,000 in attendance. The last event included an overseas contingent of more than 1100 international delegates from 40 countries across Asia, North and South America, Europe, Africa and the Pacific.
"The Expo provides outstanding benefits to the Australian beef industry, and plays a pivotal role in strengthening beef and live export ties," Mr Angus said last night.
"Beef 2018 is a platform to showcase all aspects of the industry, from informing and educating producers about the latest developments in R&D in production techniques, to engaging with consumers, all around the world, about the great taste and nutritional value of Australian beef."
"Next year's program will be an exciting opportunity to advance all levels of industry – producers, processors, lotfeeders, live exporters, retailers and food service personnel, and industry bodies.
The event promises to facilitate new trade and export opportunities by exposing the local supply chain to the international industry leaders; it will feature more than 4500 cattle from 30 breeds; a trade fair promoting more than 500 businesses; a symposium, seminars and property tours to deliver new research information to producers; and restaurants, celebrity chefs and cooking demonstrations for visitors to appreciate the quality and flavour of Australian beef.
Representing the event's principal commercial partners, MLA's Richard Norton said Australia's beef products had the best reputation in the world – be it for taste, shelf-life or integrity and traceability. "And that's why the Beef Australia event is so important for MLA. This is the event for Australian beef, and it is MLA's absolute pleasure to be involved," he said.
Japan's Iron chef to pay a visit
Food is always a strong feature at the Beef Australia Expos, and next year's event will be headlined by a visit by famous Japanese chef Hiroyuki Sakai, who features in the popular Iron Chef TV program.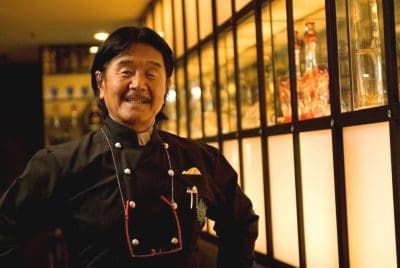 Outside of Iron Chef, Chef Sakai (pictured) is the owner and head chef of the restaurant La Rochelle in Tokyo's upmarket Shibuya district.
"We're delighted to secure the Iron Chef for Beef Australia 2018," Beef Australia CEO Denis Cox said.
"Chef Sakai is well-known around the world and we look forward to him working his magic on some beautiful Australian beef during his visit."
"I'm really looking forward to attending Beef Australia, I love cooking with Australian Beef very much," Iron Chef Sakai said.
Beef 2018 chairman Blair Angus said Australian beef had been exposed to more than a billion people through the Celebrity Chef program at the 2015 event, through the chefs' own networks and programs in their home countries.
Respected Australian chefs will also be well represented at next year's expo as part of the Celebrity Chef program, performing demonstrations and tastings using a wide variety of beef cuts.
Matt Golinski will return for his second Beef Australia event, joined by Tarek Ibrahim from the Middle East and MLA's executive chef Sam Burke. Alistair Mcleod is also returning to showcase his skills, and Shane Bailey will be back on board as the Celebrity Chef coordinator, and adding his own flavours to the expo.
More previews on Beef 2018 and its wide range of activities in coming months.
Click here to access the Beef 2018 website, which contains details about membership, sponsorship, program details, opportunities for international visitors, accommodation and other key information.