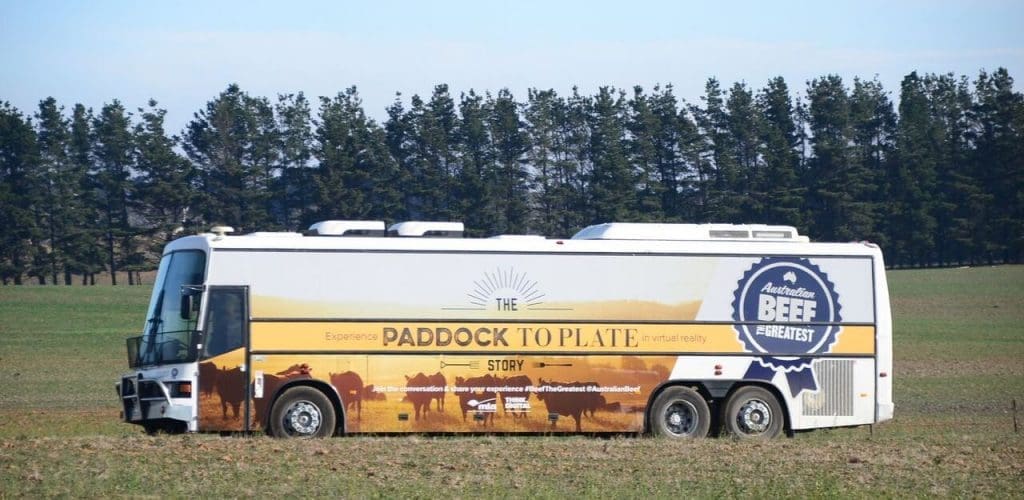 THE Australian beef industry's stunning virtual reality Paddock to Plate Story will take to the road on a tour of schools and local communities along the east coast of NSW and Queensland on the way to Beef Australia 2018 in Rockhampton.
Meat & Livestock Australia's immersive 360 degree virtual reality tour caters to consumers of beef by telling them the story of Australian beef production and underpins why Australia produces the greatest beef in the world. The footage takes them into the world of Australian cattle farming, transportation, feedlots, processing and end markets with the consumer.
Current research indicates there are now about 20 percent fewer Australians from urban centres visiting cattle or sheep farms annually compared to six years ago. This, coupled with a rise in consumer interest in the provenance of food, has led MLA to deliver an innovative new way to engage the broader community about how red meat is produced.
MLA chief marketing & communications officer, Lisa Sharp, said the Paddock to Plate Story was an engaging, fact-based tool that addresses growing consumer interest in how their food is produced.
"Immersive and creative videos such as the Paddock to Plate Story help educate and engage consumers by addressing their growing interest in sustainability, meat quality, traceability and animal welfare practices within our industry," Ms Sharp said.
"Ultimately, this is about showcasing Australian beef as the greatest meat on earth.
"This unique experience puts students and consumers at the centre of the production journey and showcases the dedicated and passionate Australian beef producers, the process of producing beef and the quality product they consume."
As part of the tour, the Paddock to Plate Story will be travelling up the east coast of NSW and Queensland under the banner of 'Australian Beef the Greatest'. Stops will include the Gold Coast, Brisbane, the Sunshine Coast and Bundaberg before setting up at Beef Australia 2018 in Rockhampton, where it will be showing daily. Following this, the bus will travel back down the coast, visiting schools and communities in NSW along the way.
To find out more about the Paddock to Plate Story and the Australian beef supply chain, visit AustralianBeef.com.au and @AustralianBeef on Twitter. Join the conversation online using #BeefTheGreatest.
Source: MLA