Animal monitoring new frontier for Allflex
Elders adds to sales suite with Virtual Reality 360
"Revolutionary" livestock management tool for Beef 2018 launch
eShepherd virtual fencing in Beef 2018 showcase
Weighing technology has WOW factor for graziers
Droughmasters to launch virtual reality muster
Producers embrace technology that gets results
RAPID advances being seen in ag technology is one of the defining characteristics of next week's Beef 2018 national industry event in Rockhampton.
We've pulled together this series of briefs on some of the more notable examples to be seen among trade displays and seminars….
Animal monitoring new frontier for Allflex
Beef producers attending Beef 2018 will get a 'sneak peek' at an exciting new piece of animal monitoring technology which is already being taken up within the dairy industry, and will soon be released for beef cattle.
World-leading animal identification company Allflex is placing increasing emphasis within its business on developing and commercialising new technologies designed to monitor animal performance – not just provide identification. That strategy includes a corporate name change, from Allflex to a new name – Antelliq.
Allflex calls this new product field 'Animal Intelligence,' pioneering animal monitoring solutions and delivering smart data products and services.
Among the company's new ground-breaking technology, the new SCR HRLDn tag monitoring technology is already helping dairy farmers improve herd performance and day-to-day farm management.
Cows wear collars or ear tags containing small "Internet of Things" (IoT) chips, that store and transmit data and statistics in real-time, such as heat detection, rumination and health monitoring, allowing farmers to better monitor their herds.
SCR tags help reducing the demand on labour and costs associated with heat detection during mating, improving milk production and year-round health of cows, especially at calving, and allowing dairy farmers to fine-tune pasture-based and total mixed ration nutrition and transition onto other feed stuffs, like never before.
There are more opportunities just around the corner for local farmers, coming with the release of even newer technology, that has been introduced in North America and Europe and will be coming to Australia soon. Allflex's SenseTime solution and eSense Flex ear tags have already gained substantial dairy industry recognition, having been named as winners in the 2017 Dairy Herd Management Innovation Awards at the World Dairy Expo Edition.
SenseTime is a sophisticated, modular cow monitoring solution that delivers actionable information on the reproductive, health, nutritional and wellbeing status of individual cows and groups. With SenseTime, dairy farmers can make data-driven decisions for maximised productivity.
The eSense Flex ear tag is designed for long-lasting performance in diverse farm environments and temperatures. It is made of a UV-resistant material for high durability, and has a special shock-absorbing head that increases resilience. The eSense tag transmits actionable information back to the SenseTime system. Along with the cSense Flex neck tag, which also works with the SenseTime system, the eSense Flex tag is the newest and most advanced monitoring ear tag on the market.
"Individual cow monitoring is changing the face of Australian dairy farming as we know it," said Shane McManaway, Allflex CEO Asia Pacific. It will allow farms of every size to benefit from this advancing technology, helping them to improve their management, productivity and outcomes."
Algorithms allowing Allflex's monitoring system to be used in beef herd applications are currently under development.
The technology will be on display on Allflex's stand at Beef 2018, as part of the Elders and Landmark displays.
Elders adds to sales suite with VR 360
Virtual Reality (VR 360) technology is well known throughout many industries, and it's about to receive a boost in agriculture, with Elders rolling the technology out nationally and providing a new dimension to marketing livestock, clearing sales and real estate.
The VR 360 technology enables potential purchasers to immerse themselves in a virtual reality experience and view products from all angles. It can be viewed through a headset or on mobile, tablet and desktop. Proving its popularity, the technology has already assisted in marketing bull sales and clearing sales, including Ascot's recent Charolais and Angus Bull Sale in Queensland. The VR 360 videos received more than 11,000 views in the lead up to the sale.
Elders national livestock manager Chris Howie views the initiative as Elders "investing in the future of the industry."
"We're connecting buyers and sellers without them having to leave their own properties. With a 360 view, they can inspect the aspects most important to them, even when they're thousands of miles away." "The technology gives buyers more confidence and control, and gives sellers access to a larger pool of buyers. It enables the buyer to view what they want to see, not what the agent or vendor thinks looks right."
Elders Rural Real Estate manager SA/NT, Phil Keen has also trialled the technology with real estate listings. "It provides a whole new dimension of property marketing and brings the country to life. We can drive through paddocks with the camera on the back of the ute and buyers get a real sense of being on the property without the travel. They can explore all corners of the property from the comfort of their own home."
Elders will showcase the technology at Beef Australia, 6 – 12 May 2018 in Rockhampton.
"Revolutionary" livestock management tool for Beef 2018 launch
Cattle producers will have the opportunity to implement a new automated livestock management system on their own properties when CQUniversity's DataMuster platform is launched at Beef 2018 next week.
After seven years of research and development as well as extensive field testing, the new DataMuster system is ready to assist producers in conquering their mustering, monitoring and management challenges.
One of the researchers behind the new technology, CQUniversity Professor of Agriculture Dave Swain said DataMuster would give producers the opportunity to cut down on labour costs and enhance herd management decisions by monitoring cattle weight and suitability for market, detecting when a cow had calved and recording genetic data.
"The challenge facing the North Australian beef industry remains the same as it did a century ago: identifying superior genetics which can thrive in harsh and remote environmental conditions, with limited human intervention," Prof Swain explained.
DataMuster seamlessly integrates multiple strands of technology into a single monitoring and reporting platform. The animal is scanned and the information on the animal's weight and the time it accessed water is then sent from the paddock-based sensor system to DataMuster, enabling cattle producers to record performance and genetic information on their animals without the need for mustering and conventional weighing.
Prof Swain said DataMuster provided modern solutions to age-old problems.
"With a fully-integrated DataMuster system, graziers can monitor their property, each of their animals and even the amount of water in remote troughs, all in real-time from the homestead," he said.
Producers can see DataMuster in action at CQUniversity's Belmont Property Tour on Wednesday 9 May and in-turn express their interest in participating.
The app and its capabilities will also be on show throughout Beef Week at the CQUni display, site P4 on Porterhouse Promenade.
eShepherd virtual fencing in Beef 2018 showcase
Former deputy prime minister Tim Fischer will officially launch Agersens 'Exploring the frontiers of virtual fencing', at Beef 2018 in Rockhampton next week.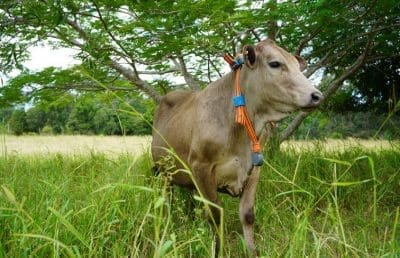 Agersens' eShepherd is a world-first GPS-enabled smart-collar system for livestock, enabling producers to create 'virtual fences' and remotely fence, muster and monitor cattle 24 hours a day.
The eShepherd system enables producers to become more productive, profitable and sustainable by:
Cutting labour and fencing costs while creating and moving fences as required
Automating rotational, cell and strip grazing on scale
Avoiding overgrazing and optimising pasture utilisation
Reducing the cost of large-scale mustering and recovering collared animals
Minimising mustering weight loss and matching transport needs to stock numbers
Providing accurate and timely inventory control and 24/7 cattle monitoring
Providing wildlife friendly, flood and fire-proof fencing to avoid cattle pollution of rivers
Managing integrated livestock, grain cropping operations and grazing of forage crops
Monitoring animal health and wellbeing, and minimising mustering and handling injuries and
Providing proof of provenance of beef and dairy produce to both domestic and international consumer markets
EShepherd collars use patented CSIRO animal training and behaviour technology. The collars communicate with a base-station installed on the property, which in turn communicates with a smartphone, tablet or laptop. Producers can view all virtual fences and animals with an eShepherd collar on a device in real time, with the swipe of a finger.
Agersens will be located at Beef 2018 Site G270 from Monday to Friday 7-11 May.
Weighing technology has WOW factor for graziers
The Queensland Government is upscaling a trial of new technology to improve livestock management by remotely weighing cattle.
Department of Agriculture and Fisheries Beef extension officer Karl McKellar said two new Walk Over Weighing (WOW) units would soon be installed at the Wambiana Grazing Trial near Charters Towers.
"Precision technology such as these WOW units will allow cattle weights to be monitored in real time," Mr McKellar said.
"Changes in diet quality will also be closely followed and linked to satellite based measurements of pasture quality and quantity.
"Online support tools to assist producers to respond faster to changing seasonal conditions and in making decisions about if and when cattle should be marketed, supplemented or moved will then be developed in partnership with researchers from the Department of Environment and Science.
The new WOW units will complement work being done around Queensland. The Department currently operates a WOW unit at the Spyglass Research Facility north of Charters Towers and DAF extension officers in other parts of the state are working with producers who own WOW units.
Mr McKellar said the world-class WOW technology presented opportunities for producers to more efficiently run their business.
"Live weight is a critical measure for beef producers, however it's difficult to collect without the cost of handling animals," Mr McKellar said. "Walk Over Weighing is less labour intensive as weight is recorded automatically when cattle enter or leave a controlled water point.
Data is sent to a server via satellite or mobile phone where algorithms ensure the weight is valid to record. The information gathered can be used in a variety of ways to monitor livestock performance and improve management decisions. Examples include monitoring heifer growth to ensure they are in the best condition before mating, determining when steer growth plateaus and supplementation is required and knowing how many animals are in the different weight ranges when planning sales and filling contracts.
More information about Walk Over Weighing and other ways the Department of Agriculture supports Queensland's beef industry will be showcased at the Beef 2018 event in Rockhampton. Representatives from the Department's beef extension and biosecurity teams will be at the Sidney Kidman Pavilion to provide support and extension advice to Queensland livestock producers.
Droughmaster Australia to launch virtual reality muster
Droughmaster Australia has created a virtual reality experience filmed in the perspective of a viewer, and will showcase the technology at Beef 2018 next week.
The society teamed with Think Digital owner and virtual reality expert Tim Gentle to create two virtual reality experiences on the properties of Droughtmaster breeders, Roger and Jenny Underwood, Pine Hills, Wallumbilla, and the McConnel family, Mt Brisbane, Esk.
The five minute experiences will see the viewer enjoy a day in the life of a Droughtmaster breeder, including helping to weigh sale bulls and muster cattle, all from a realistic perspective.
Mr Gentle attached a 360 camera to a cap, allowing the virtual experience to be filmed from a human's viewpoint.
"Instead of feeling like you are watching it, you are in it," he said.
"Everything has been taken from the point-of-view of the person. When they put the cap on, they become part of the experience."
It is hoped the 'Virtual Reality Droughtmaster Cap' could become a regular fixture and be used to showcase Droughtmaster events including the viewpoint of the auctioneer's box during the Droughtmaster National Bull Sale in Rockhampton.
Droughtmaster Australia chief executive Neil Donaldson said the virtual reality experiences demonstrated that the society was embracing the latest technology.
"The fact that Elders are looking at ways of utilising the virtual reality for bull sales, we are following in the same vein of adopting and trialling new technology, to provide the best marketing opportunities for our members," he said.
The Droughtmaster virtual reality experiences will be available for viewing at the breed's Beef Australia site.
Source: https://www.droughtmaster.com.au/
Producers embrace technology that gets results
Livestock producers should embrace emerging technology to increase their data collection and analysis capabilities to allow them to avoid risk and improve decision-making.
That's the message from Mark Morton, CEO of farm technology firm Practical Systems, which is celebrating its 25th anniversary of fostering industry partnerships and improving outcomes for customers.
"Technology enables producers to access productivity improvements that were not previously available. With the range of technology on the market, we now have the information to assess the value of the technology and, more importantly, assess the outcomes from using it," he said.
According to Mr Morton, successful livestock producers embrace new skills and thinking.
"Learning and building business systems should be ongoing. Technology is constantly improving and each new product requires an additional skill-set and adjustments to management processes," he said.
Mr Morton said Practical Systems formed symbiotic partnerships with its customers, with farmers providing advice on software improvements and Practical Systems providing advice on management.
"Our team has direct experience in farm and livestock management, so we are in a real position of knowledge to advise customers on technology that can add value to their operations. We see ourselves as our customers' 'technology partner', prepared to contribute to their business with relevant advice and guidance," he said.
Practical Systems also develops partnerships with other farm technology manufacturers to ensure their platform is compatible with useful tools on the market. This includes ensuring their platform can 'talk' to data collection technology resulting in close relationships with Gallagher, Trutest, Allflex, along with technology, breed, and genetics organisations.
"We all have to produce industrial technology that is suitable in extreme conditions. It has got to be able to work in dusty cattle yards in western Queensland in 45-degree heat. But more importantly, it has to seamlessly integrate with the environment in which our customers operate," Mr Morton said.
An example of these strategic relationships has seen Practical Systems become a distribution and integration partner with agri-tech startup, Automed. The Automed system allows producers to deliver injectable, pour-on, intranasal, and oral medications quickly and accurately. This data is recorded in Stockbook against each animal and can then be used to analyse treatment costs and improve animal traceability.
"The automed technology is important because it gives a producer a simple tool to facilitate weight-based animal treatments. There's an immediate economic saving in dosing to an animal's needs, but there are also animal welfare considerations," Mr Morton said.
"Under-dosing can reduce the efficacy of the product or contribute to parasite resistance. This partnership helps to reduce that risk and improve animal outcomes. Data is crucial for making on-the-spot decisions, but more importantly, it allows for longer-term breeding, management, and economic decision-making."
Practical Systems will be at stand 19-20P at Beef 2018 in Rockhampton.