NBN Co has initiated an agriculture development strategy which aims to address connectivity needs of farmers and supporter greater efficiency of agricultural productivity.
It follows the launch today of NBN Co's Connecting Australia research report, which identifies a range of benefits to the agricultural sector from the accelerated adoption of new technologies.
Poor connectivity has been estimated  to cost farmers up to $5 per hectare, according the Birchip Cropping Group's 2017 Cost of Digital Inequality in Regional Areas study.
Economic modelling undertaken by AlphaBeta for NBN Co's Connecting Australia report shows how accelerated adoption of emerging technologies, enabled by the nbn network, can deliver "exponential growth to farming and agriculture in the next ten years".
Digital technologies predicted to enable growth include artificial intelligence and decision support, monitors and sensors, and robotics and automation.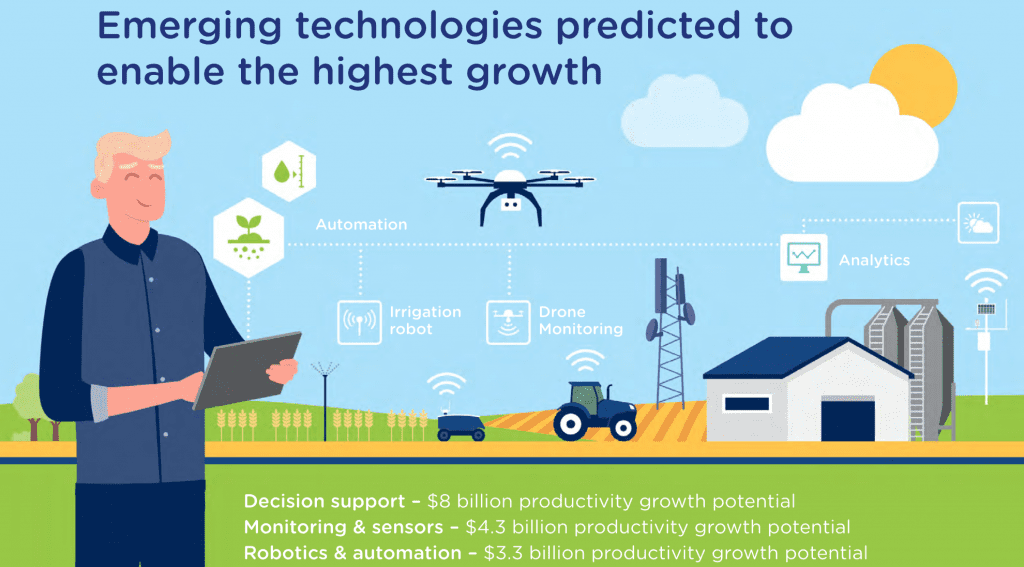 The adoption of emerging technologies is also set to deliver additional benefits such as helping save almost three hours per week of farm workers'  time through automation, and helping farmers access new markets which is estimated to deliver $1.2 billion boost to premium agricultural exports by 2030.
By 2030, the report says, internet-enabled technologies could add $15.6 billion, an increase of 20 per cent, to the farming, forestry and fishery sectors' gross value of production each year.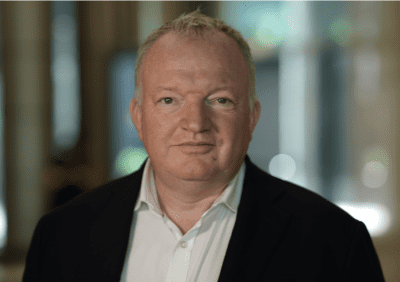 NBN Co's Gavin Williams (right), chief development officer of regional development and engagement, said the company is already working closely with the agricultural community to address the connectivity needs of farmers to support greater efficiency and productivity.
"The research clearly identifies the importance of emerging technologies that could help farmers save time and money, while accessing new markets to boost economic growth. Our focus is on providing access to broadband services to help enable the agriculture sector to get the most from the opportunities available.
"To help Australian farmers take full advantage of the digital opportunity we are collaborating closely with the agricultural sector to design connectivity solutions that support these emerging technologies. This is all about helping to enable success, and we want to go beyond improving productivity and growth on the farm to see improvements to community wellbeing across regional Australia as well."
National Farmers Federation chief executive officer Tony Mahar said the report highlighted how farm adoption of internet-enabled tech can help to deliver the NFF's goal of growing farm gate output to $100 billion by 2030.
"Australia's farming community had been through a challenging time in recent years, but the sector continued to perform strongly in the context of global uncertainty brought about by COVID-19. We're excited about what could be possible in the years to come with the support of technology.
"Whether adopting sensors and analytics to help increase crop yields or using robotics to automate dangerous tasks and reduce workforce risks, there is significant scope for connected farming to grow exponentially across Australia, particularly as technology and infrastructure improves.
"The National Farmers' Federation has a goal for farm gate output to reach $100 billion by 2030 – up from approximately $60 billion today.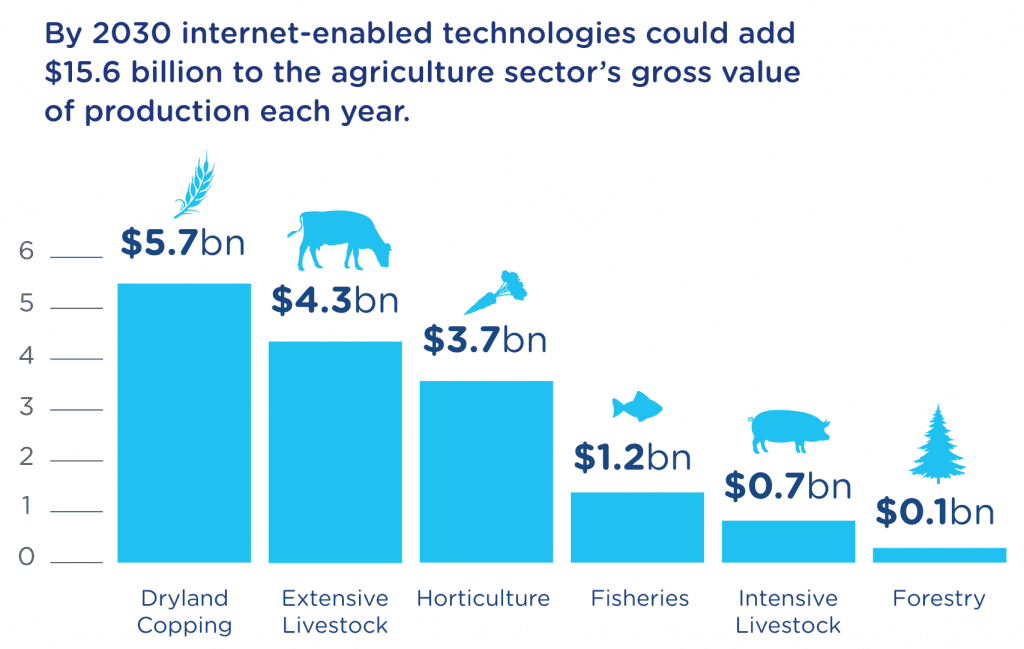 "The report released by NBN Co today shows how on farm adoption of internet-enabled tech can help deliver on this goal and build on seminal work by the Australian Farm Institute into how digitalisation can boot agriculture's bottom line."
Source: NBN Co.  To download Connecting Australian report (PDF) click here