Telecommunications coverage remains a challenge across the Australian livestock industries, from both a coverage and price perspective.
A recent MLA research project sought to prove that adoption of reliable internet of things (IoT) networks could provide value to the livestock industry. A further outcome of the project was to determine the most desirable business model and price-point through which to drive up IoT solution adoption.
Eight demonstration properties representing different livestock enterprise types were selected for the trial.
Site specific LoRaWAN* network connectivity proved to be sufficiently reliable to support deployment of any IoT sensor solution, the research found, however topography impacted coverage from a single installation.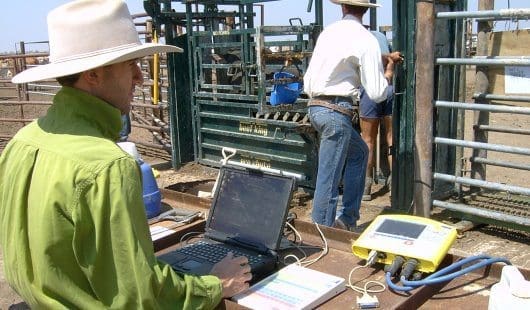 *A low-power wide-area network (LPWAN) is a type of  wireless telecommunication network that allows connected devices to have long-range communications capabilities at a low bit rate. LPWANs are typically used in asset monitoring and management.
The main objectives of the project were to:
install LoRaWAN network coverage across eight identified properties
install nominated sensors on each property
work with other sensor providers to install additional trials using LoRaWAN
assess network and sensor performance, integration and technology issues as well as other value added opportunities for IoT on-farm, on a quarterly basis
undertake pricing model analysis for sensor connections.
Outcomes of the project demonstrated the feasibility of LoRaWAN to support the deployment of agtech Internet of Things devices and provided guidance on future strategic pathways for digital agriculture projects.
The resounding feedback from providers through the course of the project was that they see the highest level of value from IoT in the ability to remotely monitor water supply points (troughs and tanks) across their properties, as well as near-real time tracking of their livestock.
Producers had an appetite to pay up to $5000 for farm-specific connectivity if the attached solutions provided value, the research showed.
While producers appeared to be comfortable paying a moderate amount for installation of telecommunications networks on their properties, this remains a stop-gap solution to the overall requirement for broad telecommunications coverage.
Solution providers should be weighted to an up-front model, with a small annual recurring fee to provide the close level of support expected by livestock producers, the project report said.
Post installation solutions needed to be robust and protected enough to withstand both interactions with livestock and the extreme climate conditions experienced across seasons in rural and remote Australia.
Despite the speed at which technological solutions on-farm are being developed, connectivity and pricing aspects that the project sought to understand remained a challenge to broader adoption of Internet of Things devices in the livestock industry.
The project suggested cattle and sheep producers have a very clear appetite to adopt IoT solutions that assist in removal of labour intensive low-skilled tasks such as water monitoring across a property, and location of livestock.
"Despite significant investment in development, currently available solutions are not necessarily mature or robust enough for full commercial deployment as it stands," the report said.
"There remains a clear need for ongoing technical support of solutions once deployed across a farm. This requirement complicates traditional IoT business models and introduces a requirement for ongoing annual fees to support this desire."
Overall the project highlighted a number of compounding issues preventing the full realisation of the identified benefits that digital devices are meant to bring to the livestock industry.
Despite the speed at which technological solutions on farm are being developed, it is clear that connectivity, complexity of the solution versus the operating environment, and pricing aspects remain impediments to broader adoption of IoT in the livestock industry.
At a network level, it was clear that there remains insufficient adoption of IoT sensor solutions to justify investment in a broad-scale telecommunications network.
"This may change as sensor solutions mature, however one would argue that investment in the infrastructure is a fundamental requirement to lower the barrier to entry and drive uptake," the report said.
The option of producers paying for connectivity remains the most appropriate path forward in lieu of more generally available networks satisfying the connectivity requirement.
The recent commercialisation of a number of low-cost satellite connectivity solutions will grow to satisfy connectivity requirements, however much like the sensor solutions themselves, this technology is immature, and far from resolving the issue as stands today, the report said.
"Producers have a clear appetite to increase efficiencies within their business and move toward the use of sensors and automation for some of their time consuming and less technical tasks," it said.
"While a significant amount of investment is being made in these solutions, their robustness needs to become a focus to ensure reliability and longevity in the paddock.
"There is something of a gulf between the maturity of devices on offer in the sensor market today versus producer expectations," the report said.
"There remains a clear need for ongoing support for solutions once they are deployed on-farm which comes at a cost. While there is benefit in an up-front pricing model of IoT solutions to both the producer and the IoT provider, we do not believe there is any alternative to having an annual fee included, in addition to the initial price to support these ongoing costs in order to satisfy producers' requirement for full service support in the paddock."
Click here to access project report