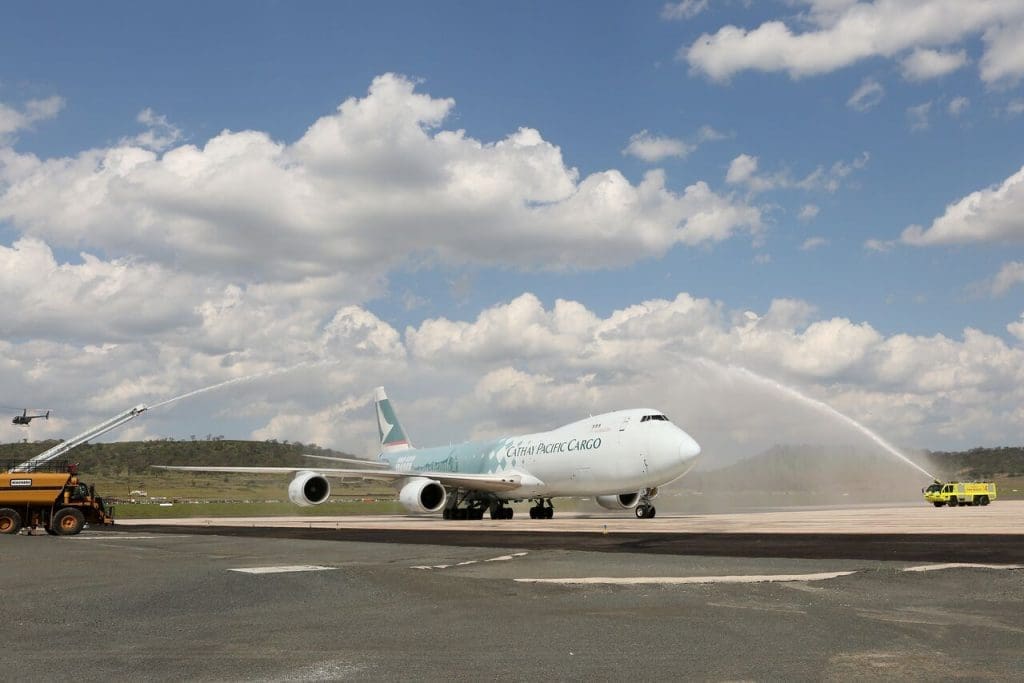 The historic first international cargo flight from the new Wellcamp Airport in regional Queensland signifies how investment in infrastructure can help to drive improved returns back to the farmgate, says minister for agriculture Barnaby Joyce.
A special one-off Cathay Pacific Boeing 747-8F flight from the Wellcamp Airport delivered chilled beef, mangoes, pecan nuts and grains produced in regional Queensland to Hong Kong, highlighting the possibilities that now exist for a strong trade to develop from the food-producing region straight into export markets.
"Cargo transports like today's  could significantly improve times to market and drive returns back through the farmgate of our nation's farmers," Mr Joyce said.
Work is progressing with the airport's owners, border agencies and the department of Agriculture to progress an application for the airport to receive permanent international status, Mr Joyce said.
"The Australian Government has provided in-principle support in the national interest and eagerly await Wellcamp's proposals to develop the necessary infrastructure to safely move agricultural cargo and manage exotic pest and disease risks.
"Today's flight included a range of horticultural products, such as mangoes, lettuce and pecans, as well as chilled beef.
"Horticultural products, in particular, are high value exports with a short shelf life—the sooner they get to their destination markets the better—for both customers and farmers."
Mr Joyce said investment in supply chain infrastructure underpinned the profitability of Australia's $57 billion agricultural industries.
Through the white papers on Agricultural Competitiveness and Developing Northern Australia, we are expanding the CSIRO's TRAnsport Network Strategic Investment Tool to ensure future decisions on transport deliver maximum benefits as well as investing $100 million in improving key northern Australia cattle roads.
As Beef Central has previously reported, several beef exporters had product on the one-off flight including NH Foods, Bindaree Beef, Mort & Co and Stanbroke.
RELATED ARTICLES:
Bindaree eyes China growth with Wellcamp airfreight consignment
Wellcamp's first airfreight beef export shipment leaves Monday
Wellcamp airport cleared for export freight take-off