Beef Central publishes an occasional summary of appointments, departures and achievements occurring across the red meat and livestock supply chain. Send details for entries to admin@beefcentral.com
Will Evans appointed CEO of NT Cattlemen's Association
Former Wallaby leaves beef industry for greener pastures
New sustainability directorship role with FMG
CBRE's appoints leader for Pacific Agribusiness team
Landline's new markets presenter
New president for US National Cattlemen's Beef Association
New-look MINTRAC board
Angus Australia Life Membership awarded to SA breeder
New ATA chief executive
Leongatha agent takes VIC Young Auctioneer's crown
Will Evans appointed CEO of NT Cattlemen's Association
The Northern Territory Cattlemen's Association has appointed Will Evans as its new chief executive officer.
Mr Evans is a young industry leader who has been actively involved in representing the northern cattle sector on a range of northern cattle issues in recent years.
He worked in policy development with Cattle Council of Australia based in Canberra, before taking on the role of chief executive officer of the Northern Territory Live Exporters Association based in Darwin in 2018.
In recent times he has worked with Governments at all levels on behalf of industry to keep cattle transport logistical pathways open and moving across borders and out of export ports through COVID lockdowns and to find a workable solutions to new ASEL operating regulations introduced late last year for the live export industry by the Federal Government.
Former CEO Ashley Manicaros left the NTCA in November and the role as been filled since that time in an acting capacity by NTCA executive officer Romy Carey.
Mr Evans will formally commence in the role in the week leading up to the NTCA conference in Alice Springs in late March.
The Northern Territory Livestock Exporters Association is now seeking applications for its CEO position – for full details go to Jobs Central – click here
Former Wallaby leaves beef industry scrum for greener pastures
Former Wallabies rugby captain Stephen Moore has parted company with the North Australian Pastoral Co, to take up a new role as client division principal with the Queensland Treasury Corporation, the state government's central financing authority.
Mr Moore spent the past three and a half years with NAPCo, firstly as manager of strategic planning, and later as general manager corporate and commercial, covering roles including human resources, workplace health & safety, sustainability, information technology and comms.
He also served for the past two years as a committee-member on the industry's Australian Beef Sustainability Framework (ABSF).
NAPCo has now split Mr Moore's former work portfolio, with the HR, IT and safety functions now falling under the direction of CEO, Richard Brimblecombe. Darryl Savage, previously NAPCo's manager for genetics and nutrition, has been promoted to the expanded role of head of genetics, nutrition and sustainability.
In other recent NAPCo staff changes, Phillip and Sarah Acton have been appointed managers at Mantuan Downs, bought last year by NAPCo from Clark & Tait. Mr Acton was previously assistant manager at calf factory Alexandria, on the Barkly Tableland.
New sustainability directorship role within FMG
Global beef supply chain manager Fulton Market Group has made an appointment to fill a new company role for a Global Sustainability Director.
With operations in the US and Australia, FMG covers red meat markets in North America, Canada, Australia, New Zealand, North & South Asia, South Africa and the Middle East. The company is one of the largest global suppliers of raw material to burger giant, McDonald's.
Filling the company's new sustainability role is Tim Hardman, who joins FMG from his most recent role as beef director for the US division of the World Wildlife Fund. Prior to his time at WWF, Mr Hardman spent 11 years at Cargill, working in beef production, sales, pricing, and product management.
He will be responsible for driving FMG's progress towards McDonald's global sustainability goals within the beef category and will report directly to Peter Wojda, general manager for North America. In addition to specific projects in North America, he will also look to implement best beef sustainability practices around the globe
"Tim is an outstanding addition to FMG. He brings a wealth of experience and passion to the team. Mr Wojda said.
With a strong belief in the triple bottom line approach to sustainability being, environmentally sound, economically viable, and socially acceptable, Mr Hardman will work closely with all McDonald's System stakeholders including various markets, grinders, approved suppliers, and upstream producers.
"Market forces have changed considerably in the last couple of decades with an increasing demand by consumers to know more about their food; who raised it, how, and where," Mr Hardman said.
"The environmental management of beef production, which impacts plants, soil, air, and water, is just as important to the future of the industry and its individual producers as product quality and consistency, profitability, and market access. I'm looking forward to adding further focus to McDonald's global sustainability goals and excited for the opportunity to positively impact beef sustainability outcomes around the globe."
Graduating from Kansas State U with an Animal Science degree, Mr Hardman is a council member for the Global Roundtable for Sustainable Beef, US Roundtable for Sustainable Beef, Canadian Roundtable for Sustainable Beef, and US Roundtable for Sustainable Poultry and Eggs.
FMG's Australasian region general manager is Connor FitzGerald.
New leader for CBRE's Pacific Agribusiness team
CBRE has recruited David Goodfellow, one of Australia's leading agribusiness professionals, to head its Capital Markets Agribusiness team and drive its progress in the agribusiness property sector. Mr Goodfellow brings 30 years of experience, including leadership roles with some of the country's biggest agribusiness investors, including CEO positions with Rifa Salutary, Paraway Pastoral Co and AustOn Corporation, the Australian-based operating arm of Ontario Teachers' Pension Plan. He has also served as group general manager for Elders Rural Services.
Phil Rowland, CBRE's chief executive for Australia & New Zealand, said the appointment highlighted CBRE's strong and ongoing commitment to the sector and the focus it had on supporting clients and cementing its position as a market leading provider of agribusiness property services.
CBRE's head of capital markets, Mark Coster, said Mr Goodfellow was a dynamic leader with a deep understanding of the agriculture industry, negotiating complex business transactions and building effective sales teams. His appointment coincides with strong ongoing interest in Australia's agribusiness sector, driven by both domestic and offshore investors.
"Now, more than ever, our clients are focused on service providers who have the platform and capabilities to connect them to both local and international capital, coupled with the ability to manage governance and compliance issues, and the track record and knowledge to assist with property portfolio strategies," Mr Coster said.
Landline's new markets presenter
The presenter of the ABC's Northern Territory Country Hour, Matt Brann, is joining the Landline team in 2021 to present the TV program's weekly market report.
He replaces Kerry Lonergan, who left ABC abruptly late last year after 40 years associated with the program. Mr Lonergan has plans for 2021, in which he will continue to engage with industry. Details will be made public in coming days, he told Beef Central.
Matt Brann will continue to present the NT Country Hour as well as covering Australia's agricultural markets including cattle and crop prices for Landline, which he will record each week in the ABC's Darwin studios. In addition to his on-air role, he will also file reports on rural commodities for ABC online. Matt has been reporting on regional and rural issues for 10 years.  He also presents a weekly rural wrap for the ABC Northern Territory's 7pm television news bulletin.
New president for US National Cattlemen's Beef Association
The US National Cattlemen's Beef Association has elected Jerry Bohn, a cattle producer from Wichita, Kansas, as NCBA president.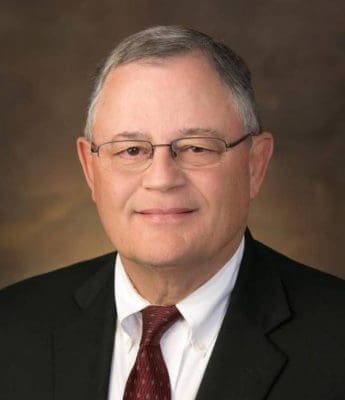 The NCBA roughly approximates Australia's Cattle Council of Australia, and exerts a powerful lobby influence over Washington.
A retired Lieutenant Colonel in the US Army Reserves, Mr Bohn has been a part of the US cattle industry his entire life. In his early days he custom-grazed cattle with his family in Flint Hills, before joining Kansas State University's award-winning livestock judging team, and eventually serving 34 years as the manager of Pratt Feeders, a commercial cattle feeding operation in his home state of Kansas. He has dedicated his time as a leader for several state-level associations, using his expertise and experiences to mentor the next generation of industry advocates.
"As I look forward to this year as NCBA president, I have immense pride for the cattle industry and our dues-paying members that help to make this the leading cattle organisation representing US producers," he said.
"I have heard quite a few producers in the past year say if you want to get something done in Washington, DC in agriculture, you better do it with the NCBA, or it is not going to get done. This is the greatest testament to the grassroots power of our members and state affiliates. It is why I am so proud to represent NCBA as President and it is the reason I get up every day, ready to fight for the American producer," Mr Bohn said.
New-look MINTRAC board
The National Meat Industry Training Advisory Council (MINTRAC) has appointed a number of new directors for 2021. The MINTRAC board composition is made up of employer associations, union and meat industry processing companies and as a result, MINTRAC remains an industry focused, and independent training and advisory council.

MINTRAC represents the red meat industry on training matters. Its role is to improve the skills of workers in the industry through the provision of recognised and accredited training from entry level through to senior management.
Appointed chairman of the MINTRAC board was Frank Knoll, who joined the board November. Mr Knoll is the managing director of Knoll Consultants & Investments, whose activities are meat retailing, wholesaling and processing, under the brands Barossa Fine Foods, Angelakis Bros, Standom Smallgoods and Schulz Butchers. He has 45 years food industry and business experience, being active in the meat industry, including Australian Meat Industry Council, Smallgoods Council and the Industry Reference Committee.
Also joining the board this year are:
Ken McKell, general manager for employment and business services with the Australian Meat Industry Council.
Matthew Burns, group manager Workforce Capability, JBS Australia
Cameron Dart, founder and chief executive officer of Meat Inspectors Pty Ltd, which has worked closely with industry for many years, currently providing independent meat inspection services to the processing sector to ensure market access is maintained in accordance with importing country requirements.
Robert Constable, a butcher for 30 years through his business Robert's Meats, he has worked across many parts of the industry, including tanning and assessing. Robert has worked for NSW TAFE (Teaching) and is the current Australian Meat Industry Council National retail chair.
Chris Taylor is the executive general manager with the Australian Meat Processor Corporation, where he has worked since 2016.
The new board members join existing members John Salter (independent nominee of meat processors), Patricia Fernandez (AMIEU NSW state secretary), Matt Journeaux (AMIEU QLD branch secretary) and Graham Smith (AMIEU Federal secretary).
Angus Australia Life Membership to SA breeder
South Australian Angus breeder Ronald Cowley has received Angus Australia Honorary Life Membership from AA president and board chairman Sam White, in recognition for his contributions to the breed and the society. The presentation took place during the Roseleigh Angus annual bull sale last week at Keith, SA.
Mr Cowley has a long history with the Angus breed spanning 65 years and a 30-year association with the Society. In 1983 he and his wife Judy took over Roseleigh Angus, the stud originally founded by the late Charles Cowley. Roseleigh is one of the oldest Angus studs in South Australia, and made history hosting the first on-property auction for Angus cattle in the state.
Mr Cowley utilised the networks provided by showing his stud as an example of his industry wide view of the Angus breed, and the strength that the breed was beginning to present in the global meat industry. In 2005 Roseleigh Angus was recognised by Angus Australia for 50 years of registered membership.
Mr Cowley served as both a committee member and executive on the South Australia State Committee from 1982 to 2019, including periods as chairman and vice chairman. He was also a director on the Angus Australia Board from 1988 to 1998. Mr Cowley has also offered his knowledge to the industry working with and advocating for young Angus enthusiasts through mentoring young breeders within in the breed.
New ATA chief executive
The Australian Trucking Association (ATA) has appointed international association executive Andrew McKellar as its new CEO.
Most recently, Mr McKellar was the Paris-based Secretary General for Mobility at the International Automobile Federation. Before joining the FIA, he was CEO of the Australian Automobile Association (AAA) and the Federal Chamber of Automotive Industries (FCAI).
In government, Mr McKellar was a senior adviser to successive Australian industry ministers from 1996 to 1998. He also worked as an economist and research officer in the Department of the Prime Minister and Cabinet, the Commonwealth Treasury and the Queensland Treasury.
"The board was impressed by Andrew's experience in international advocacy for road safety during his tenure at the FIA and his understanding of the emerging trends influencing safety, sustainability and competitiveness in road transport and mobility globally," ATA chair David Smith said.
"Andrew's extensive skills and experience in public policy and advocacy will be indispensable as he makes the case for improving our industry's productivity, and as he protects the interests of trucking businesses in the discussions about truck charges that are ahead.
Mr McKellar said that he looked forward to working to represent a sector that was so crucial to the future strength of Australia's economic performance.
"The trucking industry is part of the lifeblood of the Australian economy. I am dedicated to advancing the interests of those who rely on the industry for their livelihood and to promote the future vision of the industry," he said.
Leongatha agent takes VIC Young Auctioneer's crown
Jack Ginnane from Nutrien South Gippsland Livestock Leongatha was announced the winner of the Australian Livestock & Property Agents Association's 2020 Victorian Young Auctioneers Competition this morning.
Securing second place was Will Schilling, DMD Horsham. Jack and Will will now continue working on their selling styles as they take on the other state finalists on 1 April at the Sydney Royal Easter Show proudly representing Victoria in the 2021 ALPA National Young Auctioneers Competition.
Ten young stock agents from across Victoria showcased their auctioneering skills at the ALPA Victorian Young Auctioneers Competition held at the Shepparton Regional Saleyards this morning.
Other finalists included Ryan Bajada, Elders Rural Services Pakenham; Harrison Cozens, Kerr & Co Livestock Hamilton; Cody Fogarty, AWN Shepparton; Will Jennings, Paull & Scollard Nutrien Barnawartha; Reiley Murtagh, Corcoran Parker Wodonga; Billy Trinder, Nutrien East Gippsland Livestock Bairnsdale; James Wilson, Nutrien Ag Solutions Bendigo; and Matthew Wilson, Elders Rural Services Pakenham.
Looking for a new challenge or career change?
Recent listings uploaded to Beef Central's recruitment page, Jobs Central, include middle and senior management and operations positions in lotfeeding, industry administration, station management, stockfeed milling, saleyards management, and stock handling equipment sales. Click here to access latest listings.