IF La Nina delivers widespread rainfall in coming months, cattle prices are forecast to ease from all-time highs by mid-2021 – but a failed wet season and return to dry conditions for southern Australia would see prices decline by an estimated 30 percent by late 2021.
That's the view of AuctionsPlus's new chief market analyst Tim McRae in a cattle forecast released this morning.
The next four months will be one of the most crucial periods for the Australian cattle industry in recent memory, Mr McRae said.
If the much-hyped La Nina delivers for Queensland, prices would remain at all-time highs throughout 2021, he suggested.
If on the other hand, the predicted summer rainfall disappoints, the cattle price retreat throughout 2021 will be steady in the early months of year, but considerable by the second half.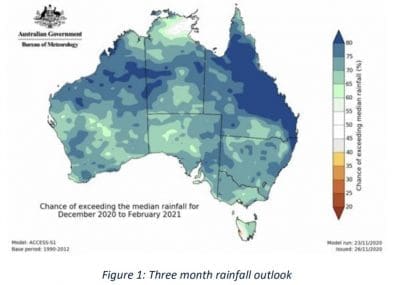 AuctionsPlus monthly prices showed indicative Angus steers (300-350kg liveweight) offered through the online platform through November averaged $1652 head – up 57pc year-on-year.
The robust demand and reduced supplies increased prices across all categories, with Angus heifers (300-350kg) for November 66pc higher year-on-year, averaging $1496/head.
Given the dramatic improvement in seasonal conditions through much of NSW and Victoria since March 2020, the largest annual price increase has come through the proven breeder lines, Mr McRae said.
In November, cows with calves-at-foot through AuctionsPlus sales were 135pc higher on the previous year, averaging $2957/head. Similarly, PTIC females averaged $2263 during November – easily the highest monthly average on record.
"For 2021, these historically high prices are only sustainable if the coming La Nina delivers in spades," Mr McRae said. "Even then, the market is forecast to steadily ease 5-10pc by the second quarter of 2021. Even with that decline, cattle prices would still be well above the five-year average. Indeed, at a 10pc decline in average prices by June 2021, Angus steers (300-350kg) would still be 6pc higher than June 2020, and 27pc above the June average for the previous five years."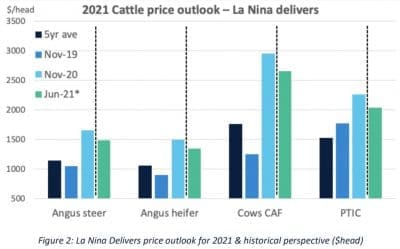 However, if the predicted La Nina under-delivers, the cattle price retreat throughout 2021 will be steady in the early months of year, but considerable by the second half, Mr McRae said. A return to below average rainfall through the early months of 2021, and sustained drought conditions in Queensland, cattle prices could face significant pressure into the second half of next year, with the potential to decline by 30pc by the end of 2021.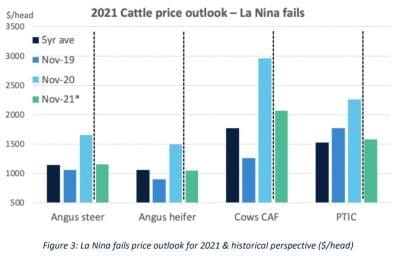 While prices under this 'pessimistic rainfall' scenario would be significantly lower, it should again be pointed out that a decline of 30pc by the second half of 2021 is from all-time high prices in 2020.
"For all price analysis, 2020 prices need to be viewed as exceptional, but ultimately unsustainable. A 30pc decline over a twelve-month period ending in November next year would see Angus steers (300-350kg) back at five-year average levels," Mr McRae said.
Similarly, a failed wet season and a return to drier conditions would see a gradual erosion of restocker demand throughout 2021. However, highlighting the current high level of prices, a 30pc decline in breeding stock returns would see prices by late 2021 still 9-15pc above the five-year November average.
"By any standard, the year-on-year rise in cattle prices throughout 2020 has been extremely well received. Producers across every state who worked constantly to ensure breeding herds maintained condition throughout the dreadful 2019 drought have been financially rewarded in 2020 – hopefully starting to pay down some of the large costs incurred in 2019 and prior," Mr McRae said.
However for most cattle producers, an absence of drought and historically high cattle prices for several years will be required to fully recover. But for every cattle vendor in 2020 that received increasing prices as the year progressed, the buyers have been forced to dip further and deeper into their pockets.
Initially, the combination of improved seasonal conditions, favourable seasonal forecasts and the prospect of higher prices had demand at fever pitch. In March, cows with CAF averaged just over $2100, increasing to $2500 by May, then steadily climbing to average $2957 in November 2020.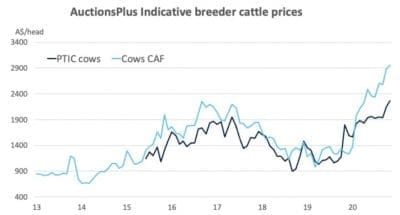 Historically high cattle prices will impact demand
Every market has a threshold, even ones in the middle of 'grass-fever', Mr McRae said.
"Given that at the end of the supply chain, every kilogram of beef produced needs to be sold, the losses felt by the processing sector with historically high cattle prices cannot be sustained indefinitely. If processors continually register losses, there will be closures, be they for extended seasonal shutdowns, or more permanent."
"In the long term, any reduction in the competitive landscape for the Australian cattle industry will be detrimental, be it a reduction in cattle producers through drought, shifts to alternative farming enterprises, or decreased processor competition."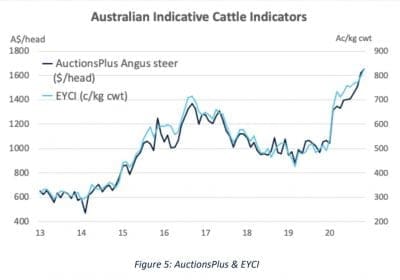 One of the features of the steady rise in Australian cattle prices in 2020 has been the rate at which they have become disconnected from global cattle prices.
"While this is purely a supply-driven response in Australia, and other major countries each have their own factors driving the market, Australian cattle prices cannot stay as an outlier over the long term," Mr McRae said.
"Historically high Australian cattle price equals expensive beef, which in turn makes this beef less price competitive in all markets. Given the hard-earned reputation of Australian beef for its eating and production credentials, some price increases can be sustained – but in the end prices cannot remain too high for too long."
"Covid-19 has placed a massive uncertainty surrounding global economic prospects heading into 2021. With beef demand strongly correlated to positive economic growth, the demand recoveries in key export markets will be closely watch by exporters. Any improvement in the Australian dollar will add to the headwinds, along with the ever-present market access ebb and flows," he said.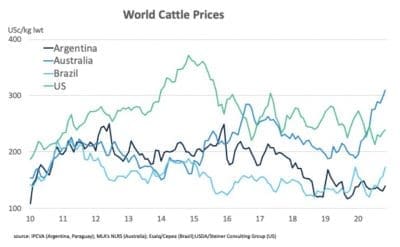 Historical precedent of La Nina impacts
As stated previously, there is a huge amount of pressure building for the forecast La Nina wet season in Queensland.
"For the sake of all cattle producers, there is the hope that it delivers the much needed above average falls, improving the seasonal prospects for Queensland producers and consolidating 2020 gains for southern states," Mr McRae said.
In reviewing the previous La Nina events, there was still a significant way to go before even nearing the impact of the 2010-2012 period, he said.
According to the Australian Bureau of Meteorology, 2010 to 2012 contained the wettest 24-months period on record, culminating in devastating flooding.
While the negative impacts of the 2010-2012 La Nina event do not want to be revisited in 2021, the span and extent of the rainfall through this period set the Australian cattle industry up for numerous good seasons and herd expansion. Full dams, flowing rivers and recharged water supplies gave producers confidence heading into the following years.
Between 2010 and 2014, the Australian cattle herd increased by 10pc, reaching a high of 29.3 million head (Australian Bureau of Statistics).
"With biology the constraining factor, the rebuilding of the Australian cattle herd has always been a multiple year assignment – provided seasonal conditions permit. However, if there is a failed season in Queensland for 2020-21, there can be no sustained rebuild of the Australian cattle herd," Mr McRae said.
In 2020, rebuilding intentions are driving the southern market, with northern producers capitalising, displayed in the record high prices being paid for proven breeding stock and significant increase in breeding cattle moving north to south.
"However, while female numbers have started to be retained, there is still yet to be one additional calf produced from any decisions made to retain stock from the better seasonal conditions since March 2020," he said.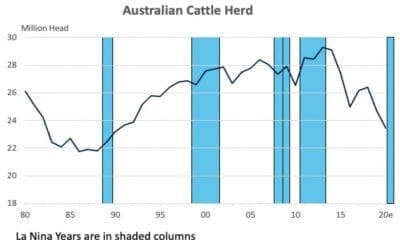 So far in 2020, while increased rainfall has been very welcome from March, there is still a long way to go to even compare to the last major La Nina event. Indeed, many dams in northern and central NSW are still at lower levels, awaiting the forecast summer falls to boost supplies.
Run-off and moisture levels have been improving, giving some security to southern producers, but as many farmers know, a long hot summer can reduce these supplies very quickly.
In the comparison of this current La Nina period and the previous 2010-12 La Nina, the level of the A$ is a significant difference. Between January 2010 and June 2012, the A$ averaged US99.2c, hitting a high of US109c in April 2011. Thus, throughout the 2010-12 La Nina, any impact of the improved seasonal conditions was constrained by the very high A$ and larger cattle herd.
In conclusion, two of the major long-term drivers for the Australian cattle industry were much more favourable for potential price increases at the commencement of the 2020 La Nina, compared to the 2010 La Nina.
In 2020, the Australian cattle herd was an estimated 12pc lower, or 3.15 million head less than in 2010.
Similarly, the Australian dollar is on average 26pc lower in 2020, compared to 2010.