THE status of two ongoing red meat organisational restructures remains uncertain as the sector moves towards its next round of industry annual general meetings in November.
What does seem clear is that two of the three major parts of the red meat industry organisational restructure recommended by an independent taskforce in July last year will not proceed, at least in their initially proposed form, but a third is still on the table.
At the same time the long-running proposal to restructure the board of Cattle Council of Australia to introduce more directly-elected members appears not to have progressed since it was last publicly discussed in May last year.
Red Meat White Paper process
In 2018 the Red Meat Advisory Council initiated a review of the Memorandum of Understanding (MOU), which sets out the roles and responsibilities of the various organisations that oversee Australia's red meat industry, which had been in place for almost 20 years.
An independent taskforce appointed to oversee the review process released a White Paper in July last year recommending wide-ranging change.
The taskforce chaired by Jim Varghese recommended creating a single new body to receive and manage all red meat industry levies (Newco 1); merging research and development corporations MLA, LiveCorp and AMPC into a second new body (NewCo 2); and establishing a third body to manage all red meat industry integrity systems, including LPA, NLIS, MSA, AusMeat, SafeMeat and others (NewCo 3).
The sweeping nature of the proposed reforms met resistance from a range of industry groups and stakeholders.
It is widely known there has been limited support for the grand plan of NewCo 1, with ongoing discussions with the peak councils of the various red meat sector failing to arrive at a consensus position since the White Paper recommendations were released.
Broader moves to increase collaboration between RDCs, evidenced by last week's formation of Agricultural Innovation Australia (AIA) by Federal Ag Minister David Littleproud, has also blunted the impetus for a full amalgamation of the red meat RDCs as recommended in the White Paper (NewCo 2).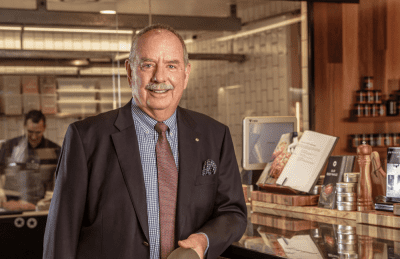 Outgoing RMAC chair Don Mackay told Beef Central that the discussions to bring the red meat industry's integrity systems into a single body (NewCo 3) is still a work in progress.
A report by PWC following the White Paper's release recommended consideration be given to bringing industry integrity arrangements together to ensure they are fit for future purpose.
Mr Mackay said there was still work to be done around connectivity and digitisation, which was underway at the moment.
Consultation during the review process had clearly shown broad support exists across the industry for structural improvement, and the advances and cooperation that have eventuated around R&D and integrity systems were key outcomes from the review process so far.
Mr Mackay, who has stood down from the RMAC chair role after four years and will be succeeded by John McKillop, said RMAC played an important role in allowing discussions to take place between the various sectors that are needed to ensure "the big things get done".
"The challenge is always to bring people along with you," he said.
"You're not going to bring them all.
"Leadership is not about what is popular, it is about identifying the direction the industry has got to take and you have got to stay the course."
Cattle Council restructure
While discussions around NewCo 3 continue, the Cattle Council of Australia has been discussing a restructure in various forms for the best part of the last decade.
In 2013 the national peak industry council for grassfed cattle producers responded to calls to open its membership to producers who were not paid members of State Farming Organisations by introducing a direct membership pathway, and appointing two new directly elected directors to its board, one for northern Australia and one for southern Australia.

Discussions for further reform have continued in various forms since then. A proposal for Cattle Council of Australia to move to a fully directly-elected board was presented and discussed at its AGM in Canberra in November 2018, with suggestions the council would hold a special AGM the following year to consider the proposal for adoption.
However at the time of its AGM in November last year CCA said restructure discussions were on hold as the Red meat MOU review played out.
Beef Central's understanding from talking to a range of CCA stakeholders in recent weeks is that the restructure proposal has not progressed amid the upheaval brought by COVID-19 this year.
Proposed resolutions for CCA's 2020 AGM in November, which will be conducted fully online this year, will continue to be received in coming weeks so it is possible a restructure related resolution may yet be proposed for this year's meeting, but for now the proposed restructure that has been discussed in recent years appears to remain static.