AS the Federal Government holds emergency meetings to discuss what more can be done to prevent African Swine Fever from entering Australia, recent trade developments that have increased the potential risk of Foot and Mouth Disease (FMD) in the region are also raising industry concern.
Of particular relevance to Australia's cattle, sheep, goat and pig industries have been recent decisions by Indonesia to open its market to imports of frozen buffalo meat from India, where FMD is prevalent, and Brazil, where some States are now recognised by the World Organisation for Animal Health as FMD-free with vaccination.
Australian aid programs in the 1970s and 1980s contributed to the eradication of Foot and Mouth Disease in Indonesia, which provided benefits for both countries.
The unrelenting spread of the African Swine Fever epidemic provides a very real and current example of the destruction that can be wrought when a disease enters a new country.
ASF kills about 80 per cent of pigs it infects. With no treatments or vaccines available, entire pig populations have been destroyed in infected areas in an attempt to contain and prevent its spread. An estimated 25 percent of the world's pigs are expected to be dead from the current global outbreak by the end of this year.
Its entry into Australia would be devastating for Australia's $1.3 billion pig industry, as Agriculture Minister Senator Bridget McKenzie recognised in calling for an emergency roundtable of experts in Canberra last Friday to discuss what more should be done to prevent ASF from entering Australia.
#ASF is potentially the biggest animal disease event the world has ever seen and it's marching south through Asia, towards Australia. We are working hard to keep this disease out, and to protect @Australian_Pork #Biosecuritythreats @MarkSchipp @DeptAgNews pic.twitter.com/2gvArXRhRQ

— Senator Bridget McKenzie (@senbmckenzie) September 6, 2019
The entry of FMD into Australia would be equally devastating for Australia's $18 billion red meat sector for various reasons ranging from animal welfare to economic impacts, including the likely shut down of Australia's access to many heavily-relied upon export markets.
FMD is a highly contagious viral disease of livestock which can cause serious production losses and high mortality rates in young animals. Many countries refuse to import beef from countries affected by FMD.
Veterinary experts have previously explained to Beef Central that FMD can not only be transmitted via frozen meat, but many historical outbreaks of FMD around the world have resulted from the importation of meat from FMD affected countries.
The virus can survive for long periods in fresh, cured and partially cooked meat and dairy products. While it does not survive well at high temperatures, it is very stable at cold temperatures, which creates the risk of FMD being transmitted through contaminated imported frozen meat material being fed to pigs or ruminants.
Asked what steps the Australian Government was taking to protect and maintain freedom from FMD in light of recent trade developments that have increased regional risk levels,  and how its plans to introduce a Biosecurity Import Levy are progressing, Minister McKenzie's office provided the following written statement to Beef Central:
"The Australian Government is committed to a strong biosecurity system that protects regional jobs, grows our agricultural exports and maintains our environment and lifestyle from the devastating impact of pests and diseases.
o   Our biosecurity system is a significant national asset. It underpins $60 billion in agricultural production, $49 billion in agricultural exports and our $42 billion inbound tourism industry—each vital contributors to jobs and growth, particularly in regional and rural Australia.
o   The government has announced significant additional ongoing investment to build a smarter and stronger biosecurity system to further protect Australia's farm industries and environment. Up to 2022-23, this represents $313 million, including funding to:
o   trial new technologies and smarter border processes to improve our ability to detect biosecurity risks at the border
o   strengthen our assurance and verification activities at the border to better identify and target non-compliance with our biosecurity requirements
o   improve our capability to identify and target high biosecurity risk pathways, such as sea cargo, and
o   deliver effective biosecurity services, such as screening passengers and cargo at sea ports, as the volume and complexity of trade into Australia increases.
"In the 2018-19 Budget, we also announced the introduction of a Biosecurity Imports Levy on all containers and non-containerised cargo, transported to Australia by sea. There has been considerable engagement around this proposal with stakeholders likely to be impacted – including, most recently, through an industry steering group – and a number of concerns have been raised.
"I am working closely with my ministerial colleagues, considering all the concerns raised across various sectors."
Despite Government assurances that biosecurity programs are well funded, the adequacy of existing resourcing has come under question from various sources.
Last week Opposition agriculture spokesperson Joel Fitzgibbon criticised the Federal Government for missing two deadlines to implement the Biosecurity Imports Levy it has pledged to introduce to help resource biosecurity detection capacity.
High-level reviews by Australia's Inspector General of Biosecurity over the past 12 months have also identified reductions in the number of detector dogs and overall departmental staffing levels as areas of concern for the effectiveness of Australia's biosecurity protection systems.
FMD in Indonesia would create a significant risk for Australia: Cattle Vets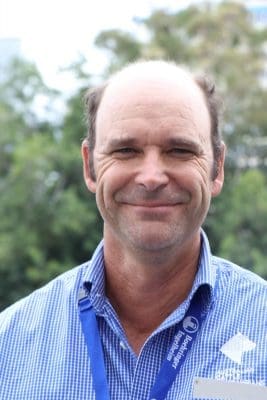 Australian Cattle Veterinarians Association president Dr Ian Bradshaw told Beef Central that if FMD were to re-establish in Indonesia, it would present a significant biosecurity risk for Australia's cattle industry.
Dr Bradshaw (right) said the expectation of the Australian cattle industry would be that the Australian Government should be very committed to communicating the industry's concerns about FMD to Indonesia.
"It is very much in our and their interests that the region remains free of FMD," Dr Bradshaw said.
"Food security is a substantial issue with these diseases, and with FMD we are talking about a disease that would have very significant economic impact in the medium to long term. You can see the effect that ASF is having not just on animal health but economically as well.
"If we were to have an FMD incursion into Australia it would also be a massive animal welfare issue, not just from the effects of clinical disease, we would also have all these animals that we don't have a market for anymore, which will soon result in massive issues with stocking rates and feed costs around the country."