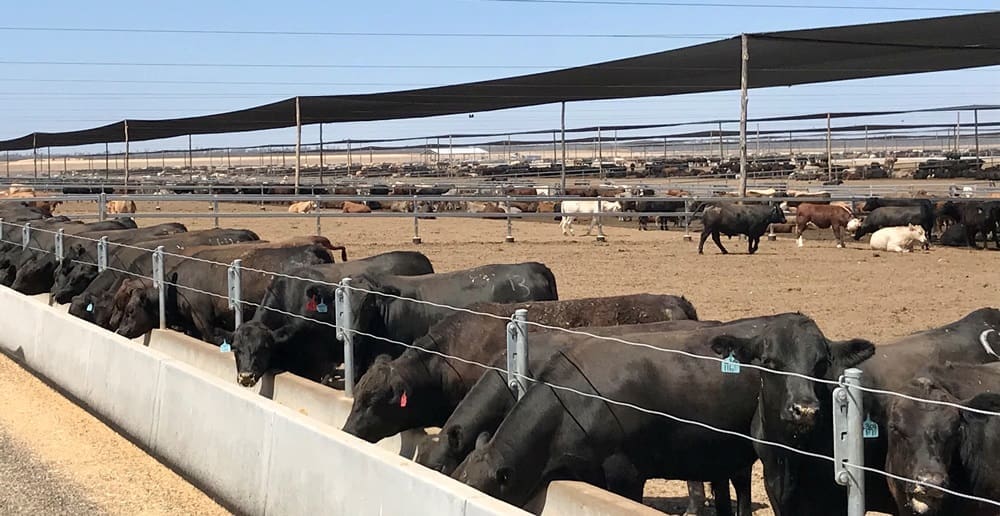 WHAT promises to be Central Queensland's largest feedlot will be constructed on a property near Gogango, under a novel new business arrangement involving grainfed supply chain Mort & Co and prominent funds manager Rural Funds Management.
Under a partnership, and subject to necessary approvals, RFM and Mort & Co will develop a grazing property near Gogango into a new large-scale greenfield feedlot site, with capacity of about 36,500 head. Expectations are that construction will be completed by early 2024.
The site of the project is a property already held in RFM's Central Queensland portfolio, which it has put together progressively since the Investment Fund was launched in 2016.
Secure and adequate water remains one of the key attributes sought for any new feedlot development in Australia, and the site's proximity near the Rookwood Weir project provides a strong level of security. Due for completion mid-2023, the $367.2 million Rookwood Weir project being co-funded by Queensland and Australian Governments will capture valuable water in the lower Fitzroy River for use across the region.

Rural Funds Management has previously exhibited a mood for investment in feedlot infrastructure, having struck a buy-and-leaseback deal back in 2018 with JBS Australia, where RFM bought all five JBS Australia feedlots, with a total capacity of around 150,000 head, and leased them back.
The move followed a similar strategy seen in the US a year earlier, where the JBS North American feedlots were purchased by other investors (not RFM), and leased back to JBS USA under the Five Rivers Cattle Feeding banner.
Both those deals differ significantly from the agreement reached between RFM and Mort & Co.
The Central Queensland project will see the land asset provided by RFM, with the majority of feedlot infrastructure development costs borne by Mort & Co.
Mort & Co will clearly provide the knowledge, expertise and experience required to develop the greenfield site, based on its ongoing projects at Grassdale and Pinegrove.
Mort & Co last year publicly flagged its interest in expanding its feedlot operations in both Central Queensland and more southerly regions of the country.
The new Gogango deal, once approved for go-ahead, finalises the first part of that expansion plan, but nothing has yet been finalised by Mort & Co about a purchase of an existing feedlot, or plans about a new yard in southern states. That's despite some recent large sale deals happening in existing southern feedlots (separate story to come).
Mort & Co and RFM issued a brief statement last week, flagging the intention to develop a parcel of land in the Rookwood Weir area, near Gogango.
As part of that process, a Material Change of Use (MCU) was lodged with Rockhampton Regional Council to start the statutory approval and planning processes required to develop a feedlot site.
Once approved, the site could be developed for about 36,500 head of cattle on feed, in a business likely to employ around 65 staff.
If and when constructed, the yard would be easily the largest in Central Queensland, after the Australian Agricultural Co's Goonoo feedlot (currently built to around 17,500 head capacity).
Mort & Co principal Charlie Mort said water security was an important consideration in the deal.
"We've lodged the application with the council – it now depends on how long that process takes," he said.
"It will take a year to build it, so 2024 is a realistic target for starting to fill the pens."
Asked why the company had targeted Central Queensland for expansion, Mr Mort said the Australian beef market was changing, with more grainfed cattle required.
"We've been looking really hard for prospects in the region, and this was a really good site," he said.
"There's a good supply of grain up there in most years, and the grain goes right past on its way to markets. On top of that, there is abundant cattle supply, and there are good slaughter facilities within reasonable proximity at Rockhampton (two), Biloela and Mackay. And a grainfed supply chain can still slaughter in the south if it needs too – there are plenty of Central Queensland cattle heading south to Kilcoy, for example."
RFM's general manager of investor relations and marketing, James Powell, said the proposed feedlot development would occupy just a portion of the grazing property it will be located on.
He said the land would continue to be owned by RFM, with the feedlot infrastructure development cost funded in majority by Mort & Co. He said the term 'partnership' was perhaps a better descriptor of the deal than 'joint venture.' Mr Powell could not provide further details about the structure of the transaction, at this stage.
"This is quite different from the earlier feedlot investment RFM made. With JBS, it was a sale and leaseback of existing feedlot assets. With this arrangement, we have the land; Mort & Co will fund the majority of the feedlot development and construction, and will operate and maintain the yard."
"The Rural Funds Group can be seen as the landlord. We are not operators, typically, of these types of assets, so it makes sense to align with a company like Mort & Co," he said.
Both RFM and Mort & Co will be in the Rockhampton region in coming weeks, engaging directly with the local community regarding the feedlot proposal.
To subscribe to Beef Central's free-access daily news and email, click here