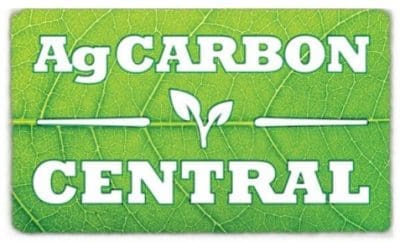 WELCOME to AgCarbon Central, Australian agriculture's first dedicated online gathering-point for news, analysis and opinion across the rapidly emerging carbon industry.
The publishers of Beef, Sheep and Grain Central have monitored the spectacular rise in interest in carbon farming in recent years – a movement which is clearly going to be fundamental to agriculture's future.
We feel the time is right to establish a dedicated platform to gather content around this topic.
AgCarbon Central will grow over time into a vast database of information about the carbon industry, and how it functions and evolves.
Readers can access the AgCarbon Central home page at this link https://www.beefcentral.com/carbon/ or via the dedicated AgCarbon Central button or drop down menus on the Beef, Sheep and Grain Central home pages.
Among its key objectives, AgCarbon Central aims to:
Help decipher the information overload that exists about the carbon industry. Often we hear people say they don't know much about, or understand carbon farming, while at the same time companies are pitching projects to them
Discussing how carbon and agriculture fit together
The carbon industry is changing rapidly, with a current Federal Government review taking place. The platform will provide regular updates on these regulatory and policy changes
Analysis of new carbon methodologies and strategies as they develop
New technologies and tools for measuring carbon
Holding companies and governments which are driving the industry to account
Sourcing opinion from key carbon industry stakeholders
Tracking how industry goals, like CN30, develop
Regular carbon market pricing updates
Providing a platform for industry-wide discussion and commentary.
Driving the editorial content on AgCarbon Central will be experienced Toowoomba-based Beef Central journalist, Eric Barker.
Eric has built up comprehensive knowledge about, and contact networks within the carbon industry over the past 12 months, providing the foundation for AgCarbon Central's future output.
Readers may have noted that even prior to AgCarbon Central's launch, our existing websites – Beef, Sheep and Grain Central – have already focussed heavily on carbon issues, as the emerging industry has gained momentum.
Much of this has been authored by Eric. Listed on the bottom of the AgCarbon Central home-page are more than 50 articles published on the topic so far this year on our sites.
Regular content will be uploaded each week on AgCarbon Central, and our existing subscribers will receive an occasional email from us summarising recent carbon-related content.
In addition to carbon itself, the site will also cover related topics, such as methane – its mitigation, tools and products used to achieve it, and similar themes.
Our expanded focus on carbon-related content also now includes a new graph on our 'Industry Dashboard' panel on Beef Central's home page plotting the carbon market trend, measured in Australian Carbon Credit Units, sourced from analysts, Jarden (see image below).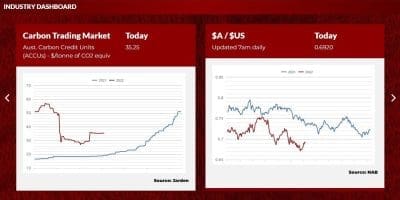 Advertising window
Readers will note a series of carbon industry-specific advertisements appearing on our new AgCarbon Central platform pages. Limited spaces remain for others interested in promoting their goods or services in the carbon market to Beef, Sheep and Grain Central's vast reader networks.
Contact Jon Condon for details jon@beefcentral.com