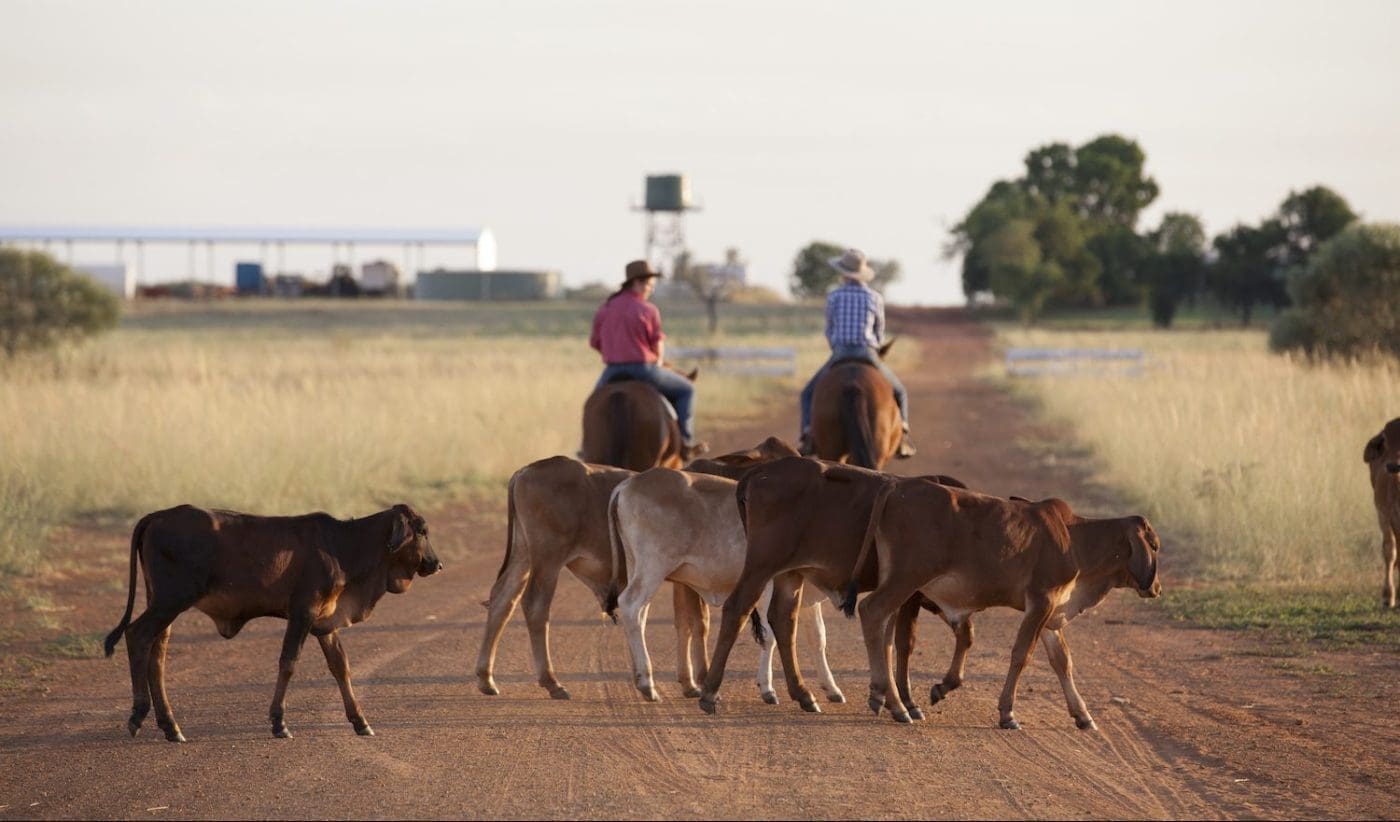 Following the original publication of this article Compass contacted Beef Central with a statement clarifying some key points. It has been pasted at the bottom.
AS THE world aims to figure out what a sustainable future for agriculture looks like, two completely different sets of priorities are beginning to collide.
This week's Protein 2023 conference in Dalby, on Queensland's Darling Downs, highlighted the competing positions.
On one hand, the agriculture sector is facing a major challenge to provide a nutritious food supply to a large and growing world population, which is leading to more intensive agricultural operations.
On the other hand, others in the sector, including some corporates and industry representative groups, are commiting to meet ambitious emissions-reduction targets in their supply chains through all means necessary.
Emphasising the central importance of agriculture's role in maintaining nutritious food supply was well-known scientist Peer Ederer, who is the founder of the Global Observatory for Accurate Livestock Sciences.
Dr Ederer opened by highlighting the "primary definition" of sustainability:
"First of all, the citizens of this world need to have enough food to eat.
"That is according to the Food and Agriculture Organization, the United Nations and the World Health Organisation.
"Then come other definitions, such as ecological sustainability and economic sustainability."
Dr Ederer played a leading role in convening the Dublin Declaration, which 867 scientists from across the world have now signed to endorse the scientific case supporting the essential role of meat in diets and global landscapes. (Read Beef Central's coverage of the Dublin Declaration here)
In his presentation to the Toowoomba Surat Basin Enterprise's Protein 2023 conference this week, Dr Ederer said the epidemiological advice on protein consumption was 100g of protein per person per day.
"We are only achieving this on average in the high income countries and in China, everywhere else is not even close," Dr Ederer said.
"When I go back to my point that the first and foremost important aspect of sustainability is that everyone has enough food to eat, we are clearly failing that."
Dr Ederer said animal protein was the most efficient way of servicing the world's nutritional needs.
"The plant derived proteins are not as bioavailable and they are not as well absorbed by the human body as animal sourced protein is," he said.
"If I have a kg of wheat available, I am actually better off taking that wheat and feeding to an animal from a nutritional point of view."
$1.4bn in bonds hinge on emissions targets
While the idea of feeding the world is a concept of fundamental importance – balancing it with emissions targets and environmental legislation is complicating the situation.
The conference heard from the Compass Group, which is one of the country's biggest food service suppliers for mining camps, boarding schools, defence and health care – mainly through its ESS brand.
Compass' global arm last year become the first food service company to issue bonds, or an IOU, based on emissions targets. It raised GB€750m, or $1.4bn, hinging on the company reaching its goal to be carbon neutral by 2030.
"We have some skin in the game and would like people to come along the journey with us," head of social responsibility Simon Jackson said.
Plans to reduce animal protein
In what will no doubt be a hard sell to the mine workers and boarding school students off the land and in contrast to Dr Ederer's message, Compass plans to reduce its reliance on animal protein.
Mr Jackson said it was one of two priorities for the company.
"Our number one focus is food waste reduction, it is the biggest lever that we have to pull down our emissions within our organisation," he said.
"The other area we are looking at is decarbonising our supply chain and animal protein is the number one area we need to look at. There is a 30pc reduction in animal protein we need to make on current status quo production methods.
"Some people are already doing some great work in-terms of being net positive in their operations – those are the people we are looking to work with."
Mr Jackson said the companies it deals with, like mines, were trying to clean up their image.
"With our clients, we have gone from sustainability being nice to have before about 2022 and now it is the ticket to play," he said.
"We work with our clients to get their own backyard in order. When they are looking at their villages and understanding their employee value proposition, they need a sustainable offer in their kitchens."
Where does agriculture stand?
Caught in the middle of this increasing need to provide nutrition to the world and companies, like Compass, committing to ambitious emissions targets is the agricultural industry.
Sitting on the panel beside Mr Jackson was Molly Sage, who is the sustainability officer for Stockyard Beef.
The company's Kerwee feedlot came in at 15 on Beef Central's list of Australia's 25 largest lot feeders, and has a series of Wagyu and Angus beef brands. In 2021 the company received the industry's first sustainability linked loan.
Ms Sage said it was important for the industry to get ahead of the curve on sustainability demands from its customers.
She said sustainability had ended up a cost saving for the business.
"It is crucial to start a plan and find the right people to help you get started on your baseline," she said.
Plenty has been invested by the agriculture industry to reduce its emissions without reducing its output. Methane-reducing feed additives have attracted government funding and interest from the food service industry – including burger chain Grill'd.
Will consumers pay more for sustainable brands?
Previous stories by Beef Central and comments by many at the conference have suggested consumers are not willing to pay a premium for sustainability credentials.
Ms Sage said while Stockyard was seeing benefits with its bank, the company was still trying to work out whether its consumers will help them pay to reduce emissions.
"We put out a survey to our consumers about whether they would pay a premium and 90pc said no," she said.
"We will be starting an asparagopsis trial next month and one of our major restaurant customers has said asparagopsis meat is what it wants. But we need to be comfortable with that because it is very expensive to feed it to your cattle and it has to be viable as a business."
Sustainability frameworks in the spotlight
At an industry level, agriculture has been on the front foot to help manage the incoming demand, with the formation of sustainability frameworks and plenty of research is also going into the subject.
However, those frameworks were a source of contention at the conference – with Sunpork managing director Robert van Barneveld questioning whether they were realistic.
"I am glad I don't grow cattle because I wouldn't be glad about the commitments that have been made on my behalf," Dr van Barneveld said.
"The pork industry has a sustainability framework that I don't think had a lot of consultation. We struggle with how some of these targets are going to be met – like 'zero waste by 2025'.
"The commitments are being made by people who are not necessarily putting their hands in their pocket to meet the commitment and that is a worry for me.
"So, as an industry I would encourage you to have a lot more input into those frameworks and even if they exist maybe they need to be reviewed."
Mort & Co feed supplement manager Cameron Best said he would like to know more about the frameworks put in front of the industry.
"Not being in that room when a lot of those commitments were made, it would be actually good to see the advice that was given to generate them," Mr Best said.
"If we can understand what they are thinking and then contribute with the data we have. There is a lot of data that is held privately, that is very accurate, not in the public and appears not to be in the frameworks."
It must be said, the Australian Beef Sustainability Framework released a new survey yesterday to help better inform its targets.
Where to from here?
Many in agriculture can see the increased demand for protein coming, as was outlined by Western Downs mayor Paul McVeigh's plans to decrease times for feedlot planning approvals and set up the shire as an intensive agriculture hub.
However, scaling up production to meet the growing need will require more burping and farting cattle – who are clearly out of favour with the Compass investors.
Compass also has to answer plenty of questions about whether it can bring its supply chain on-board to meet the targets.
When the rubber hits the road will mine workers look for another employer who gives them all the meat they want? And will boarding school parents, many of whom invested in the industry, demand more meat for their kids?
As for agriculture, Dr van Barneveld said emissions targets for the industry will require close scrutiny.
"We are going to hear a lot more about greenwashing, because some of these targets are going to be difficult to meet," he said.
"While we can focus on innovation and of course we will and while we will strive to get to minimal emissions, if you are not hand-on-heart sure how you are going to do it we should be very careful about broadcasting them.
"When we don't reach some of these commitments, and I'm sure we won't, then I think it will be incredibly damaging for the industry and it will take some time to recover."
Statement from Compass Group Australia
"This article said the bonds were hinging on Compass Group reaching its carbon neutral by 2030 target. To clarify, the bonds are to finance or refinance new or existing eligible green and/or social expenditure projects which provide clear benefits to the environment and to society.
"Compass Group has a global commitment to a 2050 Net Zero emissions economy, underpinned by approved 2030 science based targets and a further commitment to be carbon neutral worldwide across its own operations by 2030.
"The clients we work with can be large emitters. Even though our emissions are a drop in the ocean comparatively, it's important to assure them an equal focus on our own reduction activities that support them in their reductions also.
"Compass Group still has some work to do to bring the customer base along the journey but we are seeing some great uptake in our sites through our plant forward menus and proposed projects such as carbon labelled menus to enable our front line teams to make more planet positive decisions when writing menus.
"The animal protein sector also has plenty of questions to answer about its emissions profile and whether it will be on board with sustainability targets, set by companies and the industry itself. Compass Group Australia is a small part of the beef supply chain and is one of many companies who are making these commitments in-line with public expectation.
"Overarchingly we are looking to working with and support the animal protein sector along its decarbonisation journey.
"To read more about our target visit click here https://www.compass-group.com/content/dam/compass-group/corporate/Investors/debt-investors/SFF%20Statement%20Final.pdf "