SHAREHOLDERS investing in some of Australia's largest listed companies exposed to our livestock industries are responding to the elevated level of concern over Foot & Mouth Disease risk.
Both Elders and the Australian Agricultural Co share prices have fallen over the past three weeks, as FMD concerns have risen, and analysts have connected the two.
As this graph shows, Elders' share price closed yesterday at $11.75, having started July at $12.75, a drop of 9.27pc.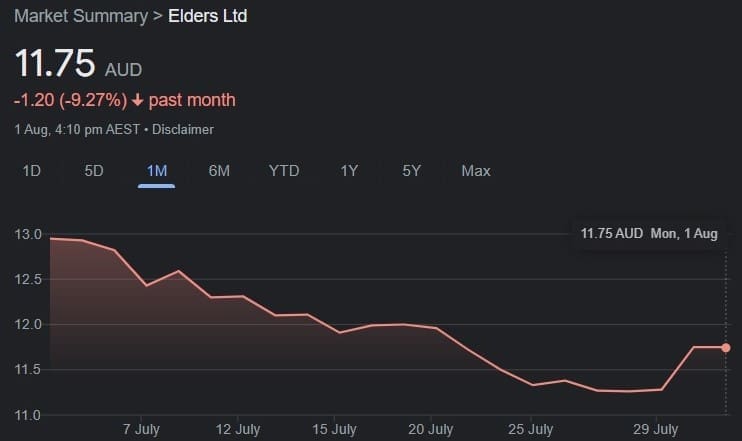 Similarly, AA Co shares have fallen 11.85pc over the past month, finishing yesterday at $1.86, down from $2.11 back on 4 July.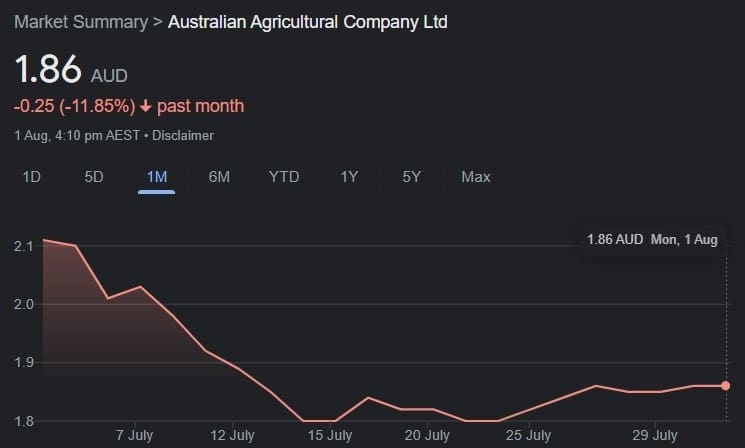 Whether it be coincidental or otherwise, both reflect the broader store and slaughter cattle price trend seen since the start of July. Also see today's weekly kill report.
Over a two-month cycle since late May, Elders shares have now fallen around 16pc – despite the strong trading updates released earlier this year – compared with the Eastern Young Cattle Indicator, which has dropped 21pc over the same period.
In private discussions, Beef Central understands that major finance providers to the agriculture industry have all sought briefings on the FMD risk scenario this week from government and industry authorities.
Analysts are now clearly connecting Elders and AA Co's recent trading performance with the looming FMD/LSD threat from Indonesia. However cattle prices had already started to decline before the industry unease over FMD risk started to set in last month, making it difficult to apportion impact.
A substantial portion of Elders' trading business is engaged with the livestock industries exposed to FMD – beef, wool and lamb. One analyst estimated that livestock agency business represented 22pc of Elders 2022 financial year gross margin, with animal health another 5pc and feed & processing 2pc. However it did not include divisions like real estate, which would inevitably take a massive hit in the event of an FMD outbreak in this country.
Sydney brokers Shaw & Partners on Thursday issued an investment report on Elders titled "Foot & Mouth Disease: Threat or Opportunity?"
It told investors that an Australian incursion of the virus would have severe consequences for our animal health and livestock-related trade.
"ABARES estimates a worst-case single outbreak scenario could cost Australia up to $80 billion over 10 years," the report said.
While livestock agency represented a considerable portion of Elders' FY22 Total Gross Margin, although though there would obviously be some indirect impacts, Elders' Gross Margin composition was reasonably diversified, Shaw & Partners said, with around 70pc coming from non-livestock related activities (at least directly), including ag chemicals and fertiliser, other retail, wholesale products and real estate. These were largely not linked to livestock profits, it said.
Share bounce-back?
"We value Elders at $20.00 per share using a DCF valuation. In order to generate a valuation equal to the current share price, we would need to forecast zero Gross Margin from Livestock and Feed & Processing and assume some indirect negative revenue impacts as well," it said.
"We believe this to be an over-reaction, like the glyphosate issue in 2018 where cancer fears impacted investor sentiment temporarily, and that the Elders share price will bounce-back once calmness is restored."
"Elders is a very well-run company delivering strong results in varied market conditions. While we do forecast a mean-reversion in market conditions from the 2024 financial year onwards, the upcoming winter cropping season, combined with the northern hemisphere supply issues, should result in solid earnings growth for Australian farmers over the next 12-24 months," Shaw & Partners said.
"These conditions should underpin Elders' earnings over that timeframe. We do not believe FMD poses a material risk to Australian farmers, and therefore to our Elders forecasts. Whilst the impact of an incursion could be very large, we believe the probability of a worst-case-scenario to be very low and see this as a (share) buying opportunity, similar to the glyphosate scare in 2018."
"Given the existing Government measures in place to protect against FMD and the much-heightened awareness the threat now has, we believe the probability of the worst-case single outbreak scenario discussed above to be reasonably low," Shaw & Partners said.
"A large multi-state outbreak, which has already spread to all eastern states when detected, is a worst-case single outbreak scenario. It is more likely that with proactive surveillance measures the initial infected properties would be detected early resulting in a much smaller outbreak, reduced time to eradicate and regain market access, leading to a significantly smaller direct economic impact."
On the other hand, ABARES had estimated the cost of a single outbreak. In some circumstances there could be repeated outbreaks over time, leading to a larger direct economic impact.
"With the incursion managed to a smaller outbreak, it is also likely that Australia could establish a specific form of trading zone – a 'disease containment zone' under World Organisation for Animal Health (OIE) guidelines – such that uninfected areas may continue to trade in international markets and avoid some of the impacts associated with an Australia-wide export ban."