Following recent discussion around Australian Dietary Guidelines and their recommendations for red meat consumption this articles delves more deeply into the guidelines and their implications for domestic red meat consumption in Australia.
THE Australian Dietary Guidelines, last updated in 2013, recommend Australians eat a maximum of just 455 grams of cooked red meat a week.
The Guidelines, and particularly their recommendations on red meat consumption, have attracted debate and criticism from some producers, concerned that it sends a message to consumers to limit consumption of red meat.
This has also seen criticism directed towards Meat & Livestock Australia (MLA) for its acknowledgement of the recommendations, leading some producers to question whether its position is in keeping with MLA's role as the producer owned and funded body responsible for marketing Australian red meat.
In response MLA says the reality is that Australians in fact eat around 57 grams per day of red meat on average (399 grams per week), which is below the level the ADGs actually recommend, and meeting the official dietary recommendations would in fact mean lifting domestic consumption of red meat from current levels (more on this below).
While outlining recommended  amounts of red meat consumption in Australia (as well as other key food groups), the guidelines officially set out the importance of including red meat as part of a healthy diet, reinforcing that red meat is protein-rich and  provides a wide variety of other important nutrients, including iron and zinc and other minerals and vitamins.
What are the Australian Dietary Guidelines?
The Australian Dietary Guidelines are set by the National Health and Medical Research Council (NHMRC), an Australian Government agency responsible for medical and public health research.
The ADGs underpin Government food and nutrition policies and regulations, inform public health policy and regulations and provide direction for the dietary advice provided to the general population by doctors and dieticians, rather than direct advice to consumers.
The Guidelines provide advice about the amount and kinds of foods Australians should eat for health and wellbeing, with a core focus on ensuring people get enough of the nutrients essential for good health.
The most recent update released in 2013 recommends Australians eat 65 grams of lean, cooked red meat per day, or 455 grams per week, to ensure they are consuming essential nutrients as part of a healthy diet. ('Cooked' weight equates to 90-100 grams of uncooked meat per day, based on the rule of thumb that meat loses about 30 percent of its weight when cooked).
Released with the ADGs at their last update in 2013 was an accompanying "Educator Guide: Information for nutrition educators", developed to provide practical advice consistent with how studies show Australians currently eat red meat, that is 3-4 red meat meals a week. "Some people may like to eat meat, poultry or fish in larger serve sizes than the sample serves above. This is easily accommodated by adjusting serve sizes or numbers of serves over the week," the guide states.
The 455 grams per week recommendation pertains specifically to unprocessed red meat. Processed meat products such as salami, bacon and sausages (except for lean and low sodium sausages which count as unprocessed meat) are covered under the 'discretionary foods' classification of the guidelines.
Red meat as defined by the ADGs includes beef, lamb, veal, pork, goat or kangaroo.
An update is due soon, with the Federal Government recently announcing funding to review the 2013 Guidelines.
455 grams of cooked red meat per week, 65 grams per day, does not seem a lot, particularly in a country where red meat is an important component of the diet and regarded as one of the world's largest meat consuming countries.
On which data sources are the ADG recommendations based?
The process outlined in the Guidelines document indicates that the NHMRC starts with modelling of the Australian diet against nutrient requirements set out in the Nutrient Reference Values. The modelling is used to work out amounts of foods needed per day to meet nutrient requirements.
As it was explained to Beef Central by a nutritionist, the modelling identified 65g per day lean and cooked red meat as necessary to ensure Australians get enough iron and zinc recommended for good health.
The next step is a systematic review of the evidence to then set limits for addressing chronic diseases which are generally caused by imbalances in the diet i.e. too much or too little of any one food or nutrient in the diet (e.g. not enough dietary fibre, too much sodium, too many calories etc).
This systematic review looked at a number (16 by Beef Central's count from the sources referenced in the document) of observational studies which involve collecting information by asking people to remember what they ate, and then running statistical analyses looking for links between foods and dietary patterns and a particular health outcome, such as cancer.
It is, however, acknowledged that this evidence around chronic disease is subject to debate, as it is complex and can be limited by its inability to adequately account for confounding factors, that is other variables that can confound the outcomes of a study and reduce the validity of the outcome.
Beef Central readers might remember the furore that erupted last year when an independent collaboration of scientists and researchers examined a dozen previous Randomised Controlled Trials involving some 54,000 participants together with other observational studies.
The research concluded that the recommendations contained in  some dietary guidelines around the world to eat less red meat were not backed by good scientific evidence.
The publication of that research last year produced fierce criticism from public health researchers in the US, while at the same time public health officials in the UK said they would refuse to the take the study's results into account, the BBC reported.
It was later revealed by the Journal of the American Medical Association (JAMA) that scientists with close ties to plant-based meat companies, and who stood to profit from consumers replacing red meat consumption with plant-based protein alternatives, had applied unprecedented levels of pressure to the Journal to try – unsuccessfully – to block publication of the study.
Interestingly, this study did ultimately find "that most people can continue to eat red and processed meat at the current average intake, typically three or four times a week for adults".  In the Australian context, the ADGs do recommend that Australians continue to eat red meat 3-4 times a week, consistent with current levels of consumption.
The detail of the Australian Dietary Guidelines document includes acknowledgements that findings in relation to health effects of red meat are "often inconsistent" and "difficult to interpret". This was because of "widely varying definitions of 'meat'", and some studies including only unprocessed red meat while others include some or all of a variety of processed meats. The definition of red meat also varied greatly between studies.
The important role that meat plays in a healthy diet is also recognised in the ADG document, which states that the "lean meat and alternatives" group is 'protein-rich' and provides a wide variety of other important nutrients, including iodine, iron, zinc and other minerals, vitamins, especially B12, and essential fatty acids including omega-3 long chain polyunsaturated fatty acids.
"Evidence of the health benefits of lean meats and alternatives is consistently recognised in international dietary guidelines," the guidelines point out.
Despite the acknowledged uncertainty around nutritional studies linking red meat to increased risks of some diseases, and the acknowledged health benefits of meat consumption, the ADGs still impose fixed limits on the amount of red meat Australians should eat – which equate to just 65 grams in total of cooked beef, sheepmeat, pork, goat or kangaroo per day.
How much red meat do Australians actually consume?
Answering this question definitively comes down to which data source you use, which is complicated because most data sources include both unprocessed and processed red meat and do not distinguish between the two.
However, one study conducted in 2011 by researchers from the University of Sydney which did distinguish consumption of processed and unprocessed red meat concluded that Australians eat about 57 grams of unprocessed beef, sheepmeat and pork per day.
MLA points out that this is well below the 65g/day recommended in the ADGs: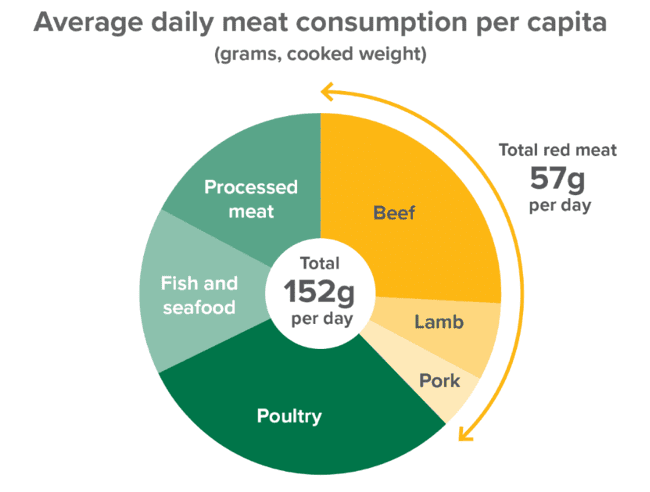 More details, including a link to the University of Sydney paper, can be found here https://www.mlahealthymeals.com.au/faqs/
Estimates of per person consumption can vary with different data sources.
OECD-FAO data for 2019 for example estimated per person consumption of beef and veal in Australia per year at 19.7kg (which would equate to 53.9 grams of beef and veal per day), along with sheepmeat consumption at 6.2kg per year (16.9 grams per day) and pork/pigmeat consumption at 20.3kg of pork/pig meat (55.6 grams per day). These figures suggest Australians eat over 120 grams of red meat per day, but are not a straight "apples with apples" comparison because they would also include processed red meat (the breakdown of which is not reported), along with foods that go to non-human consumption (pet food) and food waste.
MLA's latest Red Meat State of the Industry report for 2020 report listed Australian beef consumption in 2019 at 25kg per person, and sheepmeat at 6.8kg per person, which would translate to 68 grams of beef per day and 18 grams of sheepmeat per day. It was explained to Beef Central that the difference relates to the inclusion of processed red meat along with unprocessed meats.
MLA and Australian Dietary Guidelines
In its marketing MLA says the Australian Dietary Guidelines are based on scientific evidence and provide recommendations appropriate to the Australian diet.
MLA's research shows there is a strong consumer trend toward health and wellbeing, with consumers wanting to know how to enjoy red meat as part of a balanced meal but many consumers remain confused as to how to practically interpret and incorporate the ADGs into their everyday meals.
MLA encourages consumers to eat red meat three to four times a week, alternating meals with smaller and larger portion sizes: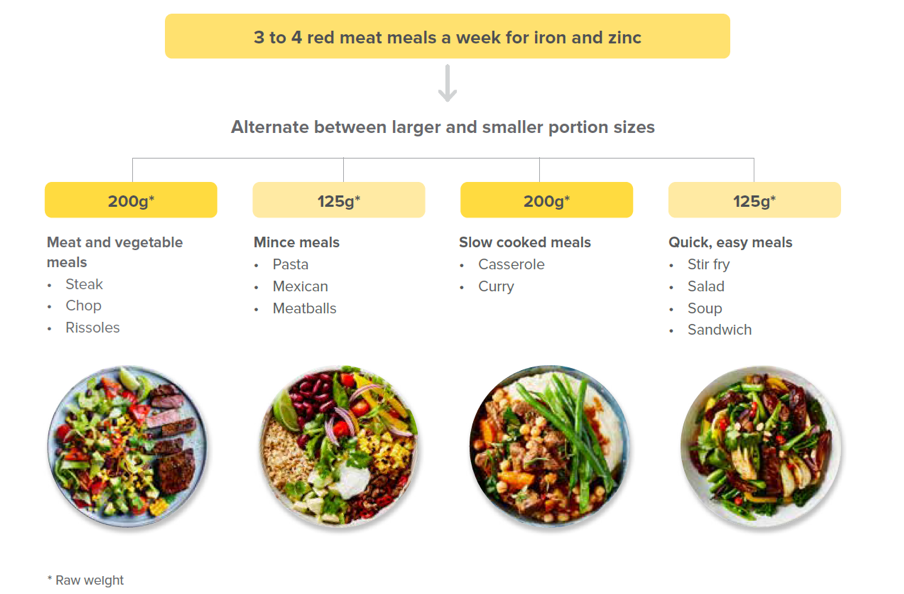 Meat & Livestock Australia told Beef Central that the ADGs are not intended to be direct consumer communications (see above) which is why it has translated recommendations into meal portion sizes typically used to make popular meals that Australians enjoy eating.
MLA said the clear message is that red meat remains popular with Australian consumers and is a critical part of a healthy diet.
MLA's consumer insights research shows red meat continues to be "the most popular protein with Australian consumers", and red meat and vegetables remains "the most popular meal in Australian households".
The panic buying through the COVID-19 pandemic further reinforced the popularity of red meat as it became one of the first products to disappear from supermarkets, while independent retailers also reported significant increases in sales.
MLA says its focus is to give consumers who may be confused about a healthy diet reassurance that they can continue to enjoy red meat, and in particular how to enjoy red meat through meal ideas and solutions.
MLA also adds it "has never suggested that consumers eat less red meat," with a wide range of consumer marketing activities focused on promoting and driving consumption of red meat.
A key focus of campaigns are elements that promote meal ideas and recipes, including point of sale material including posters and recipe booklets featuring easy recipes.
Nutritional attributes of red meat and most importantly, balanced meal solutions are a key component of its community engagement and education programs which aim to educate consumers and the next generation about the importance of enjoying red meat in a healthy diet.
Some examples of these include (see https://www.mla.com.au/news-and-events/industry-news/three-new-red-meat-resources-for-schools/):
Your Expert Classroom series including two components on red meat and healthy eating:
In term 2 2020 MLA sponsored the 'Your Expert Classroom' series, a new curriculum-linked program for students aged 5–14 years. The series includes four parts: a series of educational videos, in-home activities, a livestream video Q&A with a producer and an online marketing program targeting parents and teachers.
Teachers will be able to adapt these activities to suit online classrooms as well as physical classrooms.
So far, 246 classes have participated in the series, which covered topics such as:

Smart agriculture: Doug McNicholl, MLA's Program Manager – Sustainability and CN30, spoke to students about how Australian red meat producers use technology to enhance sustainability and protect the environment.
Eat right, move well: Nutrition expert and dietitian Peta Carige spoke with students about why a healthy diet is important and highlighted why protein-rich sources of iron and zinc such as red meat – is needed to maintain a healthy active lifestyle.
A healthy start: Peta Carige also shared practical tips and easy meal ideas on how to enjoy red meat in a healthy diet including its benefits, how much we need and how often we need it.
Greener pastures: To increase awareness that Australian red meat producers are responsible stewards of the land, producer Charlie Arnott spoke to students about the importance of maintaining biodiversity on his farm in Boorowa, NSW.

Be Your Greatest Virtual Classroom Program, featuring Paralympians and Olympians to inspire and connect students with athlete heroes, learning about their journey to greatness and the importance of active lifestyles and healthy, balanced meals ahead of the Tokyo Games in 2021. (See https://www.mla.com.au/news-and-events/industry-news/australian-beef-brings-national-sporting-heroes-to-classrooms/)
Get kids cooking – due to COVID-19, many Royal Shows around the country – where children would usually participate in interactive cooking classes – were cancelled.
To continue the engagement with the Royal Show audiences in lieu of the face-to-face events, MLA worked with 'Get Kids Cooking' to develop a fun and interactive cooking video. The video teaches young Aussies aged 5–13 (and their parents) how to cook red meat and learn more about the nutritional benefits of eating red meat as part of a healthy balanced diet.
The video guides kids through a step-by-step recipe to create mini beef sliders at home. Not only do kids and their parents enjoy a delicious meaty meal but they also gain a greater understanding of Australian red meat's health benefits. (See https://www.mla.com.au/news-and-events/industry-news/three-new-red-meat-resources-for-schools/)
MLA also speaks directly to general practitioners and dietitians to assist when providing dietary advice to patients. MLA's 'So what's for dinner?'  initiative provides a suite of resources designed for general practitioners and dietitians to use with their patients and clients to help them achieve variety, balance and enjoyment in their meals for good health and wellbeing. This consumer-focused approach is important for providing a bridge between the Australian Dietary Guidelines (ADG) and 'the plate', and how to continue to incorporate and enjoy red meat in everyday meals.
Veronique Droulez, MLA Senior Manager – Food and Nutrition, explained the specific approach MLA is taking in relation to the ADGs.
"We know consumers are less confident preparing a 'balanced' meal.
"They need meal ideas which illustrate what the plated meal should 'look like' in terms of relative portion sizes of core ingredients.
"They typically make meals with 100 to 200g of red meat per serve (raw weight) but are less confident about meal portion sizes of vegetables and carbohydrate foods.
"Nevertheless, taste is most important and they want to be able to continue having the meals they like to eat.
MLA's recipe guidelines explain how to develop balanced meal ideas for any meal occasion (see links below).
"While nutrition information is 'nice-to-know' for consumers – meal ideas ease the stress of meal planning.
"Consumers know that red meat is a good protein source of iron and appreciate its versatility and want to learn about different cuts and how to perfect cooking and storing methods.
"More than any other protein, consumers want to know more about how to use different cuts to make a variety of meals.
"MLA's consumer marketing has a strong focus on versatility and variety and ease of use."
For more information on the meal ideas MLA suggests consumers try visit https://www.australianbeef.com.au/ or https://www.australianlamb.com.au/