AUSTRALIAN cattle shipments to all export markets in September totaled 51,152 head, falling to the lowest monthly export volume for four and a half years.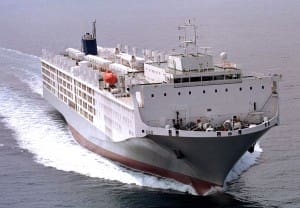 September 2021 figures released today show that Australia has now exported 630,746 cattle this calendar year, representing the lowest January to September total since 2017 when 629,904 were shipped in the same period.
The previous lowest monthly total was 42,741 head exported in February, 2017.
High Australian cattle prices, demand disruptions caused by COVID in major markets, and increasing competition in the form of Brazil's first shipment to Vietnam last month are among the primary contributors to the slowdown in shipping activity.
September exports to Indonesia reduced to 28,743 head, well under the five-year average for the month of 47,490.
Trade volumes to Vietnam slumped to just  7,436 in September, less than half the five-year September average of 16,755 head.
Exports to China were also back to 4100 head, which compares to a five-year September average of 9559.
While exports to all major markets were down, the month also produced the first cattle export activity from Australia to Israel in six months, with 6817 shipped from Broome.
Prices for export cattle remain at historically high levels with Darwin export steer prices quoted at an indicative rate of 430c/kg.
Townsville shipping volumes fell to zero for the month as shipping activity to Vietnam dried up.
Activity from Darwin in September was stronger with 17,960 head shipped – of that 12,491 were destined for Indonesia; 2739 to Vietnam and 1736 to the Philippines.
Trade sources report that while the lull has continued this month, there was an isolated run of four shipments in the space of a week from October 14 to 21.
The cattle shipments represented a mix of types, including a number of breeders, some heavier cattle above the normal 'feeder' weight range and buffalo.
Three of the shipments were carrying smaller consignments in the range of 2000 head, with the Aurochs and Nine Eagle sailing for Indonesia and the Devon Express supplying Malaysia.
The larger 3000-head consignment shipped on the Greyman Express to Indonesia included another large draft of almost 1000 feeder buffalo.
Buffalo exports from Australia have increased this year with 6831 head exported from January to September, including a 1229-head shipment by AUSTREX in September, as reported in Ross Ainsworth's most recent South East Asia Beef Report,
Indonesia has been the largest destination for buffalo exports, taking 4278 to September, followed by Brunei Darussalam with 1265, Malaysia with 1037 and Vietnam with 251.