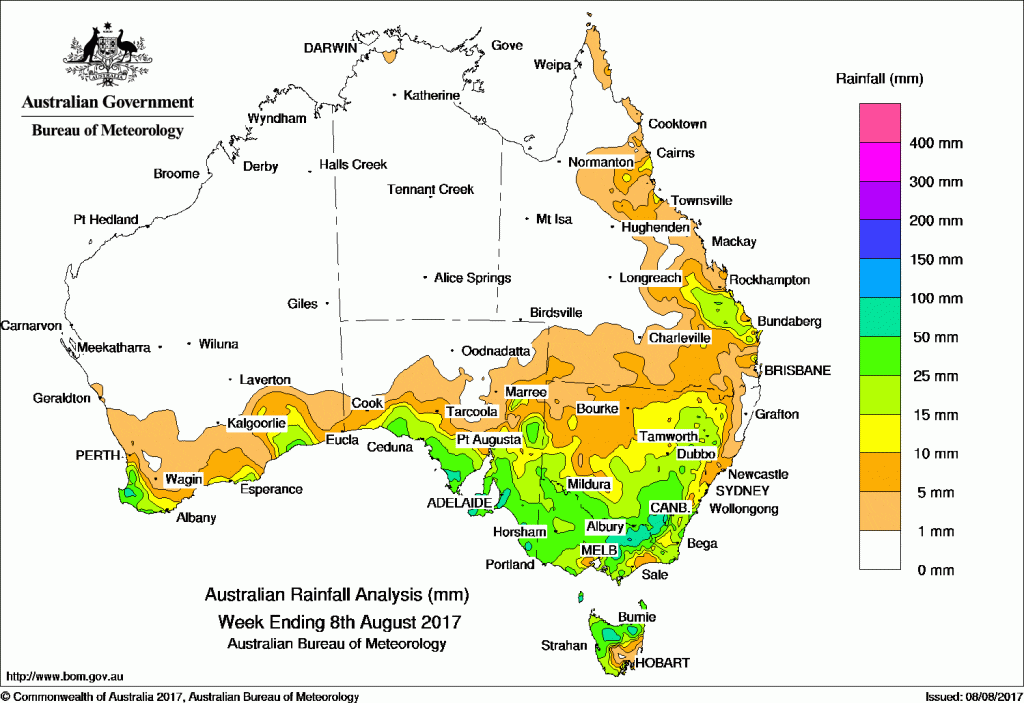 For today's 14-day rainfall outlook – scroll to bottom of article
A series of cold fronts tracked across southern Australia during the week, producing moderate falls. A complex low pressure system and associated cold fronts brought moderate falls to the southeast.
Past seven days: At the start of the week, a strong cold front tracked over southern Western Australia, producing a cloudband with embedded thunderstorms, and generating light to moderate falls along the southern coasts of Western Australia and South Australia. An associated low pressure system moved eastwards, passing over southern South Australia and into western New South Wales before tracking into eastern Victoria and moving offshore. Moderate falls were recorded in northern Victoria and eastern New South Wales, with widespread light falls recorded across most of eastern South Australia, Victoria, New South Wales and the southern interior of Queensland.
Another vigorous and fast-moving cold front tracked across southern Australia during the first half of the week, producing light falls in the southwest and southern parts of Western Australia. The cold front tracked eastwards, generating widespread light falls over the southeast, rising to moderate totals in southeastern South Australia, the western half of the Alpine region in Victoria and New South Wales, and in northern Tasmania in the middle of the week.
Just after mid-week, a complex low south of the mainland extended two associated cold fronts across southeast Australia, producing a band of thunderstorms and areas of rain. Moderate falls were reported in southeastern South Australia, western and central Victoria and northern Tasmania. Elevated areas of the Victorian Alps and the Snowy Mountains reported heavy snowfall.
In the last days of the week a surface trough extended from the west of Cape York Peninsula to the southeast of Queensland, and combined with an upper-level disturbance to produce showers and gusty storms with moderate falls over the central coast of Queensland and adjacent inland districts.
In the west, a rainband developed over the southwest corner of Western Australia and produced moderate falls at the end of the week.
Rainfall totals exceeding 100 mm were recorded in parts of the Victorian Alps, and in parts of the Mount Lofty Ranges in South Australia (not visible on map). The highest weekly total was 156 mm at Falls Creek (Rocky Valley) in the Victorian Alps.
Rainfall totals between 50 mm and 100 mm were recorded in the far southwest tip of Western Australia; areas of coastal South Australia between the lower Eyre Peninsula and the southeast; a broad area extending from eastern central Victoria to the Brindabella Ranges in New South Wales; and in parts of northern Tasmania.
Rainfall totals between 10 mm and 50 mm were recorded across southwest and southern coastal areas of Western Australia; southern South Australia; most remaining areas of Victoria; much of southern and eastern New South Wales, except along northern coast; remaining areas of western and northern Tasmania; in the central Queensland coast and adjacent inland districts; and pockets of the north tropical Queensland coast.
Little or no rainfall was recorded in Western Australia away from the southern coast, the northern half of South Australia, the Northern Territory, western and northern Queensland, and parts of coastal northeastern New South Wales.
Highest weekly totals
New South Wales and Australian Capital Territory
92 mm Perisher Valley AWS, Mount Ginini AWS
82 mm Argalong (Sandy Creek)
Victoria
156 mm Falls Creek (Rocky Valley)
127 mm Myrhee (Handcocks)
112 mm Ovens River at Harrietville
Queensland
45 mm Gayndah Airport
44 mm Camboon Station
38 mm Abercorn
Western Australia
91 mm Jarrahwood
84 mm Yoongarillup
76 mm Vasse
South Australia
103 mm Piccadilly (Woodhouse), Aldgate
102 mm Hahndorf
Tasmania
88 mm Mount Victoria (Una Plain)
84 mm Targa (Mountain Views)
73 mm Mount Barrow (South Barrow)
Northern Territory
2 mm Point Stuart
0.4 mm Upper Seventeen Mile Creek
0.2 mm Centre Island, Gunn Point, Pirlangimpi Airport
More weekly rainfall totals:
Source: BOM