Supermarket retailer Woolworths has announced a $552 million deal to take a 65 percent stake in one of the nation's largest food service distribution companies.
Woolworths has agreed to invest $302 million for 65pc equity in the PFD Food Services business, owned and operated by the Smith family. Woolies will spend a further $249 million to buy PFD's freehold properties including 26 distribution centres across Australia.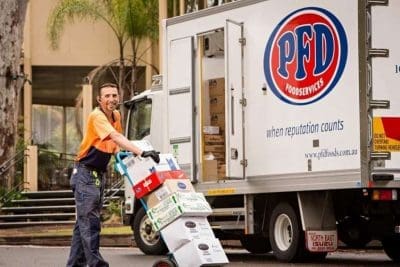 The investment will rank Woolworths as Australia's second largest food service distributor after Bidfoods.
The announcement came ahead of the release of Woolworths' annual results tomorrow.
The Smith family will retain 35pc of the PFD business and will have the option to sell its remaining stake to Woolworths after three years.
PFD services almost 40,000 food service customers across Australia, including pubs, restaurants, cafes, fast-food chains, convenience stores, aged care facilities, resorts and theme parks, schools and kindergartens, sporting, child care and correctional facilities. Its 2800 staff and fleet of 750 trucks operate from 68 distribution centres. The company has annual revenues of about $2.1 billion.
Red meat is just part of a vast spectrum of frozen and chilled foodstuffs, dry goods, confectionery, paper products and cleaning solutions distributed by the company. Its red meat requirements are sourced from a wide range of processors across Australia, ranging from price-sensitive commodity beef to better quality branded MSA products.
In a statement, Woolworths group CEO Brad Banducci, said PFD was a business Woolworths had long admired, with which it had shared vision for continued innovation, customer focus and investment in the food sector.
"We look forward to delivering even better experiences together for our customers as we continue to respond to their changing needs in a post COVID world," he said.
"This investment is a logical adjacency for Woolworths and further supports the evolution of the Group into a Food and Everyday Needs Ecosystem. It will build on our existing partnership with PFD, the number two player in the large and fragmented out-of-home foodservice and non-retail business-to-business markets."
The investment would unlock synergies for both businesses across the combined network and fleet, Mr Banducci said.
PFD will operate independently under CEO Kerry Smith. A separate board and governance structure will be implemented, with Rick Smith, the founder of PFD, continuing to be involved.
Like many other businesses, PFD's current earnings have been impacted by COVID-19. Despite this, the investment is expected to deliver a strong return on investment to Woolworths Group.
The transaction is subject to ACCC approval. The deal has not been universally welcomed, however. The chief executives of three independent food distribution organisations, Countrywide Food Service Distributors, NAFDA Foodservice and The Distributors, told the Australian Financial Review the deal was a "disaster" for small businesses and must be stopped.