THE United States is currently scrutinising tariff rates and quotas for beef imports – a move which could have trade implications for Australian beef longer-term if anything was to change.
The US Foreign Agricultural Service has issued a report reviewing tariff rate quotas (TRQs) for US beef imports, noting that the US maintains several TRQs for specific countries (including Australia), while others have to compete under a smaller "Other Countries" quota.
These TRQ allocations (see table below) date back to the 1994 WTO Uruguay Round Agreement.
With additional countries – especially Brazil – gaining access to the US imported beef market in recent years, competition has increased within the "Other Countries" TRQ, and attention has started to focus on the current arrangements.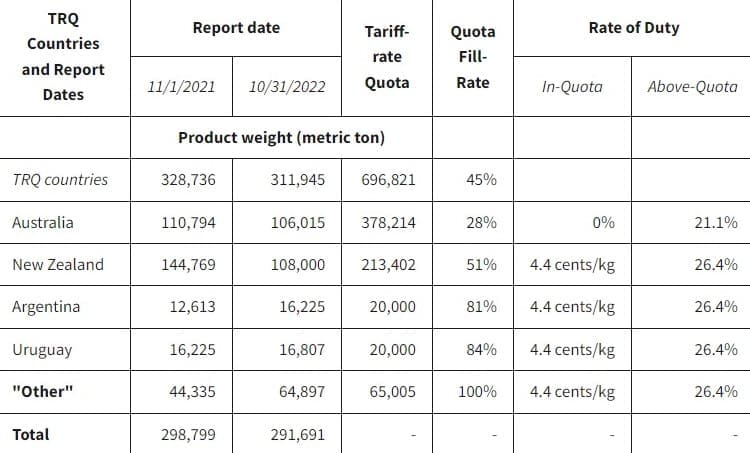 Besides Australia, another 16 countries are now eligible to export fresh and frozen beef to the US. They include Mexico, Argentina, Brazil, Chile, Costa Rica, Nicaragua, Uruguay and the Dominican Republic in Central and South America, plus Canada, France, Ireland, Japan, Namibia, Netherlands, New Zealand, the United Kingdom.
Of these, just five are duty-free, including Australia (within TRQ), Canada, Chile, Costa Rica, Mexico and Nicaragua.
Countries eligible under the "Others" TRQ, providing space this year for just 65,000t, are Brazil, France, Ireland, Japan, Netherlands and UK. The significant point is that imports outside this small "Other" quota are subject to a 26.4pc ad valorem duty compared to just US4.4c/kg for in-quota imports from countries like Australia.
The report specifically details the impact of Brazilian beef, which first entered the US market in 2017. Sanitary concerns resulted in Brazil losing access from 2018 to May 2020, but volumes out of Brazil – even with the hefty 26.4pc duty for out of quota volume – are growing rapidly.
Brazilian exporters heightened their focus on the US market after a BSE-related closure of the Chinese market in September 2021.
The graph below plots the respective movements in trade volume into the US, with Australia (blue bar) contracting sharply each year since 2019, while Brazil (purple) has grown significantly since 2020 – going close to matching Australian volume this year, despite the extra tariff burden.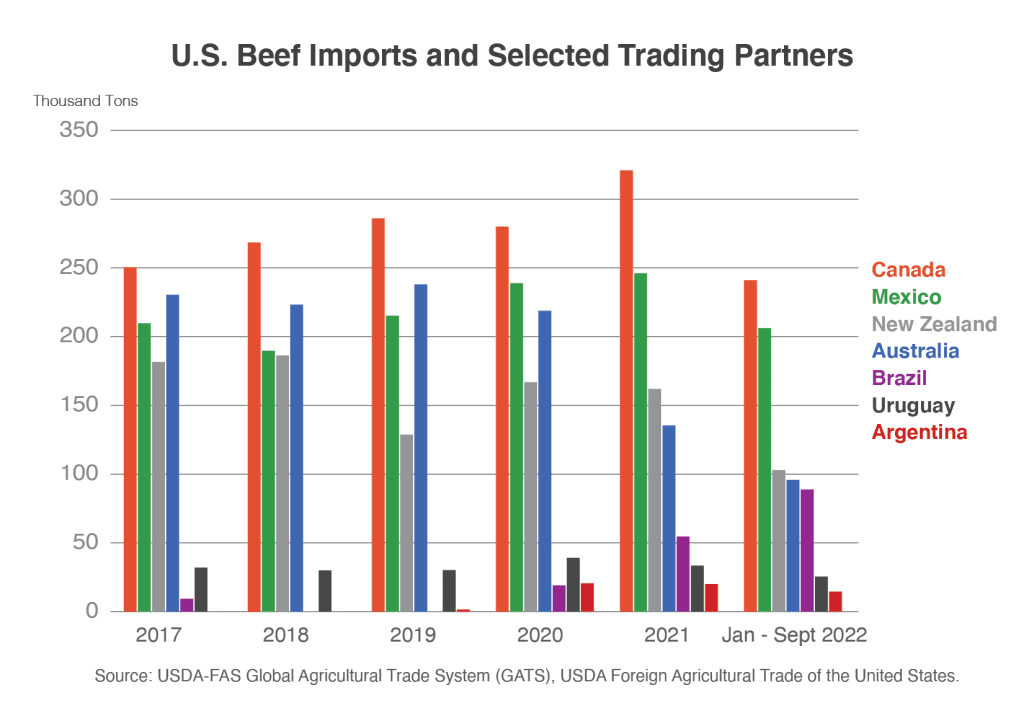 Since 2017, Canada has been the leading supplier of US beef imports, followed by Australia, New Zealand, and Mexico. In 2020, Mexico became the second-largest supplier, supplanting Australia amid the latter's ongoing herd rebuild. Australia and NZ have historically supplied most imported beef trimmings to the US; however, Brazil has recently made substantial gains in the US market.
Notably, Brazil lacks both a country-specific quota and a FTA with the United States. Therefore, Brazil competes within the small "Other Countries" quota (65,000t). Countries subject to this TRQ include those which are eligible to export fresh and frozen beef to the US, do not have their own country-specific quota, and do not have a FTA with the US.
As of the end of October, Australia had shipped only 106,000t of beef to the US this year, filling just 28pc of its tariff rate quota of 378,000t. In earlier times, Australian went close to, and even filled its massive annual quota volume into the US, but our exports have in more recent times become much more diverse.
In contrast, this year's 'Other countries' quota of just 65,000t was filled way back in April, on a first come first served basis, and shipments for the remainder of the quota year attract a 26.4pc duty.
Despite that burden Brazil continues to be the fifth-largest supplier of imported beef this year to the US, behind Canada, Mexico, NZ and Australia. When considering all beef products (including those sold outside the quota), Brazil becomes the US's third-largest supplier this year.
Brazilian product has remained competitive despite incurring the out-of-quota duty due to high US beef prices, firm demand for manufacturing beef, and limited global competition. Australia and NZ, the other major beef trimmings exporters to the US, have faced several challenges in recent years regarding their processing sectors, including herd rebuilding after drought, and COVID challenges.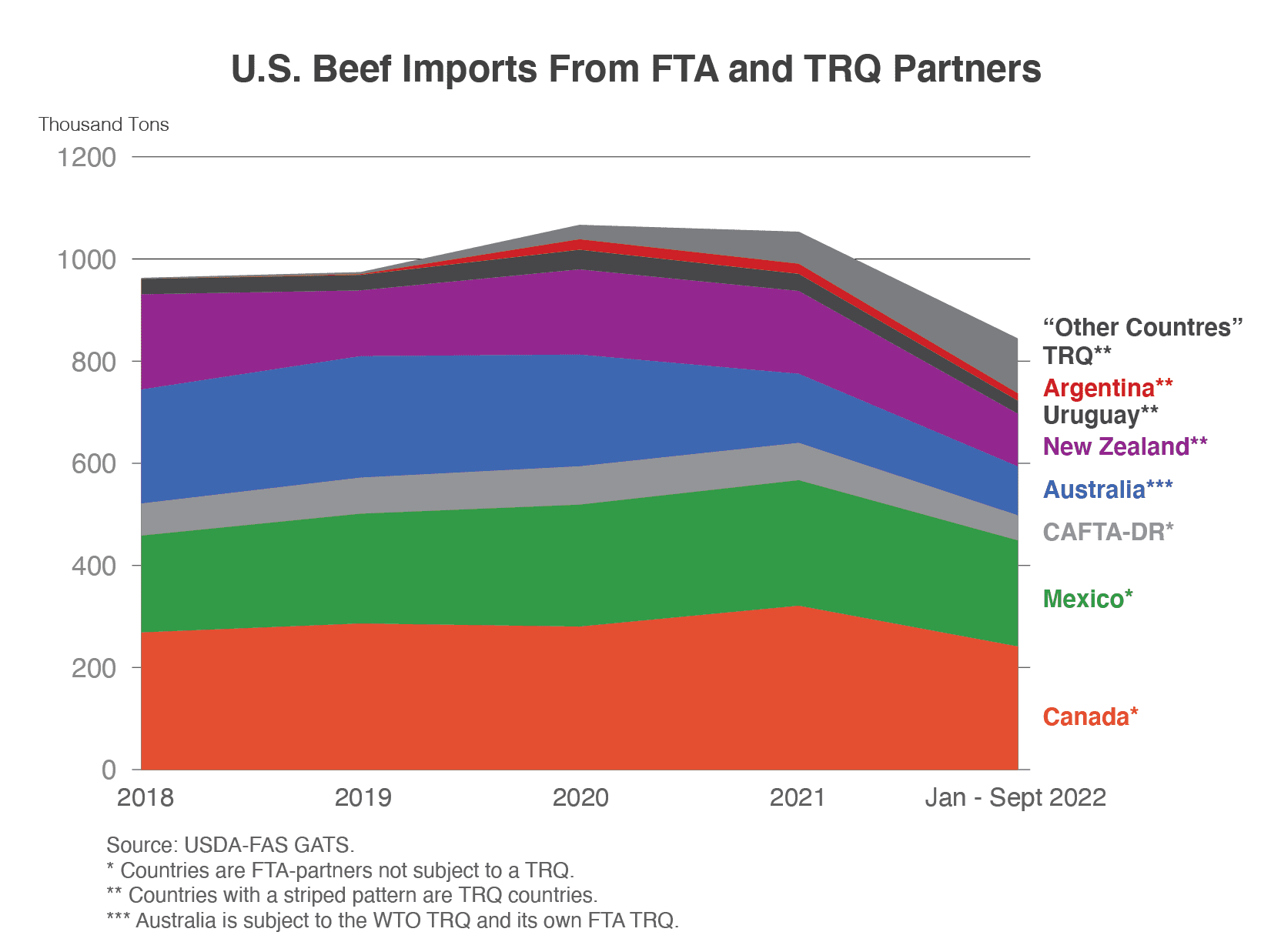 US-Australia FTA
In addition to its WTO quota, Australia has a separate country-specific quota through its own Free Trade Agreement with the US, in effect since 2005. In 2023, Australia will enjoy duty-free access as excess-quota duties are phased-out permanently.
So in the light of forecast much smaller beef production in the US next year due to drought recovery, is the US likely to consider some form of adjustment to current quota arrangements, to free-up access for supplier countries like Brazil?
The US Foreign Agricultural Service report says any changes to the WTO TRQ quantities or country allocations would require negotiations through the World Trade Organisation. Similarly, changes to FTA quotas or country allocations necessitate negotiations between the US and the partner country.
In most cases, an FTA quota phases out after a certain timeframe. FTA partners account for most US beef imports.
As background, the US is the largest beef producer globally, but it is also the second-largest importer after China. Overall, imports accounted for 10pc of total US beef supply in 2021, most of which was lean trimmings used for processing into ground beef.
US beef imports in 2023
The US Foreign Agricultural Service report also discusses the impact of US herd contraction on the beef import market.
According to the US national inventory survey, the US cattle herd continues to contract in 2022. Both higher slaughter rates and cattle on feed through September further reinforce that the US cattle herd will continue its contraction into 2023.
"Beef imports historically remain elevated as the supply of slaughter-ready cattle dwindles and beef production wanes," USFAS says.
"This trend is expected to continue amid a forecasted herd contraction in 2023. Brazil and Canada have become the US's top suppliers for beef trimmings amid Australia and NZ's pullback from the US market.
"However, US imports from Australia are expected to rebound from historic lows. In 2023, duty-free access, an improved labour situation, and greater cow slaughter will help propel Australia's re-emergence in the US trimmings market," it suggested.
FSIS was evaluating several prospective exporting countries to determine equivalency for beef imports which means competition for the "Other Countries" quota could increase in the future.
As it currently stands, Brazil's production capacity far exceeds that of its competitors in the "Other Countries" TRQ, suggesting it will remain the largest "Other Countries" TRQ contributor for the foreseeable future.