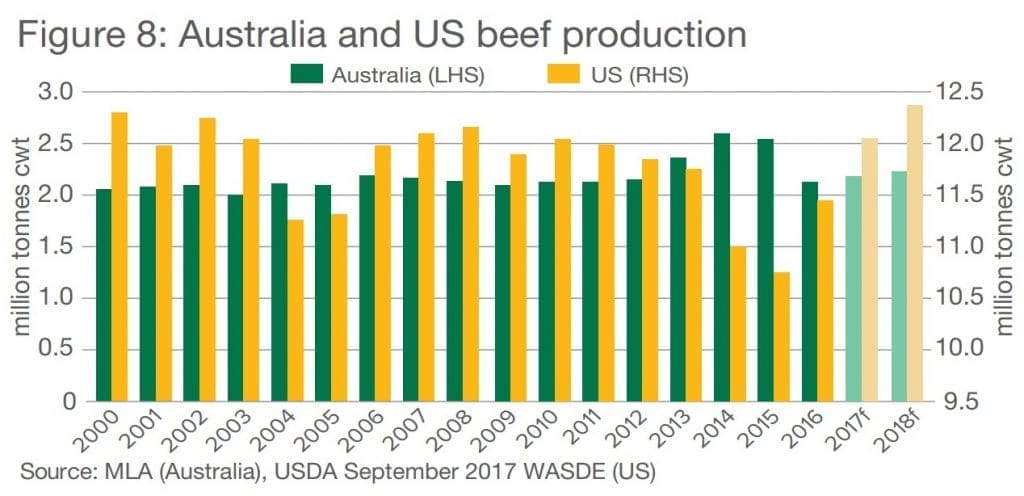 United States beef production is expected to continue to grow in the next two years, thanks to an expanding beef cow herd, good pasture conditions and ample feed supplies.
The rate of herd growth is expected to slow, however, as US cow-calf producer profits have eroded considerably in the last two years.
US beef market analyst Steiner Consulting says while it is still early to call the end of the US's current cattle cycle, it is likely that cattle supply expansion may come to an end by the end of 2018 or early 2019.
The US has dramatically increased its beef exports to markets like Japan and Korea in the past two years, as its own beef production grows, at a time when Australia's continues to contract, following earlier drought.
"The timing of the US herd expansion will depend greatly on broader demand trends, as well as weather conditions," Steiner says.
The company's current forecast is for US cattle slaughter to increase a further 3.1 percent in 2018, and 2pc in 2019. In comparison, Meat & Livestock Australia's most recent analysis has Australia's 2018 adult cattle slaughter up 4.8pc on the current year, and a further 3.9pc the year after that. The big difference, though, is that both Australian figures are coming off 2016 and 2017 beef kills that reached 20-year lows, due to earlier drought liquidation of females. The 2017 adult kill is expected to finish at around 7.25 million head, marginally down on last year, nd a long wayt from consecutive kills above nine million head in 2014 and 2015.
Steiner also expects US carcase weights to return to trend in 2018. Weights in 2017 have been down 1.4pc from the previous year, which removed about 180,000 tonnes of domestically-produced beef from the marketplace.
The reason for lower carcase weights was that US cattle traded with a significant forward discount between northern hemisphere autumn in 2016 and northern hemisphere spring 2017, effectively encouraging ranchers to turn cattle off faster, thus reducing overall carcase weights. More heifers and cows in the mix further contributed to the decline in weights.
"The situation at this point is quite different. Futures hold a significant premium for spring contracts and the large spreads should encourage producers to feed cattle longer," Steiner said.
Because of the differences in carcase weight, total US beef production in 2018 is forecast to increase 4.4pc and it is expected to rise another 2.9pc in 2019 – somewhat similar percentage gains to Australia's.
Steiner said it expected US fed cattle and beef prices to decline only modestly in the next two years, despite the continued increases in production.
"US domestic and export beef demand has outpaced expectations, and our current assumption is that the shift in beef demand will be sustained in the next two years," it said. "But this is a critical assumption that depends, in part, on the broader performance of the US and global economies."
US beef exports rose 12.7pc in 2016 and are forecast to be up another 12.9pc this year, mostly at Australia's expense.
Beef imports by the US, on the other hand, have contracted for two consecutive years (compounded by lack of supply out of Australia) and are expected to be marginally lower in 2018 and 2019 as well, based on Steiner's forecasts.
"While US beef production in 2018 is expected to set a new record level, per capita domestic availability (a figure based on total domestic US beef production plus imports, minus exports) is expected to remain well under pre-recession levels," it said.
Steiner's current forecast is for US per capita beef availability in 2018 to be 37.8kg, 2.9pc higher than a year ago but still 11pc lower than in 2007.
Source: Steiner Consulting