China's late last week agreed to 'grant limited exemptions' on certain US agricultural goods that included US soybean and pork imports. In return President Trump said on Thursday he would delay increasing tariffs from 25pc to 30pc on $250 billion of Chinese goods until October 15, in what he called a 'gesture of goodwill' toward China.
The next US-China trade talks are to be held in early October and in preparation Chinese negotiators are looking to increase the purchase of US agricultural goods and increase the volume of imports. This was further confirmed on Friday by Beijing's Xinhua New Agency who announced that 'for meat and other agricultural products, the Tariff and Tax Commission of the State Council will levy tariffs on the above purchases and excluded them'. Just 12 hours before this statement, Donald Trump tweeted 'It is expected that China will be buying large amounts of our agricultural products!'
In response to these announcements significant volumes of US soybeans were purchased late last week by China with close to 600,000 to 1 million tonnes sold. On Friday, inquiries from Chinese pork importers seeking to book large pork volumes out to February next year were reported by market participants, as I understand most pork sellers held back from selling looking to the following week to digest the market news.
The US hog futures responded Friday for the second day in a row of opening up limit as the market is now coming to believe the China ASF story and China's need for more pork which in turn is likely to see US pork exports continue to increase to China.
Key points in this paper
China hog losses accelerate with the hog inventory looking like 70pc losses by year end based on inventory figures released by China's Ministry of Agriculture last Friday for August at 38.7pc loss and 37.4pc loss for sows.
China national hog prices stabilise at 28 RMB/kg which prior to last week's US rally had seen China hogs at three times the value of US hogs
Last week's China August food inflation figures continued to rise at 10pc with pork being the biggest driver at 47pc higher
China piglet prices are now double what they were at the start of this year
China has approved more beef plants globally (289) compared to pork plants (246) and poultry plants (95) – Brazil being the latest contributor to this with 25 plants approved in the last few weeks. The emphasis on more global beef suppliers over other proteins should be noted.
China's Vice Premier Hu confirms a 10 million tonne shortfall this year in protein supply and acknowledged the 'extreme severe' pressure due to the lack of pork that will be felt in the last quarter of 2019 and the first half of 2020.
Philippines ASF outbreak puts global producers on notice – nowhere is safe from ASF.
Australian Agricultural Minister calls for an ASF round table discussion with industry as the threat looms with more and more Asian countries contract the disease.
China's hog losses estimated to be 70pc by year end as meat inflation moves dramatically higher
The rate of of losses is increasing with now 70pc losses. China's Ministry of Agriculture yesterday came out with the latest August hog inventory figures with an estimated 38.7pc loss now being recorded for the total hog inventory and 37.4pc for total inventory losses across China – the once estimated loss of 50pc by year's end is now looking like a 70pc hog and a 60pc sow inventory losses – as the problem accelerates.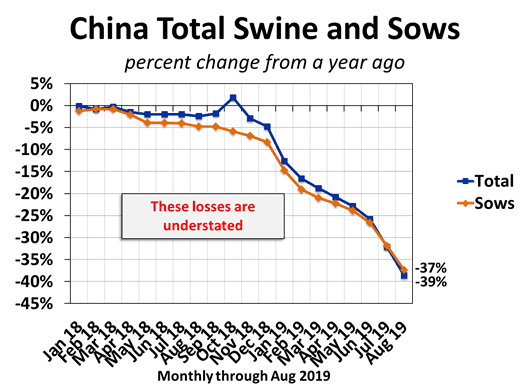 China's hog prices in the last week have stabilised at close to 28 RMB/kg after 11 weeks of non stop rising and has placed hog values in China at close to three times the value of hogs in the US. This highlights the tightness in supply and the critical need for imports to try to stabilise domestic pricing.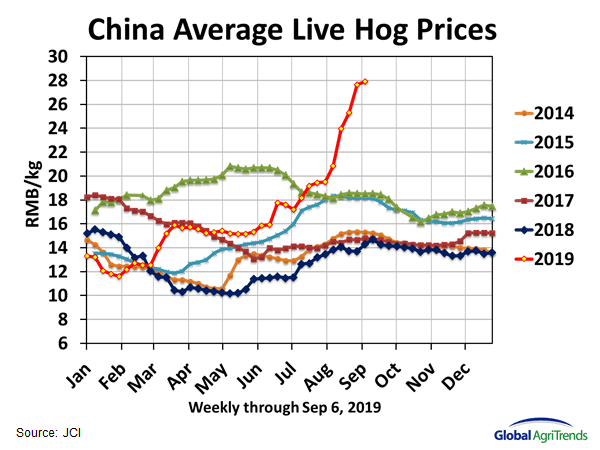 China's August food inflation came out at 10pc with meat prices being driven by domestic pork prices which climbed 47pc in August (from 27pc in July) – once again highlighting the critical shortage – pork makes up close to 30pc of the basket of goods which food inflation is measured in China.

The losses of not only the hog and sow inventory is not the only concern but also the pipeline of piglets has shrunken with piglet prices doubling since late last year which points to a long term pork supply problem due to an empty supply line. The lack of confidence in growing pigs is evident by the loss in inventory and the difficulty in replacing pigs.
Its interesting to note that anecdotally I am hearing that foreign investment in China in both hogs and the poultry sector has been mild or at best stagnant. Investment by Chinese national entrepreneurs has been a lot more significant as many see huge profit potential should bio-security procedures and the ability to keep ASF at bay. In other words, having the ability to grow hogs and have supply when no one else does at these inflated prices will result in significant profits if growers can manage the risk successfully.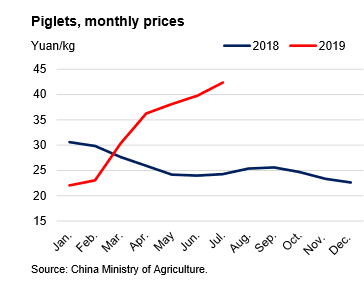 China approves more meat plants globally

China 10 days ago approved an additional 25 meat plants in Brazil to export to China, these included 17 beef processing plants, 6 chicken processing plants, 1 pork processing plant and 1 donkey processing facility.
China approved global beef approved supply plants now exceed pork approved plants by 18pc, which to me points to China's desire for beef to play a greater role in filling the void in protein, this void is growing by the day due to the large ASF induced inventory hog losses that now are estimated to be close to 50pc by year end.
When assessing the total number of globally approved plants to China the list now comprises of 289 beef plants from 18 countries, 246 approved pork plants from 20 different countries, 95 approved poultry plants from 9 countries and 116 approved sheep meat countries from 7 supply countries.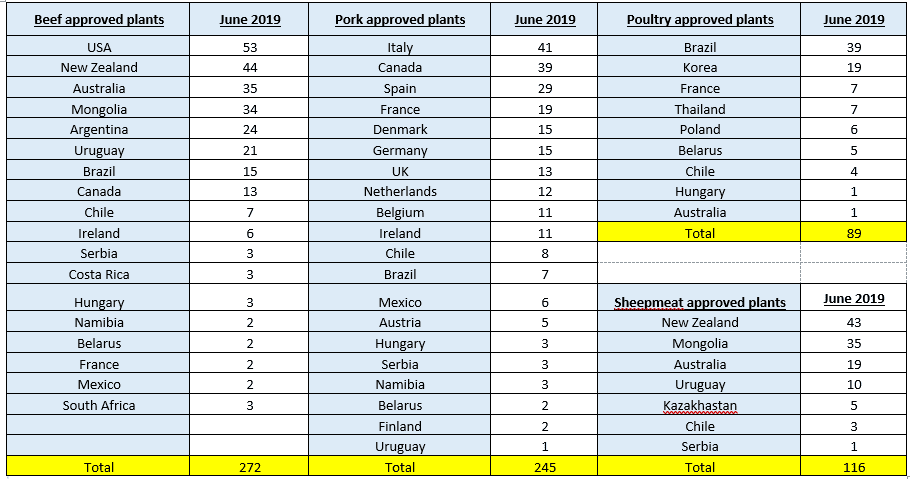 Australia has been waiting two and half years for an additional 16 meat plants to gain approval for China access – to date I have heard no other news to say this situation has changed.
Chinese vice-premier Hu Chunhua speaks publicly on ASF losses and potential solutions.
South China Morning Post this week quoted Chinese Vice-Premier Hu Chunhua, who openly admitted that China faced a 10 million tonne pork shortage and the need to increase domestic production was now a 'political task'. In his address he urged for more financial support for the industry and a relaxation of environmental regulations that have led to the closure of hundreds of thousands of small pig farms.
Vice-Premier Hu went onto to say that pork supplies would be under 'extreme severe' pressure in the last quarter of 2019 and the first half of 2020. In a recent teleconference he stated that China could not rely on imports alone – he said that last year some 8.7 million tonnes of pork were traded globally – of which Chinese imports accounted for 1.6 million tonnes.
Key points made by other media outlets on Vice-Premier Hu's address were as follows;
Premier Hu said the projected 10 million tonne deficit exceeds the amount of pork traded in international markets.
With its short production cycle, poultry will be the main substitute relied upon to fill the deficit. China will struggle to increase poultry production by 3 million tonnes this year.
Hu acknowledged chronic weakness and under-funding of grassroots veterinary services.
Hu warned officials that widespread pork shortages could occur during the upcoming moon festival, National day, New Year, and spring festival holidays if they fail to take measures. Shortages would affect the "happy and peaceful atmosphere" during the upcoming 70th anniversary of the Peoples Republic.
Pork reserves should be expanded and made more effective.
Pork farms and companies are to be given short-term aid.
Banks must not cut off lending to swine farms and slaughterhouses; subsidized loans should be given to swine farms. Provincial government loan guarantee organizations should prioritize recovery of swine farms.
Poultry companies should also be given aid to expand.
Philippines ASF outbreak puts global producers on notice – 'no where is safe from ASF'
Last weeks outbreak of African Swine Fever in the Philippines has sent chills down the spine of every pork producing country in the world – highlighting the reality that the once held belief that surrounding oceans and seas may provide countries like the Philippines, Japan and Australia with a natural ASF exclusion boundary is simply not true and that all countries are vulnerable no matter your location.
What is so significant about this outbreak that it is the first occurrence of ASF that has transgressed across water with the closest contaminated country being Vietnam which is 1500 km away over the South China Sea. Philippine officials investigations of how ASF was introduced are still ongoing but it looks likely that airline passengers or illegal pork imports were the likely cause brought to local farms via food scraps and swill via hotels and restaurants that had handled contaminated imported pork products.
ASF was first noted in the Philippines six weeks ago on July 25th, when an abnormal number of backyard deaths were being reported in the Rizal and Bulacan provinces in the northern regions of the Philippines not far from Manila since then there has been 536 deaths from the disease to date and 7,416 being culled in an attempt to control the disease from spreading.
Up until this outbreak the Philippines had been very vigilant on trying to prevent ASF with bans placed on pork imports from 16 countries including Europe and Asia but it seems these measures were not enough. When assessing the number of tourists to the Philippines in 2018, there was close to 1.25 M people and the number from China was 18pc of total visitors. The Philippines also relies on Asia for close to 80pc of its import needs which China is a large part of – so the means of entry still remains unclear.
The most concerning part of this outbreak is that 65pc of Philippine's 12.5 million pig population reside in backyards and only 35pc in commercial operations (the opposite to China) – and we have learnt from China and Vietnam's recent experience that backyard pig operations are the most vulnerable with little or no bio-security existing.
It would not be unfair to assume that within 6 months of the outbreak occurring, should China and Vietnam be a guide, that all backyard pigs could be eliminated within the Philippines and that within 12 months almost half of the entire commercial herd population could be gone – resulting in potentially 75pc of all pigs liquidated by disease or culling within 12 months or 9.5 million head.
When assessing the consumption of protein in the Philippines and what could fill this void the following is the makeup of protein consumption in the Philippines.

The go-to items to replace pork in the short term, should the losses unfold the way I have outlined, is chicken and eggs which are both efficient converters of feed and have a much shorter production time period. The reliance on imported pork saw 285,000 tonnes imported in 2018 and given the dominance of pork in the Philippine diet it must assumed that pork imports will increase – the challenge is competing with other Asian countries like China from the same same global pork export pool as more and more countries get ASF the pressure on buying 'clean' pork imports grow.
Australian Agricultural Minister calls for an ASF round table discussion
Australia's vulnerability to ASF has been highlighted in this last week with the Philippines outbreak and as stated the misconception that being surrounded by sea acts as a natural bio-security – we now know that all island nations are susceptible.
Last week, I attended a meeting in Canberra at Parliament House hosted by Senator Bridget McKenzie, the Australian Minister for Agriculture which spent an entire day on understanding Australia's vulnerability to African Swine Fever. Present were 40 participants ranging from state and federal chief veterinary officers, scientists, pork processors, importers, farmers and industry stake holders including Meat Livestock Australia and Australia Pork Limited. I participated on a panel to give a global ASF outlook from a commercial trade view point.
Some of the key messages of the day were as follows:
Several states government veterinary agencies feel under resourced and have raised the need for better funding of their agencies to ensure adequate disease risk management procedures are in place.
There was general consensus that the work done in preventing ASF and any contingency planning should apply across all diseases including foot and mouth disease.
It became apparent that the co-ordination of state and federal agencies and industry with regards to future preventing and/or controlling diseases is a complex task that cannot happen overnight but will require long term planning with defined structures and roles that will ensure effective responses to any potential outbreaks.
Australian airports remain potentially the most likely form of entry of diseases and therefore where resources such as detector dogs are most required – the number of dogs performing this role was quoted as being 80 in 2012 to now 36 in 2019. It was outlined that even though numbers of dogs are less today than seven years ago, the multiple roles these dogs perform at both sea ports, postal centers and airports means that these are better utilised today than ever before and that this number of dogs is adequate for the various roles they play.
Each year Australia receives approximately 20 million travelers through our international airports. The Department screens about 6.3 million travelers per year of which 4pc are deemed to carry actionable high risk bio-security material or 250,000 people. This volume of high risk passengers is stretching to the limit our custom and bio-security officials across all Australian airports.
The shortage of pork in China was highlighted due to the large hog inventory losses in China and the important role that Australian imported beef and sheepmeat are playing to help fill this void. It was requested that the Minister continue to push the China counterparts on having more meat works in Australia China approved, a larger number of approved chilled beef plants and the need to have the discretionary safeguard removed so as to avoid on going triggering and higher tariffs.
Last but not least, I was impressed to see Minister McKenzie stay for the entire day and be fully engaged in all aspects of the discussion – it showed to me a real genuine concern for the threat of ASF to Australia.
Australia's pork industry compared to other countries is relatively small with approximately 4.85 million pigs produced a year yielding close to 360,000 tonnes of pig meat a year – of this 8 percent is exported, with Singapore being our largest market.
Each year Australian's consumes approximately 24.2 kg of pork per person and it is the impact on Australia's pork domestic market that is what is so important in terms the threat of ASF and the need to protect this market.
Chinese proverb – 'Shìshí shèng yú xióngbiàn'  meaning – 'facts speak louder than words'

This Chinese proverb to me sums up the reality of the Chinese market and the actions taken by the government which I believe speak louder than words – they are responding to ASF induced protein crisis with increasing the number of meat plants that can export to China (as outlined) which in turn has seen increased imports of all proteins.
The key to China's protein needs lie across the US, Brazil, EU, Canada, New Zealand and Australia – with the first three suppliers playing the largest roles across all proteins.
Alternate suppliers of all proteins – In a perfect world China's answer to its protein problem would see the following trade flows; poultry supply to come mainly from the US and Brazil, pork supply from the US, EU and Canada and beef supply from US, South America, Australia, New Zealand and India – yet in many of these countries hurdles exist but as we move into 2020 and the China hog losses start to become more apparent I am confident some of these hurdles will be overcome.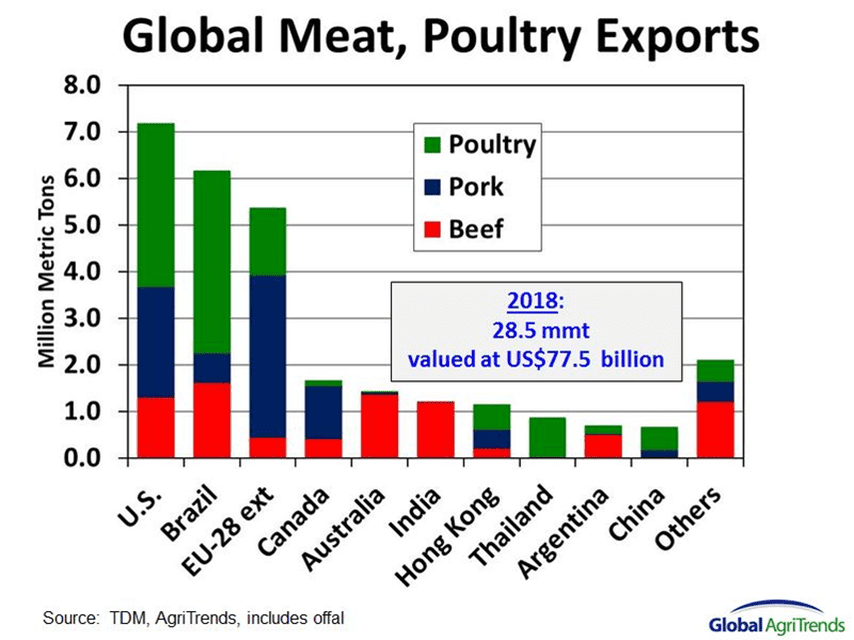 China's pork imports from the EU make up close to 64pc of total pork imports with the US making up only 11pc year to date – many analysts believe that EU's ability to supply additional pork is at full stretch which leaves the US as the obvious 'go to' on supply as the import needs get greater in Q4 and Q1 2020 as Vice-Premier Hu alluded to.
China's frozen stock are important – China has already started a major import program and to supplement this program according to media reports they have started to draw upon the large frozen pork reserves estimated at 12 million tonnes. It is believed these stocks were accumulated back in February to May, when China's pork production was ramped up as farmers sort to 'kill the problem' before the disease killed their pigs which saw large slaughterings occur across China and hence large frozen pork stocks accumulated. The frozen stock figures remain a state secret but there has been enough anecdotal evidence to point to the increased usage of stocks and its size starting to diminish.
US pork is a natural fit for China – The drawing down on these large China frozen pork stocks for the next 3-5 months would dove tail nicely into the large US hog supply expected in October and November this year with USDA estimates of a 5.5 pc increase in Q4 pork production and a 7.1pc increase forecast for Q1 and Q2 of 2020 – it all points to a buy opportunity with US pork.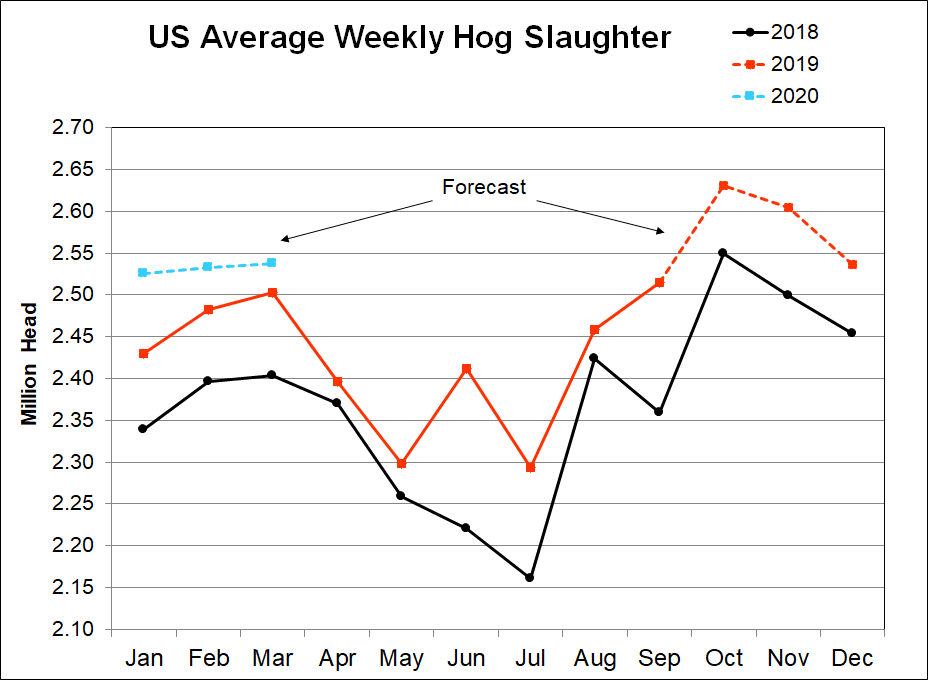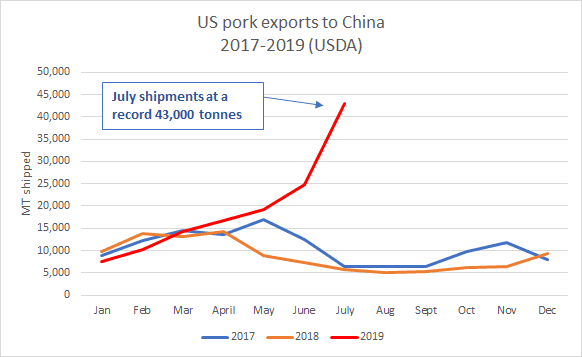 When assessing the relative value of US pork export prices against Brazil pork export prices to China – in July US pork started to trade at parity with Brazil pork based on a USD/kg basis FOB – this would indicate to me a strong level of competition starting to develop between the two supply countries and the importance of keeping a close eye on the relative value. If Brazil pork should move higher in price it would be not unfair to assume US pork will follow.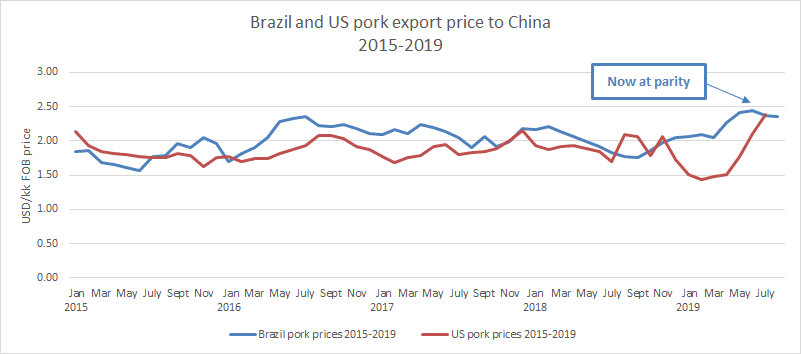 Conclusion
As the Chinese proverb highlights 'facts speak louder than words' and with the disease now accelerating in terms of losses and the need for China to act is greater than ever before – the ongoing expansion of approved supply countries is good evidence of the how China is reacting to the real concern that Vice Premier Hu is referring to of a 10 million tonne deficit by the end of this year.
The ongoing spread of ASF throughout Asia is best highlighted by the recent outbreak in the Philippines and means the demands on global pork supply is getting greater and I think the Chinese government realise this and are looking to diversify its protein needs to chicken and beef. Beef seems to be a bigger priority if the larger number of approved plants globally is any indicator. This relentless march southwards of the disease in Asia has Australia's bio-security and pork industry on high alert.
I have put together a 'what if' scenario below using China's 70pc hog loss over 16 months (Aug 2018-Dec 2019) as a guide for estimating the total impact on all other Asian countries who have also contracted ASF.
Statista has put the global estimate of pigs at 770 million head which would mean that by mid next year its feasible that almost 50pc of the global pig population would be lost or 20pc of global protein (includes pork, beef, poultry and sheepmeat) due to African Swine Fever – this estimate is based on Asia's losses only and does not account for Europe or any where else.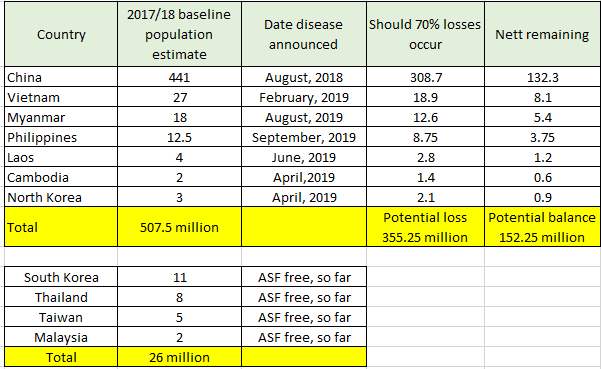 The decision by China last week to remove tariffs on 'selected agriculture items' such as pork and soybeans is a welcome step forward in the US/China Trade War and timely in the sense of increased pork supply in the US over the next 3-5 months – I feel China has carefully managed this outcome – but on the trade war surface it would seem that no-one controls anything, in particular President Trumps tweeting.
The most significant fact in this update is the estimated 70pc hog loss within China by year end which indicates that controlling the disease within China is proving to be challenging to say the least, and it begs the question; Could we see the remaining 30pc gone by the end of 2020 within all infected Asian countries? Its a sobering thought and would equate to 25pc of all global protein removed over 2 years with little chance of replacing this volume of meat within 10 years – if so then pork, beef, sheepmeat and chicken will be in strong demand for many years to come.
Any feedback is always welcome