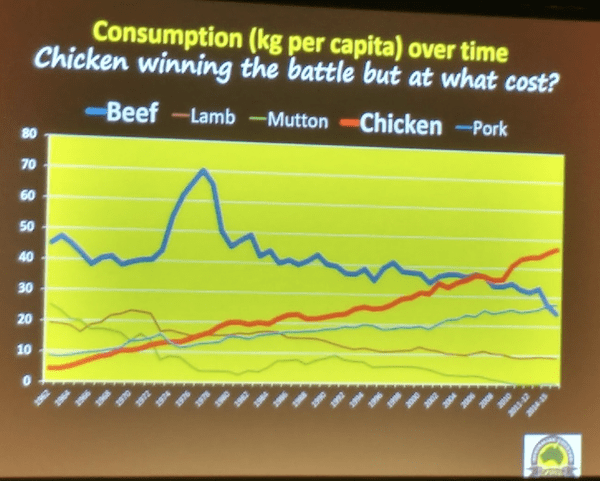 Meat consumption by volume 1962 to 2015. The red line is chicken, the blue line is beef. Highlighting the extent to which consumption patterns are tied to a price point, the big spike in beef consumption occurred during the 1970's when cattle prices dropped by half and consumers enjoyed historically low beef prices.
THE comparatively low retail price of chicken has been a key driver of the rise and rise of chicken meat consumption relative to other meats including beef in recent decades.
At $5 per kilogram chicken enjoys substantially greater cost competitiveness than beef at $30 per kilogram.
But one challenge facing the chicken sector has been its apparent inability to get consumers to pay more for chicken meat at retail.
While chicken meat consumption has overtaken beef consumption in volume terms, beef is still the dominant meat consumed in Australia in overall value terms.
This is because consumers have been willing to pay a higher average retail price for beef over time.
In an address to the Australian Milling Conference and Poultry Information Exchange at the Gold Coast last week, beef processor David Foote, CEO of Australian Country Choice, pointed out that while Australians are eating more chicken, the average price consumers pay at retail for chicken has not risen above $5/kg in 16 years.
The sector's growth in volume sales has been achieved by reducing costs through more productive genetics and operational efficiencies.
"Your market share has been gained on the back of cost, and that is fine if you make a buck doing it, but at the moment, the consumer appears to be not willing to pay any more for your efforts or reward you," Mr Foote told the conference.
While the average retail price of chicken has flat lined, the average retail price paid for beef, lamb and pork for beef has grown: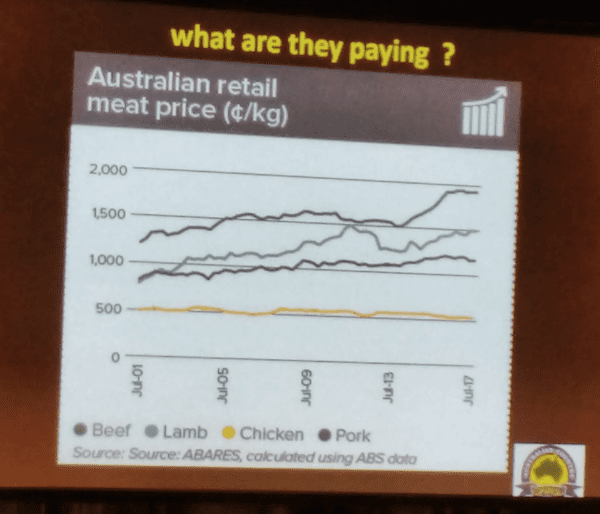 Mr Foote said beef was still recognised at consumer level as a healthy product with high iron content, and people still craved a delicious juicy steak, and were willing to pay more over time for that eating experience.
"We sell more because we sell it for more," Mr Foote said.
"Just think about it, it tastes delicious, it is a common theme, it is an easy theme, we don't have to prosecute it: if you sit down and just say 'mmm juicy steak, nah juicy breast fillet of chicken', I haven't heard that one.
"I know which one makes my mouth water and I am not that biased.
"It has certainly been an advantage in getting consumers to pay more."
Mr Foote said Australian beef was now benefitting from more than $100 million worth of investment in meat science over the past 20 years to give consumers an assured high eating quality beef experience through the Meat Standards Australia program.
"I'm sure even if we canvass around this room, 10 years ago there was a 50 percent chance you would have a crap piece of steak at your favourite restaurant," he said.
"Now it seems to be the degree of excellence you discuss, not the fact you had a bad one.
"That is because the industry has spent $100 million to develop this eating quality assurance scheme based on objective measurement, not subjective measurement."
While chicken, pork, beef and lamb continued to fight for market share, Mr Foote noted that turkey and salmon were the new proteins looming on the market and looking to gain shelf-space.
He said fake meat posed a threat but he suspected that as the public learns that lab-grown meat is "actually grown in stem cells that have been taken as a biopsy from a live animal", they might not get so excited about its naturalness.
The impact of rising feed costs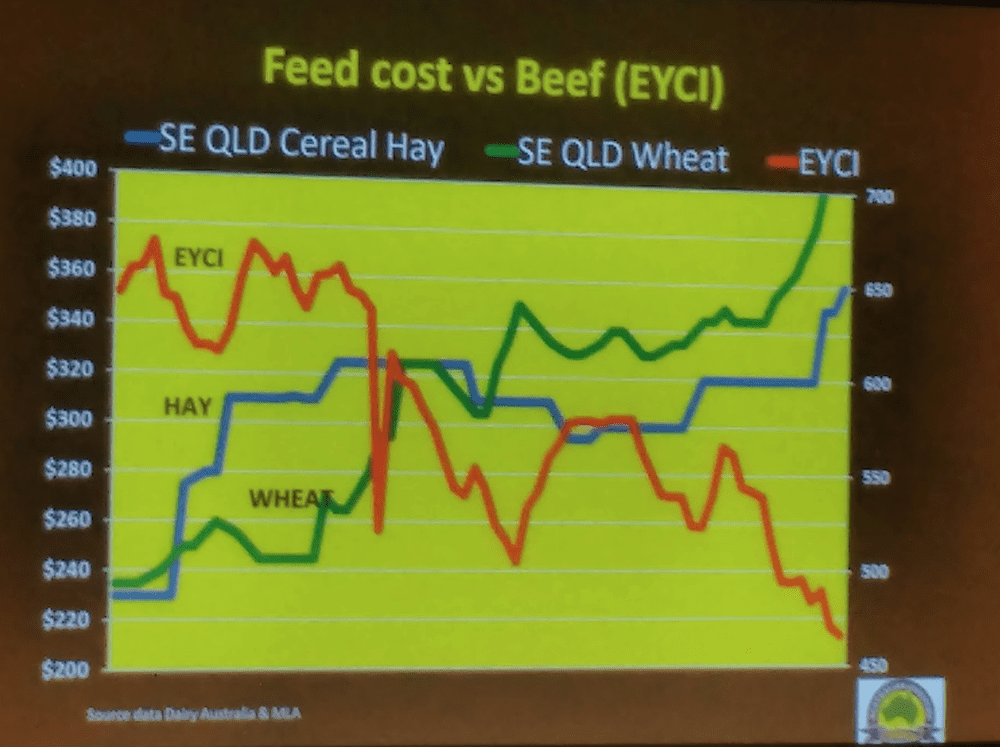 Rising feed grain costs due to expanding drought meant the grain required to finish an animal to domestic market weights now cost $201, compared to $134 last year.
"You don't have to be Einstein to work out it is actually not good out there in cattle feeding at the moment," he said.