A YAWNING gap is emerging between the value of beef in the United States and Australia later this year, which some stakeholders believe will heighten pressure from the US to re-gain access to the Australian domestic beef market after a 14-year absence.
Beef Central has seen comparisons based on current US live cattle futures and Australian forward pricing on similar 100-day grainfed cattle, which suggest US beef will have a compelling motivation to restore trade access to Australia by August or September.
While Australia is never likely to be a significant market for US beef, it holds colossal 'credibility' value to the US beef industry, being one of the countries with the highest animal health and human health standards in the world.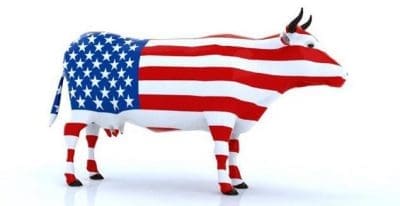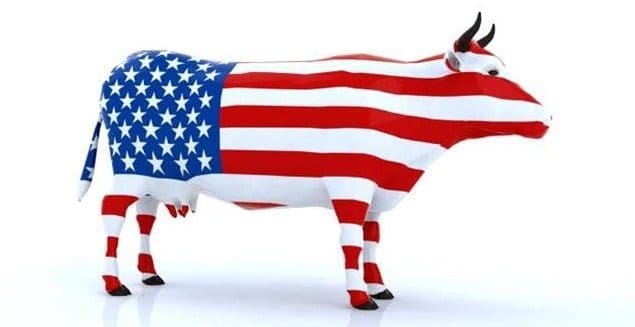 In short, technical access to Australia would add considerable 'cred' to US beef, worldwide.
Comparing latest US live cattle futures prices with Australian forward price on identical weight grainfed slaughter cattle, in Australian dollars terms, the comparison yesterday was A$118/carcase, falling to $106 in April; A$209 in June; A$286 in August and A$289 in October.
In Ac/kg, the Australian forward contract price on grainfeds is 551c/kg carcase weight for May, falling to 492c/kg in October. Converted to Ac/kg terms, US live feeder cattle futures yesterday were worth 381c/kg for April, and 385c/kg for May.
The large contrast in price is being driven by two things: Australia's chronic shortage of slaughter cattle caused by two years of drought, forcing prices higher; and the considerable momentum in US beef herd rebuilding and cheap grain, pushing US prices lower, and heightening US appetite for export.
The US/Australian price contrast was even greater just a few weeks ago (as much as A$360 a head for August delivery), but the US futures market has rallied somewhat since just before Easter. Nevertheless, any market destination where there is a price advantage of close to, or above $300 a head is likely to attract 'significant' supply interest, trade contacts told Beef Central yesterday.
Big challenge in issues management
The big challenge for Australia now is in balancing its vigorous free-trade policy advocacy with inevitable domestic market and political negative sentiment over re-admitting US beef to Australia.
Given US president Donald Trump's recent protectionist mood, any perceived stalling or delaying tactics over access to Australia could have repercussions in Australia's own access to the US beef trade, one large stakeholder told Beef Central this morning.
Opinion among well-connected stakeholders contacted this week is divided, with some suggesting full access for US beef could well be gained some time in the back half of this year. Others suggest the process could take a further two years to fully ratify, and perhaps not even until after an Australian Federal election is held.
State of play in re-entry process
So where is the current process over US beef access to Australia up to?
The US, along with four other countries – Japan, Holland, New Zealand and Vanuatu – are currently the subject of an imported beef access review. In the case of NZ and Vanuatu, that is simply a 'renewal' of an existing access entitlement.
The US access request for beef is being processed in two separate two components – human health issues, and animal health issues.
The human health component, assessed through FSANZ, and primarily focused on BSE, is now complete, and approval has been granted, based on US negligible risk status. That process was completed some time back – some say deliberately, to break the access issue down into smaller, less divisive components.
The animal health risk component, being conducted through the Department of Agriculture, focuses on exotic disease risk, traceability and related issues.
A call for stakeholder comment on the animal health risk side concluded in mid-March, and the departmental biosecurity risk analysis is now considering those submissions.
Beef Central understands there were relatively few submissions made on the animal health considerations. The red meat industry was primarily represented in a combined submission delivered through the Red Meat Advisory Council. That submission has not been made public, at this time.
Once the department makes its final decision, having considered the public submissions, its conclusion will then be passed on to the minister for final approval. Ultimately, the final risk assessment decision will be made on the combination of the human and animal health risk studies, Beef Central was told. The minister apparently retains some right of veto, even if both recommendations are in favour of resuming trade.
Heightened biosecurity awareness, following issues like the infamous recent white spot contamination in the prawn industry, apparently from imported prawns, will only add to the complexity of the final decision.
Earlier moves to re-establish US beef trade into Australia, initiated six or seven years ago, attracted vigorous opposition from fringe beef producer groups and rogue right wing independent* politicians like Bill Heffernan and Pauline Hanson. That application process was ultimately put on hold while a lengthy parliamentary rural affairs review was conducted, on biosecurity risk on all imported foodstuffs.
Others would say with wholesale and retail beef in Australia still near record highs, now is the time to consider re-admission of US product into the Australian marketplace.
"It may be that some supplementary US beef supply, over high domestic consumption periods like Christmas, might be a good thing," one trade contact volunteered.
"The complex issues surrounding BSE, biosecurity risk and trade are complex messages to try to deliver to the general public. The simple or simplistic messages will strike a chord with the broader community, but the more complex, but perhaps correct messages will take a lot of getting through," the contact said this morning.
"And the ability to effectively deliver those complex messages to the broader community may be lacking in the government at the moment."
Either way it moves on a policy decision, the final decision represents a monumental headache for the federal government. As always, timing will be critically important.
Industry position
The Cattle Council of Australia has developed a detailed policy on the US-re-entry issue (Click here to access the full document).
President Howard Smith told Beef Central this morning that while CCA absolutely supported the principle of free trade, equally the US would need to demonstrate equivalency in industry systems in any US beef entering Australia, to avoid unfairly disadvantaging Australian beef producers.
"That equivalency applies right across the board, from traceability systems to hygiene standards – the whole thing," he said.
"Equivalency is the key, but equally, we certainly do not want to be perceived as protectionist, because Australian beef relies on free trade on the global market."
"We understand the department is getting closer to make a decision on the issue. How long that takes, we don't know, but being the government, it might take a while. It could be a year to two years before trade actually occurs."
Mr Smith said recent biosecurity breakdowns in the prawn industry had heightened issues around risk in imported foods.
"It's all very well doing the assessment and deeming a product to be fit for import, but does the department then have the resources and ability to effectively test and monitor imported product, on an ongoing basis?" he asked.
Mr Smith said based on the 'equivalency' argument, the number of cattle in the US that would meet acceptable Australian standards on traceability, beta agonist use (banned in Australia), plant hygiene standards, and exclusion of cattle bred in Canada or Mexico on country of origin grounds would greatly limit US beef supply. "You quickly get down to a fairly small number of US animals that would be eligible," he said.
The red meat industry was primarily represented in the animal heath biosecurity risk submission process for imported beef through a combined lodgement delivered through the Red Meat Advisory Council.
RMAC chairman Don Mackay said RMAC supported government undertaking a review.
"But trade is a two way street," he said.
"We're talking about Australia's two largest customer countries for beef exports – the US and Japan – looking for reciprocal access. We clearly cannot have one set of rules for entry for us, and something else for those wishing to export to Australia."
"But having said that, the recent prawn contamination episode brings biosecurity risk into stark relief. We simply have to get it right."
Mr Mackay said the peak councils' submission through RMAC had not been prescriptive through traceability and other requirements, "but clearly there needs to be some equivalency, where they can show us where the cattle came from. We need to be careful not to disadvantage the Australian industry in the process."
Mr Mackay said clearly, at present, US product was cheaper than Australia's, going into some markets, but he though the access process from here would still take some time to complete.
"I would not expect to see trade occurring any time this year," he said.
"Regardless, it would be my guess that there will be individuals on the conservative side of politics who will be violently opposed to the access being granted, in any form. And the whole of industry is saying we need to be so careful that this is not badly managed."
"As well as the US request, Japan is now again re-sending small quantities of high-end Wagyu products into Europe, and they want access to Australia for similar reasons. In Japan's case, it has quite a good traceability system, which would be likely to meet Australia's expectations. The US would be the biggest one, with the least traceability credentials over equivalency with Australia."
History of US beef access to Australia
Prior to Australia's ban imposed in 2003 after the discovery of BSE in the US, American beef did occasionally find its way into the Australian domestic market, in small quantities.
The trade never exceeded 600 tonnes in a calendar year, and was mostly 'opportunistic' in nature, when production surpluses in the US, combined with currency movements and relative cattle and beef prices between the two countries made it worthwhile.
Often the trade was in single cuts like rumps and tri-tips that were a little harder to shift in the US domestic market during times of abundant supply. Often the US product was evident in the Australian market for only a matter of weeks, before disappearing again.
One celebrated case involved the Sizzler steak restaurant chain, which wanted to promote US grainfed Tri-tip as a 'point of difference' on its menus. The move failed to attract a consumer response in Australia however, and was quickly withdrawn, after some public criticism.
Most stakeholders spoken to this week suggested if US beef was to gain access to Australia, the product would be more likely to appear in food service, rather than at retail.
Both Coles and Woolworths promote 'Australian' as a key brand claim in their meat departments, and that is unlikely to change in any environment where US beef appears. Smaller chains like Aldi and perhaps Costco (US-owned) could take a different approach, based on their price focus. Costco sells US beef in most of its international stores.
More likely is a presence as a 'novelty' menu item in the food service sector – especially a US-owned hotel chain like Hilton, for example. US product would have to carry clear country of origin identity in the Australian market, however – and is one reason why neither of the major supermarket groups would be likely to go near it.
* independent: (Adj.) Self-governing, autonomous, self-regulating, liberated. Not to be confused with Independent (Noun): Not aligned with a mainstream political party.