Australian feedlot operators now have access to a cutting-edge tool for early warning of extreme weather events with release of Climate Decision Intelligence by mistEO.
The platform uses tried and tested heat load management practices, supported by the most up to date weather modelling information available, taking changing weather patterns into consideration.
Backed by AI technology and Internet of Things data, CDI gives feedlot operators the best insights available to make early decisions for the welfare of their herd.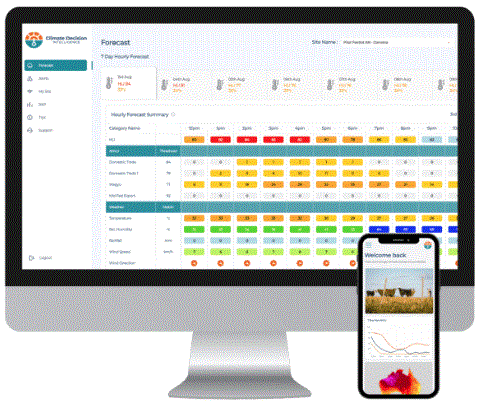 Nick Kumaran, mistEO Director for Australia, New Zealand and Asia says the launch of Climate Decision Intelligence is the culmination of months of collaboration with Meat & Livestock Australia.
"Feedlot operators told us they wanted accurate forecasting that was updated frequently so they could make the best possible decisions when managing their herd.
"Climate Decision Intelligence is a holistic heat load management tool that combines the latest weather modelling information available from hyper-local sources, combined with expertise in animal husbandry and climate economics to deliver the next generation of climate risk management solutions for farmers.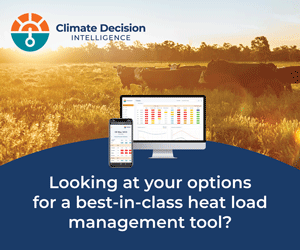 Until the end of January, the Climate Decision Intelligence platform will be free for all feedlot operators to access and trial. While the platform is focused on heat load management right now, there are plans to incorporate data and insights to support feedlot operators to develop risk mitigation strategies to combat broader environmental, operational, OH&S and financial risks impacting their farm.
"We are all aware that weather patterns are changing, and severe weather events are happening more frequently. We want to support farmers to effectively plan for conditions that could impact their livelihoods and food security across the globe.
"We are committed to providing the most accurate heat load management tool, while also being the most affordable. We look forward to partnering with feedlot operators who want to harness the latest technology to grow and protect their operations. Climate Decision Intelligence has a number of innovations in development including customisable workflows, staff training and sharing of management insights," Mr Kumaran said.
In developing this tool for Aussie feedlot operators, mistEO called on recent experience working with the United Nations to deliver the world's first digital public good on climate resilient agriculture. The Data in Climate Resilient Agriculture (DiCRA) platform forecasts long-term trends to support farming communities in Asia to create and adopt climate resilient agriculture practices to improve food security and farmers livelihoods across the region.
Dr Joe McMeniman, Program Manager – Feedlot for Meat & Livestock Australia says the goal of partnering with mistEO was to a create a best-in-class management tool for Australian feedlots.
"We knew that the mistEO team had extensive experience developing heat load indexation tools for the dairy cattle industry in Asia, and we wanted to tap into that expertise to develop a new generation of heat load tools for feedlots. We are thrilled that feedlot operators will have a platform like Climate Decision Intelligence available to them as we approach next summer," he said.
To prepare for next summer, feedlot operators can sign up for the free trial – click here.