THIS week's property review includes this wrap-up of recently completed sales, and a separate article on interesting recent listings across the country.
Grimwade & Gordon pay $26m for western NSW country
High rainfall FNQ block makes $6m
$5.8m for picturesque NSW grazing
Grimwade & Gordon pay $26m for western NSW country
Grimwade & Gordon, a partnership between well-known sheep breeder George Grimwade and former Financial Review rich lister Michael Gordon, has paid $26 million bare for two significant New South Wales western land leases.
Ellavale Station (owned by Victorian-based Hayes Pastoral Co since 1999) and Congararra (owned by Dan and Sally Muenster since 2009) are well-improved holdings with carbon contracts in place providing lucrative secondary returns on investment.
Achieving a record price for the Bourke region, the two properties were sold off-market by Cobar-based David Russell from Nutrien Russell Property and Livestock, who this week was crowned as the agency's top sales consultant.
The 41,067ha Ellavale Station is situated 32km north of Ford's Bridge and 100km north-west of Bourke.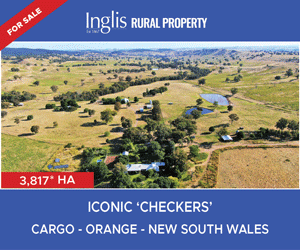 Suited to a Dorper sheep, goat or cattle operation, it is currently backgrounding 20,000 goats, but can background 25,000 head.
Watered by natural billabongs and lakes, Ellavale has 11 bores and beneficial flooding from the Warrego River system via the Irrara and Kerribee Creeks.
The country also has coolibah and box watercourses, red sandy loams, mulga, natural salines and grass country seeded to buffel.
It was listed for $15.5 million bare of livestock.
The 29,200ha Congararra is 10km west of Enngonia and 135km north of Bourke.
Operating as a Dorper sheep and goat enterprise running between 8000 and 10,000 head, the highly improved station features black and red country with highly fertile soils growing a good body of feed.
Congararra has beneficial flood-out areas and is watered by numerous bores and permanent waterholes and the Warrego River system.
It was listed for $11 million bare of livestock.
High rainfall FNQ block makes $6m
A local seeking expansion has paid $6 million ($12,959/ha bare) at auction for the far north Queensland high rainfall block Walpuli.
During its 20 year ownership, the Malaysian-based MBF Group trucked cattle from its low-cost Atherton Tablelands breeding country, Morecombe Station, to the 463ha backgrounding block Walpuli at Ellinjaa (a 45 minute drive).
The former dairy property currently grazing beef cattle is situated 40km south of Atherton and 105km south-west of Cairns.
The undulating ex-rainforest country has red basalt soils that have been fully cleared and planted with improved pastures.
It is watered by a main dam, three tanks and troughs and several seasonal creeks and springs.
Jez McNamara from Ray White Rural handled the marketing and sale.
Meantime, the 20,112ha Morecambe Station, located at Gunnawarra, 20km south of Mount Garnet and 120km from Atherton, which failed to sell at auction, has returned to the market with a $8.5 million price tag.
$5.8m for picturesque NSW grazing
A picturesque grazing block in southern New South Wales has sold for around the $5.8 million asking price to a couple with agricultural interests in the Tumut and Gundagai districts.
The 353ha Meadow Creek was offered to the market late last year with a $5.75-$6.25 million price guide. When it failed to sell at auction it was listed for $5.8 million.
Located ten minutes from Tumut and 15 minutes from Gundagai, the former dairy farm is suitable for breeding and fattening cattle, prime lambs and fodder production.
The picturesque block features a balance of fertile and versatile alluvial soils and elevated clay-based loam grazing country in an 800mm annual rainfall region.
Boasting a long double frontage to the semi-permanent Meadow Creek, additional water is reticulated from a bore, a spring and dams.
The sale of Meadow Creek was handled by David Nolan from Webster Nolan.