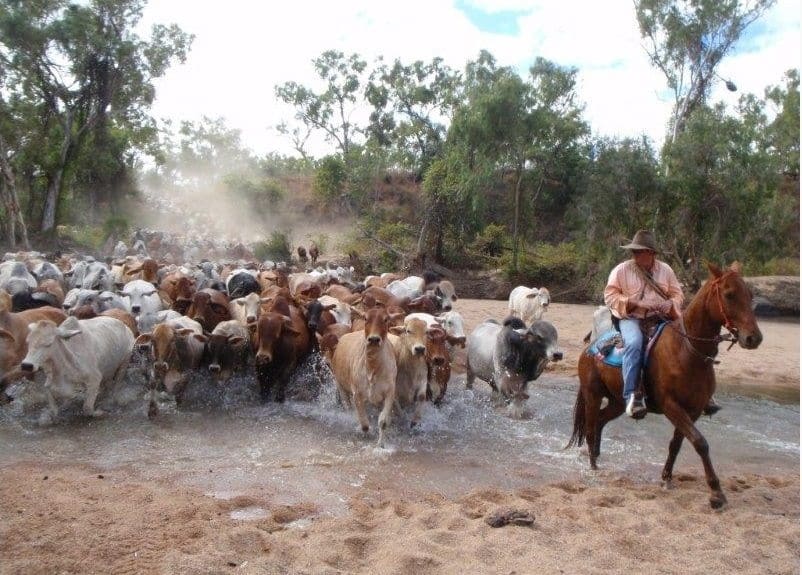 FORECASTERS who earlier predicted a good year for Queensland grazing property values have been proved correct, with historically high prices likely to now bring more country to the market this spring.
The 2008-09 period if often referred to as the previous 'high-water mark' for grazing property values, but there's now growing evidence that current values have well and truly exceeded that in the nation's largest cattle producing state.
Early this year, Herron Todd White's north Queensland regional property valuer Roger Hill predicted a cracker year ahead, and his forecast was spot on.
North and northwest grazing property markets are certainly galloping and Mr Hill attributes the rise to a lack of good country being offered, incredibly low interest rates (that are not likely to rise in the foreseeable future) and continued high cattle prices.
Last year, the market was driven by southern buyers. This year, Mr Hill said it is being driven by local buyers doing a 'see and raise' manoeuvre on last year's prices.
"There is minimal southern buyer activity. The locals have accepted last year's pricing, and because of the continued good business conditions, have opted to pay more than what the southerners put down," he said.
"That is what has driven the 10 to 30 percent benchmark jump in the past three to six months. The prices paid by the southerners are now 'old hat' compared to what we are now seeing in the market," he said.
Mr Hill said the typical buyers at present were "long established, respected, profitable cattle families."
"They have the ability to compete at this level. They have been highly profitable for the last four years – paying down their balance sheet, repositioning themselves and now they are ready for a business expansion."
Mr Hill estimates all grazing property market districts in Queensland's north and northwest are now equal to, or indeed well above the previous cycle peak in 2008.
"The first to push through the historic peak was the small to mid-scale northern forest breeding property market segment about 18 to 24 months ago. It is highly competitive around the Charters Towers/Greenvale area," he said.
In April, the smaller-scale forest grazing operation Day Dawn, 70km west of Charters Towers, sold under the hammer for almost $3.7 million ($864/ha). A month earlier, the 4267ha highly-improved breeding or backgrounding operation had been expected to sell for around $2 million.
More recently, downs country to the south of the Flinders Highway from Hughenden to Cloncurry has equalled and now passed through the 2008 peak type value rates.
Mr Hill said the average market hectare rate was trading at a factor of 1.5 times (or 150 percent) the value rates of the peak of the last cycle in 2008/09.
"It's a pretty enormous spread. That means some places have more than doubled since the bottom of the market, and that evidence is appearing in the marketplace as resales."
He said the price jump was massive.
"All of a sudden, north and northwest Queensland are in unprecedented territory. However, purchases are not emotionally exuberant and not every property is selling."
Two weeks ago, North Queensland's 15,600ha Ellendale at Einasleigh (which included about 1600 head of mixed cattle) failed to sell at auction despite plenty of market interest, and is now being offered for private sale.
The 68,500ha breeder enterprise Springfield Station at Mount Surprise has been on the market for years. Listed for $18 million (including plant and equipment and 8500 head of cattle), it offers good cattle country for breeding, growing and fattening, as well as copious amounts of water.
Jez McNamara, Ray White Rural Queensland principal
Ray White Rural Queensland principal Jez McNamara estimates agricultural land prices across the board have increased by between 10 and 30 percent this year.
"There has been a market shift, not a premium paid. Strong demand for rural properties over the past year is the result of record low interest rates, a low Australian dollar and good commodity prices and market indicators suggest the trend will continue."
Mr McNamara said many families were taking advantage of the situation and seeking assets to complement their existing holdings.
"The low exchange rate makes our product attractive to foreign buyers and currently, there is a strong export market for both boxed beef and live cattle."
He said the current buyer profiles varied.
"Producers are buying in different regions for different reasons. For instance, producers with backgrounding country may be seeking breeder blocks, and vice versa."
"Most of the foreign interest has left the market and the higher end of the market is presently being driven by Australian corporate funds and wealthy Australian families," he said.
Mr McNamara said there was plenty of competition at auctions.
"Most grazing properties offered for auction recently have sold under the hammer, with two, three or four bidders battling it out, right to the very end. That demonstrates strong demand and a seriousness of intent from multiple parties seeking to secure a property."
Mr McNamara said the peak of the market in 2008/09 was based on lending and the availability of money.
"Back then, there was a credit crisis and that is why that market collapsed.  Banks changed their lending practices and criteria. Everything that is happening is based on actual things not on inflated prices based on people borrowing when they shouldn't have been. If there were credit issues, or people in trouble, we would have seen more receivership sales in the last five months."
Virgil Kenny, Elders rural property sales specialist
Elders Central Queensland rural property sales specialist Virgil Kenny said recent sales had shown the market has strengthened.
"Property prices have been firming for the past 18 months for different reasons – the end of the drought and the arrival of grass, water and good commodity prices. Better-quality holdings are the most sought-after, with listings of all descriptions in short supply," he said.
Mr Kenny said lower interest rates had been a key factor in purchases.
"For producers who qualify, money is readily available to step out and expand to grow their business, and the short supply is creating strong demand for the people who are looking."
Mr Kenny said country in the better areas was making $3700/ha during the peak of 2008/09 and today prices are reaching between $4400 and $4900/ha, which is significantly more.
"Across the board, there has been a shift in market dynamics. Today, producers are seeking all country types, from breeding to finishing, due to the strong cattle prices," he said.
Mr Kenny said there is a mix of buyers in the market.
"There are Australian corporates and farming families. There is some foreign interest, but they tend to be existing companies already operating in Australia. Other buyers include those trying to re-establish themselves in other areas after the mines or the military have acquired their land."
He said most of the current buying was about expansion.
"The cattle market has stayed very strong. With the drought, producers had to reduce their numbers and are now looking at running more breeders to subsidise their bullock fattening operations."
Mr Kenny said over the last 12 months, properties that achieved strong values had been exceeded by current highs.
Gary Bishop, Hourn & Bishop Qld
Veteran selling agent Gary Bishop from Hourn & Bishop Qld said property sales this year were stronger than the peak of 2009.
"Producers have come through the drought and they are now seizing the opportunity to grow their business with low interest rates and strong cattle prices."
A recent standout sale was Central Queensland's Prospect Park, a 1558ha breeder block situated at Moura, in the heart of the blue-ribbon Bauhinia district.
Local grazing families lined up at the July auction, but it was Stewart, Stephanie and Tom Nobbs from the Yoman Brahman Stud who secured the property, paying $8.6 million ($5517/ha bare) – a district grazing record.
Mr Bishop, who described Prospect Park as 'the best place for the best money', said the price exceeded expectations by perhaps 20 percent.
Several years ago, he told Beef Central that by 2020 people would need plenty of firepower to buy property, and his prediction is certainly gaining momentum.
"They are not making any more country, and grazing families are getting financially stronger," Mr Bishop said.
"Land is making plenty of money and there's nothing to stop it at the moment. Times have changed. In the 1970s and 80s, producers had assets but little equity. Today, with better prices and low interest rates, most farming families have plenty of equity to grow their business."
Bill Hamilton, Ruralco Property
Bill Hamilton from Ruralco Property Rockhampton agrees that property prices are now exceeding the peak of 2008/09.
He recently sold two properties for about 20 percent above expectations – Marlborough district property Lexington for $1.885 million ($2288/ha) and a small Wowan district property for close to $6 million ($4202/ha).
Mr Hamilton identified most current buyers as domestics.
"Strong cattle prices have prompted farming families and neighbours to expand. People would prefer to purchase another property rather than pay tax. There are also Australian corporates looking at anything that stacks up – cattle returns and capital gains," he said.
Mr Hamilton said there were more buyers than sellers in the market, and the higher levels were the result of strong cattle prices and good interest rates.
"Land is a good investment. People are realising with the volatility of the share market, land is a not a risk, it actually appreciates."