A QUEENSLAND family with existing beef holdings has secured Upton Farms for a figure believed to be around $80 million, making it among the largest grazing property transactions in New South Wales.
Marketing agent Chris Meares from Meares and Associates was unable to disclose the buyer or the price paid, but experts had previously anticipated the portfolio would make upwards of $70m and possibly as high as $80m.
It is understood the purchaser plans to relocate to New South Wales.
Upton Farms attracted more than 100 inquiries and 25 inspections by parties from New South Wales, Queensland, the Northern Territory, South Australia and Victoria.
Mr Meares said the portfolio sold prior to auction after the vendor received a number of requests to submit pre-auction offers.
Upton sold on a walk-in, walk-out basis. Around 4500 head of cattle are understood to have been included.
Mr Meares said while the sale has created a precedent for prices paid in the New England and for that matter rural New South Wales, he does not believe he has ever seen a better presented rural portfolio in all his years of marketing high-end rural property.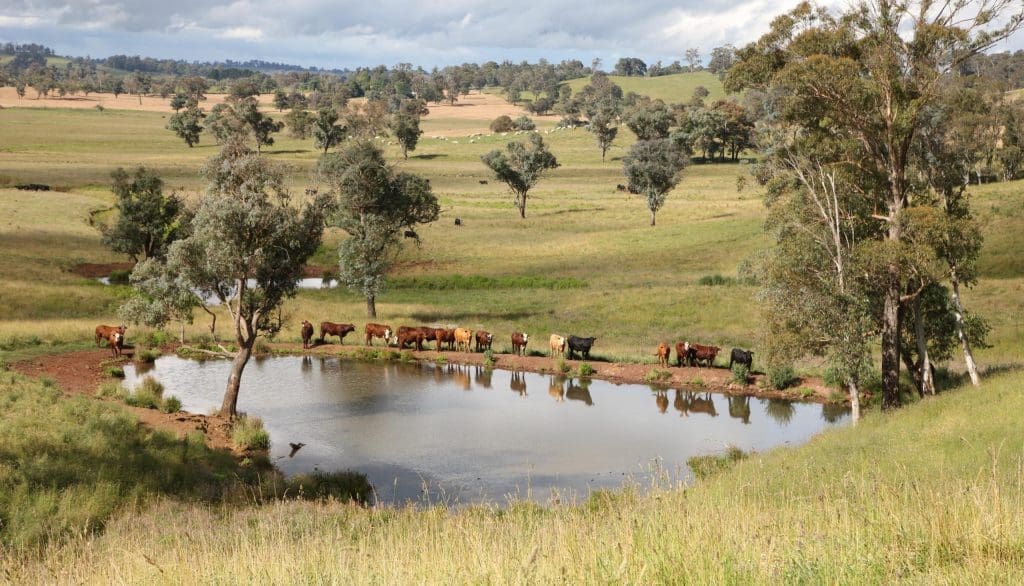 Located on the New England Tablelands, the 2668ha backgrounding and fattening operation is capable of carrying 6000 steers or 4000 cows, or 60,000 dry sheep equivalents.
Comprising four nearby farms at Niangala, east of Walcha, the portfolio was offered to the market as a whole or as four separate lots:
408ha Alpha (900 steers or 600 cows or 8976DSE)
524ha Billys Creek & 425ha Foxdale (2100 steers or 1400 cows or 10,480DSE)
675ha Pindari Tops (1400 steers or 900 cows or 13,500DSE)
658ha Brislington is located 18km north of the other four properties, at a lower altitude and rainfall (1650 steers or 1100 cows or 14,476DSE).
The holdings feature heavy red and chocolate basalt soils, high rainfall (ranging from 860mm to 1145mm) and are situated 1200 to 1350m above sea level on top of the Great Dividing Range.
The Upton family purchased Pindari Tops in 1962, followed by Alpha, Foxdale, Billy Creek and more recently Brislington.
All have been established to high performance fescue and rye-based pasture for the fattening of cattle all year round, allowing the vendors to provide a regular supply of heavy EU certified fat steers to one of Australia's leading processors.
Owner Greg Upton said given the level of pasture development and the average seasonal conditions, the farms could run up to 7000 steers by October.
"I believe the operation will run 7000 steers at an entry weight of 400kg (2.8million kg total) to fatten into high weight steers. This means there will be a significant draft of finished steers early next year to be sold, allowing for the final sowing of around 440ha of fescue mix pastures."
Nick Jenkins from Precision Pasture Management Systems has been associated with Upton Pastoral Co for 15 years and a consulting agronomist for the last 10 years.
He said the aggregation boasted some of the region's best quality grazing country.
"This is due to rainfall, soil fertility (influenced by the consistent application of fertilisers and soil amendments as required) and pasture development technology, combined with comprehensive development vision and implementation by the owner."
Mr Jenkins said high performance pastures underpinned the production of the aggregation.
"Upton Pastoral is a leader in the adoption of new pasture developments. The latest high-producing pastures are planned and planted to gain the best outcome for cattle production, meeting growth requirements of animals and target market specifications."
When Upton Farms was offered in February, selling agent Chris Meares described the properties as some of the "most dynamic, premium green pasture feedlots in Australia."
"The 2668 hectares comprise wall-to-wall, high-performance pastures allowing for the current outstanding carrying capacity, enabling management to run and fatten around one beast per acre, putting on in excess of 300kg of weight per annum."
Each of the farms was extremely well presented, has excellent fencing and water reserves (spring fed creeks and spring catchment dams) and state of the art cattle operating improvements.