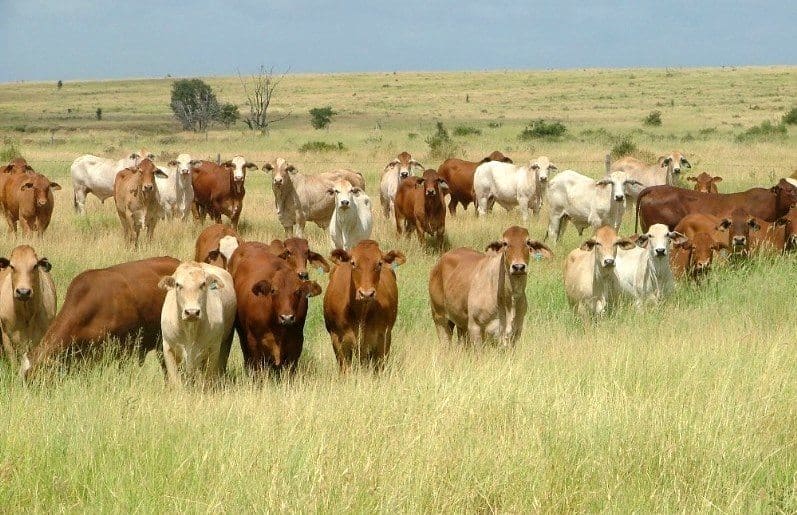 AN aggregation of three showcase Central Queensland buffel grass finishing properties owned by US coal miner Peabody Energy will test the market for premium cattle country when offered by expressions of interest in coming weeks.
The aggregation of Iffley, Deverill and Twenty Mile near Moranbah in the heart of Queensland's premium bullock finishing country, cover a combined 41,500ha, mostly softwood scrub country well established to buffel grass and improved pastures.
Iffley for many years was one of the flagship finishing properties developed by AMP's Stanbroke Pastoral Company.
One source suggested a price of $60 million was possible for the aggregation, but that figure was based on assessments at the peak of the previous market cycle around 2006-07, and a coal mining project that never went ahead.
Peabody will retain the coal mining tenements on the properties, but will sell the land asset, making it a straight pastoral investment play. Indeed the new owner will be an 'absentee landlord,' as the use of the aggregation for cattle operations is tied-up in long-term lease agreements with Australian Cattle and Beef Holdings, the joint venture involving Australian Country Choice and Acton Land & Cattle Co.
Australian Cattle and Beef Holdings manage the cattle interests of the Acton Family who hold the occupying lease, with extension options, on Iffley, Deveril and Twenty Mile.
The aggregation is used primarily by ACBH to grow-out young cattle bred on other properties, for backgrounding for feedlot placement to supply the Coles-ACC beef supply chain through Brindley Park and Opal Creek feedlots.
US-based Peabody Energy, the world's largest private-sector coal company, operates nine mines in NSW and Queensland. Its US parent filed for Chapter 11 bankruptcy protection last year after reporting a $2.7 billion net loss in 2015 due to write-downs from falling coal prices.
The Acton family reportedly paid $45 million for the Iffley aggregation plus 7000 head of cattle in 2006, at the height of the previous cattle land boom. Peabody bought the aggregation from the Acton family some time prior to the death of Graeme Acton in 2014.
While the prospect of future mining development on the properties exists, negotiations over sale are likely to include Compensation Agreements, Beef Central was told.
The three cattle stations, on the Isaac River, are being marketed by CBRE's Geoff Warriner and Chris Holgar, who will also run a leasing campaign for an adjoining property.
All three properties have been developed to suit large-scale livestock production, CBRE said in a statement.
Mr Warriner said the properties' size, value and strength of current management matched investment mandates of both major industry participants and institutional investors.
"The opportunity to secure an aggregation of this scale within such a renowned and highly productive livestock region, offering direct access to transport routes and close proximity to end-markets, is both unique and strongly sought after," he said.
Mr Holgar said the opportunity was also positioned to capitalise on the current strength of Australia's beef sector.
"Given the strong interest in large-scale grazing land, the sale of these properties comes at an opportune time for the industry," he said.
The aggregation is located about 40km south east of Moranbah and 240km northwest of Rockhampton.
The upcoming expressions of interest campaign will offer the properties in one line, or as separate assets.
Recent sales provide guidance
Two recent sales of quality smaller Moura district buffel grass properties have underlined the market's current strength for high-quality finishing country in Central Queensland.
Last month, more modestly sized Moura district holdings Old Delargum and Murraway – mostly improved brigalow and softwood scrub country well established to buffel grass and improved pastures – were sold under the hammer at auction in Rockhampton.
Vendors Terry and Heather Elliott sold 3200ha Old Delargum for $9.4 million (equating to $2931/ha bare, or $1186/ac), with 520ha established to leucaena.
The second property, Murraway, 4080ha, was sold to Scott & Lizette McCamley from Dululu for $10.25m, equating to $2457/ha, or $994/ac.
Marketing agent for those sales was Hourn & Bishop, Moura.