There are some simple checks producers can make to avoid exposing livestock to alternative feeds containing unacceptable and harmful levels of chemical residues, or feeds which could contain restricted animal material, Agriculture Victoria Animal Industries Development Officer Richard Smith says.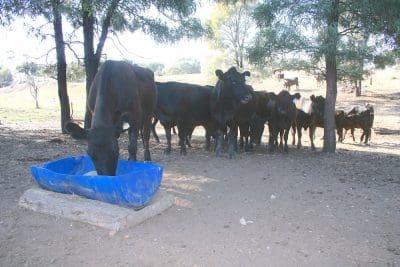 Many livestock producers are being forced to use alternative feed sources to manage dry seasonal conditions, feed sources which carry potential risks.
Mr Smith said there are three simple things for producers to think about when purchasing alternate stock feeds:
never feed restricted animal material
be aware of chemical residues, and
ask for and provide the required vendor declarations.
Mr Smith said producers should make certain that purchased feed does not contain restricted animal material.
"This is any material taken from a vertebrate animal and includes rendered products, such as blood meal, meat meal, meat and bone meal, fish meal, poultry meal and feather meal, and compounded feeds made from these products," he said.
"Gelatin, milk products or oils are not included in the ruminant feed ban."
Producers should undertake their own due-diligence about the suitability of the feed being purchased, as some chemicals registered for use in crops, fruit, and vegetables may not be registered for use in stockfeed or for livestock.
"Some chemical labels prohibit the grazing and/or feeding of stubbles, wastes, and products to livestock, while others might have no maximum residue limits (MRLs) set for animal products and so any detectable level of the chemical in the livestock product could breach food safety standards," Mr Smith said.
"Other chemicals may not have prohibitions on use of treated crops as stockfeed however, stock may still accumulate unacceptable residues as they can eat larger volumes of treated crops than humans.
"This risk can be addressed by appropriately rationing treated stockfeed."
To meet obligations under the Livestock Production Assurance (LPA) program, and Primary Production and Processing Standards for Dairy Products, producers need to obtain a vendor  declaration (eg. Commodity Vendor Declaration and/or Fodder Vendor Declaration) for all stock feed/fodder purchased.
As dry seasonal conditions continue, and traditional fodder or roughage sources are expended, producers may seek by-products to feed stock.
By-product material, which is defined as 'any plant material not produced primarily for livestock consumption', such as citrus pulp, fruit pomace, grape marc, and outer leaves can have concentrated levels of agricultural chemicals which could increase livestock residue levels.
Mr Smith said producers need to declare if they have fed by-products on their National Vendor Declaration (NVD) within 60 days of selling livestock, with details of what produce was fed.
"Care should also be taken around root vegetables and cucurbits (cucumbers, zucchini, etc.) as they could be grown in soil contaminated with organochlorines," he said.
"Organochlorine residue builds up in the animals' body fat, when these vegetables form a major part of the diet and/or are fed for prolonged periods."
Source: Agriculture Victoria. Information on feed quality values and feeding risks can be found at: https://buff.ly/2UPkQ6q
SafeMeat has several risk assessment documents for alternate fodders available at: http://safemeat.com.au/key-issues/chemical-residues.htm.