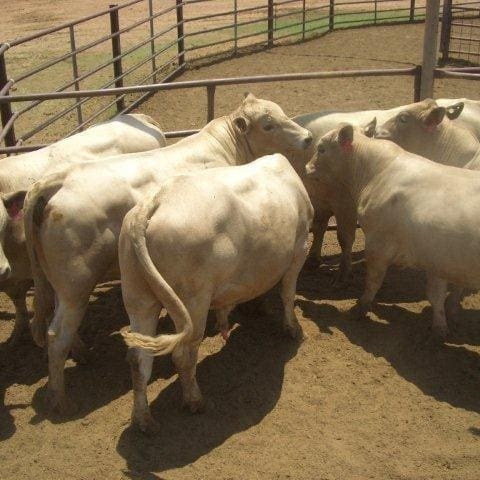 Whether it's just Christmas approaching and people have more time on their hands, or whether the topic was of particularly timely seasonal interest, Monday's Beef Central article on feedlot productivity, pen shade and coat colour has stimulated unusually strong reader feedback.
Rather than simply consign those valuable perspectives to the electronic dust-bin after reading them, we've decided to summarise some of the more topical ones in this follow-up presentation.
S. Kidman & Co managing director Greg Campbell has provided some more insight, and the photo published here, about the company's development of a 'light coat-coloured' composite animal.
"Kidman chose to run with a light coat colour because we not only operate in a hot part of Australia, but the science on inland Australia getting even hotter is becoming more robust as each year passes," Mr Campbell said.
In doing its research, the company leant heavily on the earlier research work of Finch, who did his PhD in Kenya in 1973 on thermoregulation in cattle.
"He published a number of excellent papers in Australia in the 1980s," Mr Campbell said.
"His paper of 1986 in the Journal of Animal Science, titled 'Body Temperature in Beef Cattle: Its Control and Relevance to Production in the Tropics' was key to our decisions."
Mr Campbell said the Tuli breed (African adapted Bos Taurus, originally imported to Australia by CSIRO in 1990) should more appropriately be regarded as a red breed, but there are a lot of examples within the breed which are honey-yellow (dagha), cream and white in colour.
While Kidman has all the possible colours within its Tuli stud herd, sires for the composite work were selected with lighter coats and darker pigmented skin, after meeting all other fertility and structure expectations.
Another regular Beef Central reader, David Taylor, provided a research paper, accessible here, generated from a project he was involved in at University of Queensland a decade ago. The project showed that Murray Greys with lighter coat colour suffered less heat stress over summer and had better average daily gains than dark coated breeds or similar genotype.
In the trial, 574 British-breed based Bos taurus steers (Angus, Hereford and Murray Grey) were used to determine the effect of high heat load on performance and carcase characteristics when fed a high-energy feedlot-style diet for 165-183 days.
The trial was undertaken at a commercial feedlot between December 2002 and June 2003. Regardless of coat colour, body surface temperature of feedlot cattle rose as climatic conditions changed from 'thermo-neutral' (i.e. mild) to moderate.
Under extremely hot conditions, body surface temperature was higher for Angus steers (43.4°C) compared with Murray Grey (38.4°C).
The Murray Grey steers also had greater average daily gain than either Angus or Hereford. There were no differences between breeds for carcase weight, eye-muscle area and marbling score. However, Murray Grey steers displayed ideal subcutaneous fat coverage at slaughter, and in terms of reduced labour costs, Murray Grey steers 'could be economically more efficient' than either Angus or Hereford steers, the report summary suggested.