Growing demand for quality hay and roughage from nearby feedlots is one of the reasons behind a new large-scale lucerne-growing venture on Queensland's Darling Downs.
In a little over two years, farm manager Ken Schmidt has turned Nine Mile, a former dryland cropping farm and a nearby grazing property in the Hopeland area near Chinchilla into lush lucerne producing country.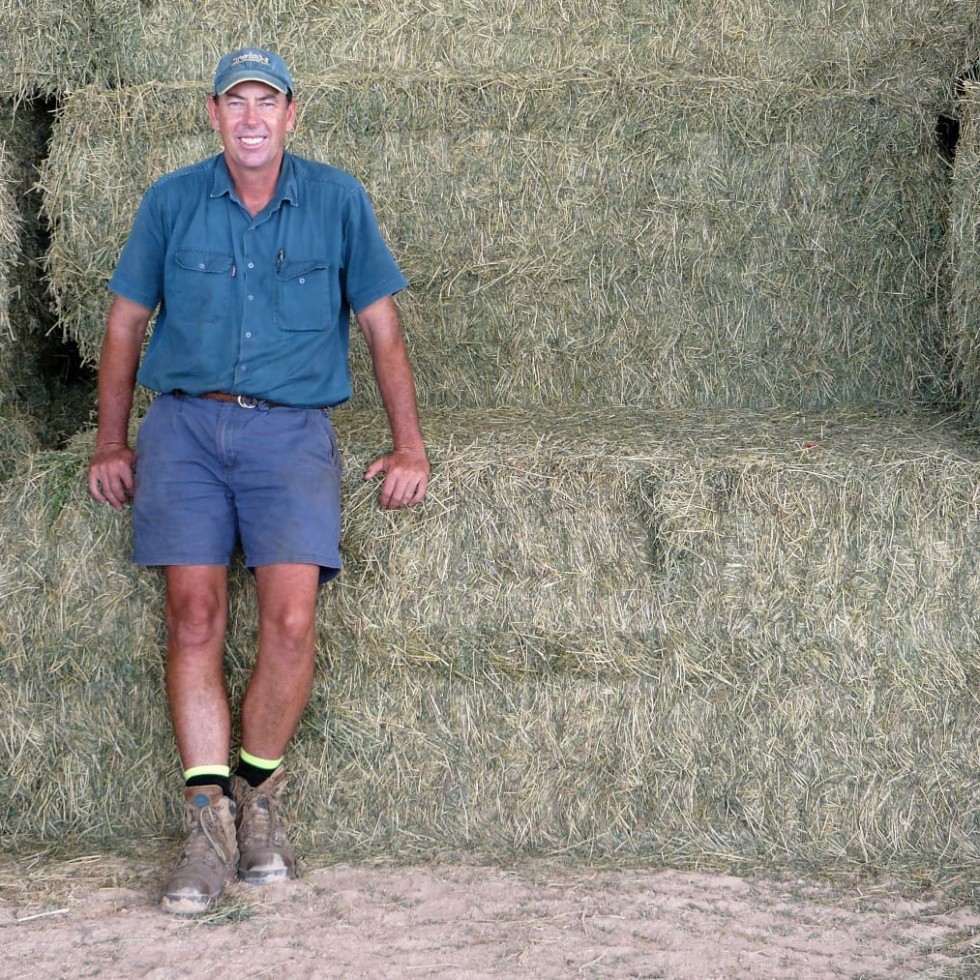 The venture plans to have 450 hectares under pivot-irrigated crop by year's end.
At the current stage of transition, Mr Schmidt currently 220ha in production.
The farm is in close proximity to more than 20 Darling Downs feedlot operations. The four largest nearby feedlots, alone, have a combined feeding capacity of around 80,000 head.
Mr Schmidt moved to Chinchilla from a smaller-scale lucerne-growing venture in the Brisbane Valley in 2011 to establish the new fodder operation and manage the farm.
"It is the perfect spot to grow lucerne," he said. "There are plenty of dry days to make hay, humidity is low and we have plenty of water."
"It does get a bit cool in winter, so that's why we have planted a lot of winter-active varieties," he said.
A total of 70 hectares of Titan 9 winter-active lucerne was planted on Anzac Day last year, and it has been found to be one of the better-performing varieties under the farm's conditions.
"I tested several different varieties here because the growing conditions are different from what I'm used to closer to the coast, and Titan 9 and Titan 7 are outperforming the rest," Mr Schmidt said.
"Their germination and plant establishment were brilliant, with nice thick plant stands and good yields."
Yields have been consistently above 2 t/ha per cut, with cuts every month through summer.
Mr Schmidt said the yields tended to depend on the country, with Titan 9 averaging 2 t/ha per cut on the marginal sandy clay soil, but between 2 t/ha and 3 t/ha per cut on the black self-mulching clay country.
Most of the lucerne is baled into large bales, and with the low humidity, the baling window lasts from around midnight until 8- 9am in the morning.
"We are certainly operating on a big scale here," he said. "I can mow a 46 hectare pivot pad in seven hours, rake it two or three times and then bale it in around five or six hours.
"We pick it up the next day and can be watering the block again within 24 hours of baling."
Mr Schmidt said Titan 9 came back well after cutting.
"The crown seems fairly robust and we've had no problems with tyre damage or disease," he said. "We have had to spray once for heliothis, but with regular cutting, we're keeping it under control."
He is hoping to retain the Titan 9 stands for around four years before replanting.
In terms of quality, he said the lucerne was consistently rated AA and has seen growing market demand.
"The Titan 9 lucerne has a fine stem and good leaf retention," he said. "We haven't seen it going rank like some of the winter-actives can do. A lot of our lucerne hay is good enough to cut into chaff, so it is quite suitable for the feedlots," he said.
Mr Schmidt said the scale of the operation was already significantly bigger than most lucerne farms, and anticipates it will eventually be one of the biggest in the country.
"We're still ramping up production, but with varieties like Titan 9, plenty of water and dry days, things are looking good for this season," he said.
More information on the Nine Mile operation and available fodder can be found on the website www.ninemile.com.au
Titan 9 lucerne is produced by AusWest Seeds. Click here for details.