JUST when it appeared competing export beef processors had fired their last shots for the 2021 slaughter season, another salvo of slaughter grid price rises rang out on Monday, pushing offers in some states to yet another round of record highs.
Grid offers out of plants in Queensland's southeast corner – the heaviest concentration of processing operations in the country – have surged another 15-20c/kg dressed weight this week.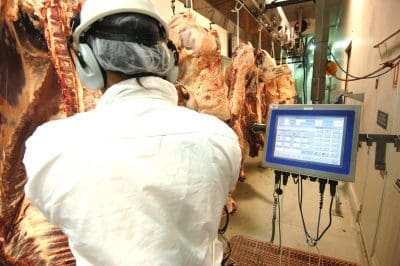 Quotes obtained this morning from several large multi-site operators now have heavy cows in Queensland at an incredible 750c/kg dressed weight, and four-tooth grass export steer at 780-785c/kg.
Another large SEQ operator had not yet changed its offers when spoken to, but was considering its options this afternoon, in light of Monday's changes. That company lifted cows to 735c/kg last Wednesday, but conceded it may have to move again tomorrow.
In pay-check terms (or pay-cheque terms, for those readers still valiantly resisting Americanisation of Australian spelling and grammar), it means a standard 320kg heavy cow is now worth $2400 in the bank, while a 350kg steer comes back at $2750. Any heavy slaughter animal with a premium attached to it, whether it be certified grassfed, MSA or breed-specific, is now approaching an unheard-of $3000 a head in value.
Some Central Queensland plants are now directly aligned with pricing in southern reaches of the state, while others are still 10c/kg behind. In southern states, direct consignment slaughter grids now closely match those seen in Queensland, with cows around 750c/kg and heavy grass steers 780c.
Last Tuesday's weekly kill article speculated about the prospect of 'one last round' of slaughter cattle price rises in 2021, given that late October/November normally delivers a kick in the market. Opinion was roughly equally divided among processor contacts, but the 'yays' obviously outvoted the 'nays' when it came to the crunch this week.
Saleyards rates for most slaughter cattle remain more or less on par, or slightly ahead of direct consignment rates this week, when costs are factored into the equation.
Processor livestock managers say supply remains a day-to-day proposition heading into the back end of October, with no real relief in sight. There is normally an inflow of cattle out of northern NSW at this time of year, but that has been modest, at best this year, one contact said. The phones had 'hardly lit up' since the latest jump to record levels yesterday, he said. "It's hand-to-mouth, at best – nobody has any forward bookings, that I'm aware of."
Southern Queensland plants continue to kill five day weeks, albeit at greatly reduced shift numbers. But Central Queensland plants, particularly, are coming under considerable pressure to drop time, given the scarcity of slaughter stock as the year draws to a close.
"It's about two things," one regular processor contact said this morning. "It's the greatly reduced pool of cattle we are all operating on, heading into summer, and the strong motivation to keep plant employees in work. Closure would mean many of those valued employees would drift away to other work, and may be very hard to re-attract, when the chain starts again."
Defensive investment in maintaining the skilled and semi-skilled workforce has been a key feature of processors' cattle pricing decisions throughout the unbelievably tough 2021 year.
Some processors are considering their annual seasonal closure dates this week, but most are desperate to kill as late into December as possible, determined by what cattle come forward. There's talk of one Central Queensland plants closing its 2021 season on December 6.
Growing impact on profitability
Not surprisingly, theoretical processor profit margins calculated monthly by Thomas Elder Markets have slipped further into the red, again threatening to eclipse the all-time high.
Figures from TEM's model (see graph below) have worsened during September, which should come as no surprise as both young cattle and heavy steer pricing made record highs over the month. Indeed, finished steer saleyards pricing peaked at 475c/kg liveweight during September and prices have averaged 444c/kg over the month.
So it is largely cattle input cost pressures impacting processor margins at the moment.
The beef processor margin loss for August has been revised down from $324 to $312 per head of cattle processed. The better outcome for August stems from improved export pricing. As TEM flagged in its previous August margin article, some beef export pricing data was unavailable at the time of publishing, and the increased export pricing helped to return some dollars to processors' bottom line.
Unfortunately for processors, the relief has been short-lived, with the September margin widening to a $327 loss per head. This result brings the average annual processor margin to a per head loss of $307 for the 2021 season, thus far.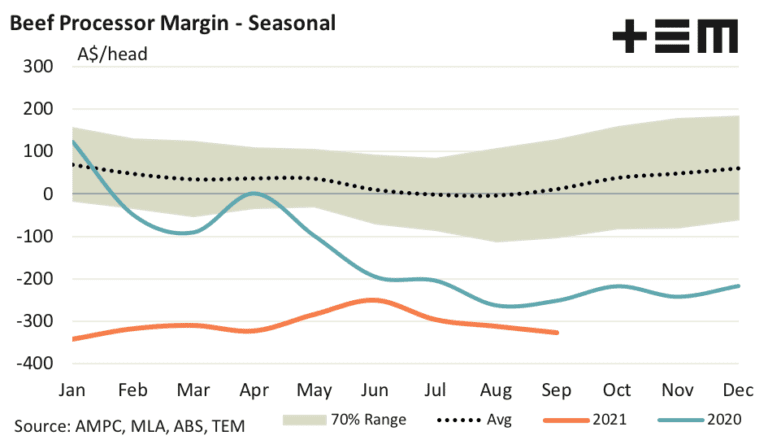 Slaughter numbers continue to show a weak pulse
After the previous week was heavily impacted by Monday public holidays in the two largest processing states, last week (week 42) was anticipated to bounce-back, picking-up some of the lag.
While there was a modest 7pc rise in national kill last week to 98,589 head, that was coming off an extremely low base the week before, due to holidays in Queensland and NSW.
The same week last year accounted for more than 10,000 head or 9pc more than last week, while back in 2019, the drought-impacted industry was still killing well over 151,000 head a week – and growing heading into November-December.
Queensland's kill last week rose to 48,871 head, up 8pc, while NSW processed 27,788 head, up 11pc. Victoria accounted for 12,365 head, down a little on the previous week.