DIRECT consignment slaughter cattle prices have continued to deteriorate this week, as beef processors rack-up record losses in the face of listless international beef markets.
Some Queensland grids have slipped another 5-10c/kg since last Tuesday, cementing a clear downwards trend over the past month.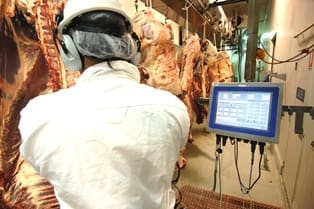 Best offers seen from competitive processors in Southern and Central Queensland this week were 610-620c on four tooth grassfed heavy steer (some higher quotes HGP-free) and 540-555c/kg on the best heavy cows.
Grainfed offers from some processors were back 10c this week, to 620c/kg for milk and two-tooth 100-day heavy steers (implanted) and 630c on HGP-free this week.
In sites further south, Wagga (NSW) and Naracoorte (SA) were this week offering 605c on four tooth steer and 550c/kg on heavy cows.
Margins hit record low
With the dearest cattle in the world, Australian beef processors are struggling to remain competitive in international markets currently, with Japan, Korea, the US and China all very subdued, and being serviced by cheaper product from alternative suppliers.
The impact was clearly seen in theoretical processor margins produced last week by analysts Thomas Elder Markets, Matt Dalgleish.
The TEM processor margin model published last week projected a record loss of $254/head for August kills, considerably worse than the previous month and a record low for the past 20 years (see graph). To rub salt into processor wounds, updates to key inputs in the model for July saw the monthly margin loss increase from $200 to $225 per head.
This has taken the accumulated annual average beef processor margin to $113 loss per head this year, a stark contrast to the $141 profit achieved over 2019, TEM analyst Matt Dalgleish calculated.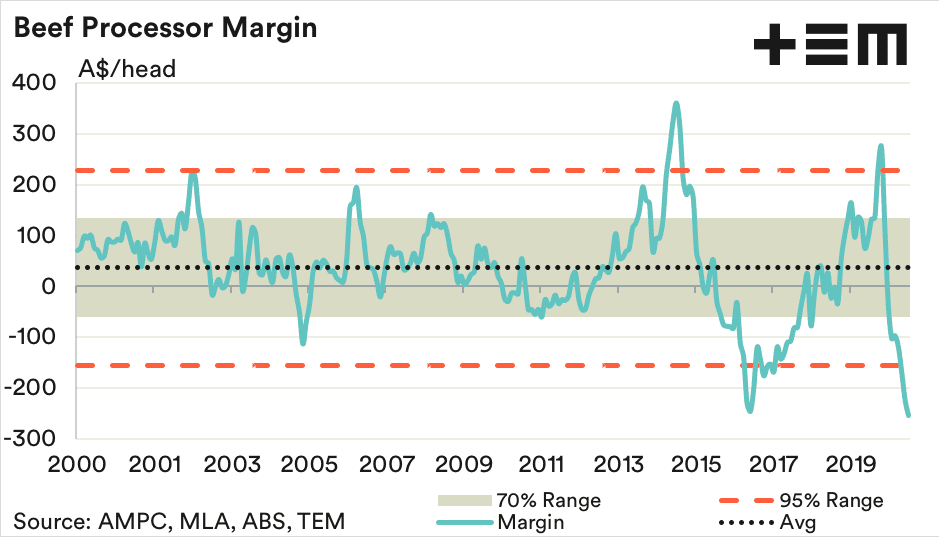 While the national heavy steer indicator rise of around 30pc since December was great for producers, it meant cattle going into meatworks costs processors more, he said.
"If meatworks are able to offset some of these cost increases by higher sales outcomes, they can stem their losses. Unfortunately, for processors since December 2019 beef export prices have eased 10-15pc on average across key export destinations," Mr Dalgleish said.
A range in processor margins between a $60 loss to a $130 profit would be considered relatively normal, he said, while margins above a $230 profit or below a $155 loss would be considered extreme.
"Is it tough in the processing game at present? – yes," one large export processor told Beef Central this morning. "Is it any tougher than we had anticipated last year? Probably not, because we all knew this was going to happen, and it's just a matter of riding it out and putting funds aside from the good times to account for it," he said. "We have to manage it the best we can."
"It's led to some drastic measures like that seen at JBS Dinmore last week (dismissing 600 staff and retracting back to a single daily shift) but these are desperate times."
JBS Dinmore's new weekly roster of five single shifts per week will see the plant process about 1700 head daily if cattle supply can be maintained – considerably lower than its previous 3-4 day double daily shift configuration.
North-south price gap
A price gap is clearly emerging between Queensland and southern Australian zones recently, so much so that some northern processors have this past week re-commenced buying slaughter cattle out of southern centres like Dubbo, Coonamble and Gunnedah.
The spread in offers between north and south that's emerged (see quotes above) makes the transport cost of around 20c/kg to deliver the cattle to southern Queensland sheds viable. COVID restrictions in the south may have contributed to the north/south price gap that has emerged, and the reduced shifts being experienced in some NSW plants due to the challenges in sourcing processing staff is also becoming a factor.
It's not going too far to suggest that labour shortages are indeed influencing cattle markets at present, at least on a regional level.
Kills lift a little
Prospects of rain in some areas later this week could further tighten cattle supply, processors told Beef Central this morning.
Last week's eastern states beef kill reached 111,899 head, some 23pc behind this same week last year. While the tally represented a 6pc increase, it was coming off a very low base the week before, and included some returns to work among processors that had previous time off.
As some plants come back to work, others are starting short-term closures this week, including Bindaree Beef at Inverell which is apparently closed for two weeks.
Queensland slaughter numbers lifted 12pc last week, as Dinmore returned to work, logging 57,489 head, down 28pc on this time last year. NSW was unchanged at 28,322 head, while Victoria lifted 4pc to 18,917 head. South Australia's kill fell 17pc to 3331 head, while Tasmania lifted 3pc to 3840 head.