NOT that long back, specialist robotics and automation company Scott Technology had to actively lobby red meat processors to get them to contemplate new technologies coming through the R&D pipeline.
But times have changed. Scott now regularly fields inquiries from processors who are pro-actively asking about commercial applications and installations of automation systems to improve their plants' performance.
Speaking at last week's Australian Meat Industry Conference, Australian Processor Council chairman David Larkin touched on the drive for greater efficiency that's occurring across the red meat processing sector.
"The quest for lower costs has encouraged the adoption of latest technology in Australia's processing facilities. Productivity will define the future success for the Australian red meat sector on the international market," Mr Larkin said.
Scott Technologies, which hosted a trade exhibit at last week's conference gathering, has seen big changes in attitude towards automation and robotics. Greater labour efficiency is the big drawcard, but that's backed by potential to increase carcase yield; improve phytosanitary performance; and eliminate more physically-demanding tasks from the production line.
"Back in 2001, when I first started working with MLA in the field of automation and robotics, it's fair to say that nobody in the processing sector was taking our work very seriously," Scott's Sean Starling said.
"At that time, we (the emerging robotics field) were just noise," he said.
"Industry had tried it before (a reference to the ambitious, but ultimately unsuccessful Fututech kill-floor work of the 1990s), but felt that it was never going to work, in a commercial sense."
By 2009, as the robotics field matured and technologies improved under the direction of NZ-based Scott Technology, the industry was showing signs of 'warming-up,' Mr Starling said.
"But even then, we were still spending a lot of time knocking on doors. Systems were still in prototype stage, but while processor stakeholders were polite, and interested in what we were saying, they were not yet really engaging."
Roll forward to the past 12 to 18 months, and the tide has turned.
"We now field a lot of pro-active calls from processors, wanting to engage, and learn more about what's out there. That does not mean they will undertake an installation tomorrow, but awareness has lifted dramatically, and they are starting down a path."
Asked by Beef Central what was driving it, he pointed to a number of factors.
"Processors have obviously had a couple of very good years, financially," he said. "They are thinking about what future plants are likely to look like, and part of this is an acceptance that if the 'automation thing' has potential, let's make sure our future plant developments can accommodate it – even if installation does not start tomorrow."
Another factor was that processors were seeing both medium-sized stakeholders like Australian Lamb Company at Colac, and large ones like JBS Australia, adopting commercial systems, and making them work. "The future is here," Mr Starling said.
Videos like this one published earlier on Beef Central have helped drive that awareness.
Beef applications next big leap
While all commercial robotics installations in Australian processing so far have been in lamb (smaller, more uniform sized and shaped carcases to deal with), beef processing applications were getting closer, Mr Starling said.
"As a company, Scott is working closely at present with MLA and some of our processing clients (one of which is JBS Australia, which recently invested in the Scott company), to determine what beef boning automation actually looks like," Mr Starling said.
"We have a number of prototypes under development – one in-plant, and another three in workshop settings. We don't yet have a clear vision about the finished product, but we know the separate modules we are presently building will form part of that," he said.
One of the emerging beef technologies will take a side of beef and start to perform the main cut-lines on the carcase. Two other technologies remove remaining bones from bone-in primals, and perform fat trimming to specifications. Another technology is using DEXA x-ray analysis of carcase for saleable meat yield, now being applied in a trial sense in beef, as well as lamb carcases.
So how soon are Scott's systems likely to appear in beef plants?
"I would think within 12 months we will see four to five pieces of beef processing automation in commercial use – predominantly in the boning room area," Mr Starling said.
"They may take another year or so to become truly commercial, but the process is underway. At this stage, we are being strategic. We aren't trying to automate an entire boning room, but picking a couple of good, high-returning project solutions to develop, while making sure they are also part of a longer-term integrated solution."
Mr Starling said typically, red meat processors were targeting a two-year payback on investment in plant automation and robotics.
"We're quite lucky, to date, in that any boning applications in lamb are delivering a payback of less than 12 months. We think we can get the same, or similar payback for beef."
Processor views on the future for robotics
While at the 2015 Meat Industry Conference last week, Beef Central's Eric Barker sought responses from a number of individual processor members about the application of automation and robotics.
Jon Hayes, Wodonga Abattoir, Vic:
Jon Hayes is the executive manager of the Wodonga Abattoir on the NSW/Vic border which processes beef, sheep and goatmeat.
Wodonga is currently commissioning robotic technologies to help break-down its sheep and goat carcases. The plant will employ three main robot modules in its new project:
One that grips the carcase and holds it during the cutting process
A second that uses a large circular saw which splits the carcase down the middle, with a high degree of accuracy
A third which uses a horizontal blade which portions the fore-quarter, the middle and the hind legs.
Mr Hayes said the markets where Wodonga sold its sheep and goatmeat tended to be very price-sensitive, so efficiency was a key.
"We've also eliminated the strains and stresses of manual labour in favour of an automated system which breaks down the carcase ready for packing," he said.
Mr Hayes said Wodonga Abattoir would be looking into automation for its beef processing chain in the future.
Peter Greenham, HW Greenham and Sons, Tas and Vic.
Peter Greenham runs HW Greenham and Sons which is a single-species beef processing company in Victoria and Tasmania.
He said robotics was not yet as much a part of beef processing as it is becoming in smallstock, but he said recent videos of systems in place had served to highlight what might be possible.
"Currently we have some small robotics in the boning room, just to help with some of the manual labour like pulling the H-bones out, and tasks like that," he said.
"Lamb's been the focus over the last six or seven years, and now it's commercially viable for lamb processors. But now I think a lot of that focus is going to be turned to beef – we can learn from what's happened with lamb processing and convert it to a beef application," he said.
Mr Greenham said one of the main factors holding back robotics in beef processing was the cost of developing the facilities to accommodate it, which in many cases could be 'quite old.'
"The cost of building an abattoir these days is too expensive so a lot of places have just expanded on what was built many years ago, so space is often at a premium," he said.
"As far as our plant goes, it's difficult to find space to do anything, let alone put big machinery like this in."
John Hart, John Dee Warwick, QLD.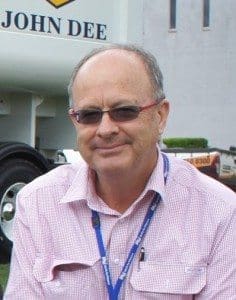 The Hart family's John Dee domestic and export beef processing facility near Warwick in southern Queensland currently has no robotic technology in place, but company spokesman John Hart said the company will be looking at an initial application using robotics for stacking cartons, to take some of the heavy manual lifting out of the process.
"Every tonne of product that comes through our plant has to be shifted, manually, three times," he said. "So if we process 100 tonnes in a day, that's 300 tonnes that has to be manually shifted. It's not sustainable," he said.
"Using robotics for stacking is not a new idea, but we're ready for it," Mr Hart said.