TYPICAL Australian beef processors are back in positive margin territory on some cattle after two horror years caused by extreme livestock supply shortage following drought.
This week's positive trading results are being seen principally in grassfed steer and cow, with grainfed still described as 'well negative' due to the lag-factor caused by high feeder procurement costs back in December-January.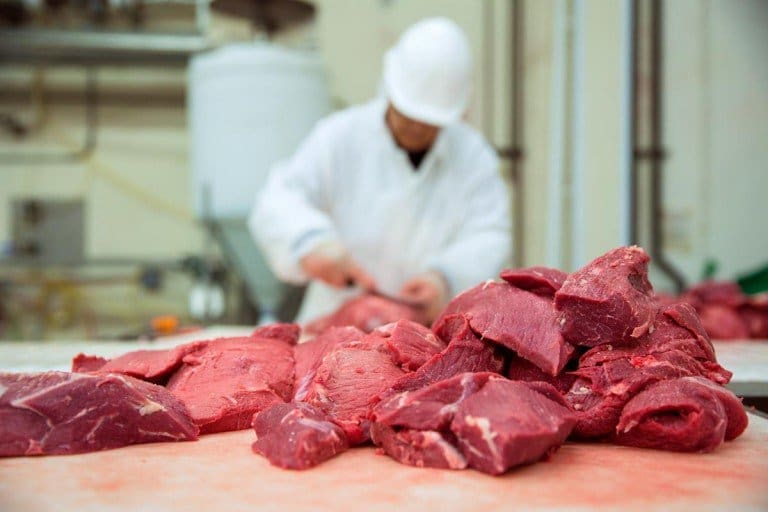 As Beef Central has reported throughout the first quarter, both slaughter cattle and feeder/young cattle prices have been in retreat since December, now starting to have a significant bearing on processor profitability.
One large multi-site, multi-state beef processor told Beef Central this morning that slaughter cows (currently being bought for processing in southern Queensland around 520-530c/kg carcase weight) were now around $40-$50 a head positive in his business, and grass export steers a little less than that.
In his company's case it had made weekly net profit across its overall beef operations for the first time since 2021, only a few weeks ago.
However his company did not expect to see profit on grainfed cattle return until the end of May or early June, due to the lag-factor.
While simple logic would say 'feed less grainfeds until the market conditions improve,' that is largely impossible for large supply chains that have supply contracts locked in with very large international grainfed customers, and rely on a grainfed component to underpin daily plant throughput.
While MLA's US imported 90CL price is currently three weeks out of date (last report published 24 March, at A849.7c/kg CIF), the US imported manufacturing beef market has fallen away a little in April, Beef Central understands.
However before that, 90CL imported grinding beef prices rose about A120c/kg over the first quarter, contributing to the improved trading terms currently being reported on Australian cow beef.
Cows that Queensland processors are currently paying 520c/kg for were still worth 580-590c/kg back in mid-January, before supply started to lift. That's worth around $220 a head on a typical heavy cow.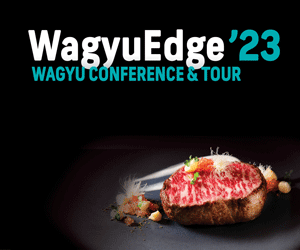 Imported trim prices into the US are expected to firm further in coming months, with the 'Other Country' quota under which Brazil operates into the US now dangerously close to full. Once the quota is fully spent, Brazil's only option is to pay full duty to get trim into the US for the rest of the year, which many feel will positively impact pricing out of Australia.
Another factor is the routine annual decline in beef kill in New Zealand over the winter months. And within the US itself, large parts of the Midwest still have not had rain, after their extended drought.
Having said that, some Australian stakeholders are sceptical about the economic conditions in the US, with high inflation and rising unemployment. Political uncertainty is another factor.
Manufacturing beef demand in the US could be influenced this year by the direction the US economy takes, one contact said this morning.
Ep3's Index tracks trend
Episode 3's Matt Dalgleish this afternoon published his latest processor profitability index report, reflecting the recent changes reported above.
Note that Ep3 no longer publishes results as outright figures, but has developed an index model to track movement (see explanation at base of page).
In mid-February Ep3 published its first Beef Processor Profitability Index (BPPI) which showed that while the indicator in January was still in the negatives at a measure of -0.26 (later revised to -0.19, as more data came to light), the situation for Aussie beef processors was improving.
Falling domestic cattle prices and relatively strong beef export pricing offshore had continued to favour local beef processing operations over the first quarter of 2023, Mr Dalgleish said.
February 2023 saw the BPPI improve again to -0.08 and March saw the profitability index move back into the positives for the first time since early 2020 (see graph).
The BPPI for March 2023 sits at +0.27 – its highest level since January 2020.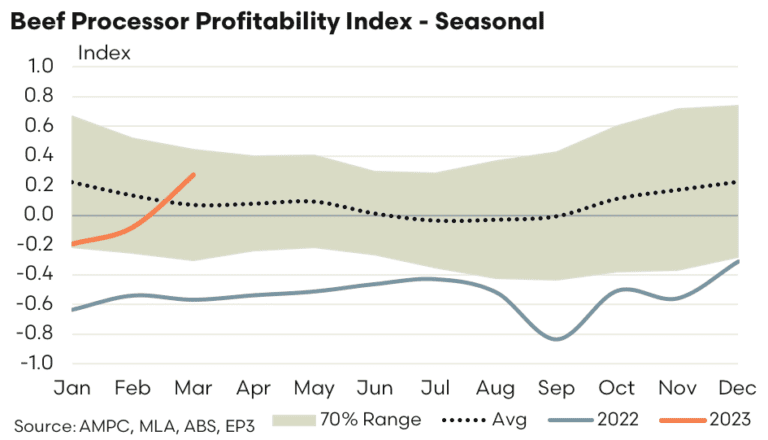 On a seasonal basis (see second graph above) the BPPI has moved above the average seasonal trend as the long term March average, according to the average seasonal pattern is an indicator of 0.07.
Historically, according to the average pattern, beef processing margins improve slightly as the industry heads toward May before times get a little tougher during winter with margins often narrowing to their seasonal lows, Mr Dalgleish said.
"So there may be more hiccups yet for beef processing before the year is through," he said.
Why has Ep3 moved to a processing profitability Index?
Episode 3 has produced a theoretical beef processor margin model, results from which can be traced back more than 20 years. When using an outright profit/loss figure, Ep3 (like Beef Central) regularly received feedback from stakeholders 'hung up on the absolute dollar per head figure', rather than focusing on the trend in profitability, which is the exercise's primary purpose.
In order to overcome this issue, Ep3 recently transitioned the model to calculate beef processor profitability as an index rather than an average dollar per head figure. The monthly trend in the Beef Processor Profitability Index (BPPI) since 2000 demonstrates that the final quarter of 2022 saw an improved trading environment for Australian beef processors as the domestic cattle prices eased, while beef export values managed to hold ground, or in some export destinations beef values increased.
That trend only intensified in April 2023, with a return into the positive side of index territory.