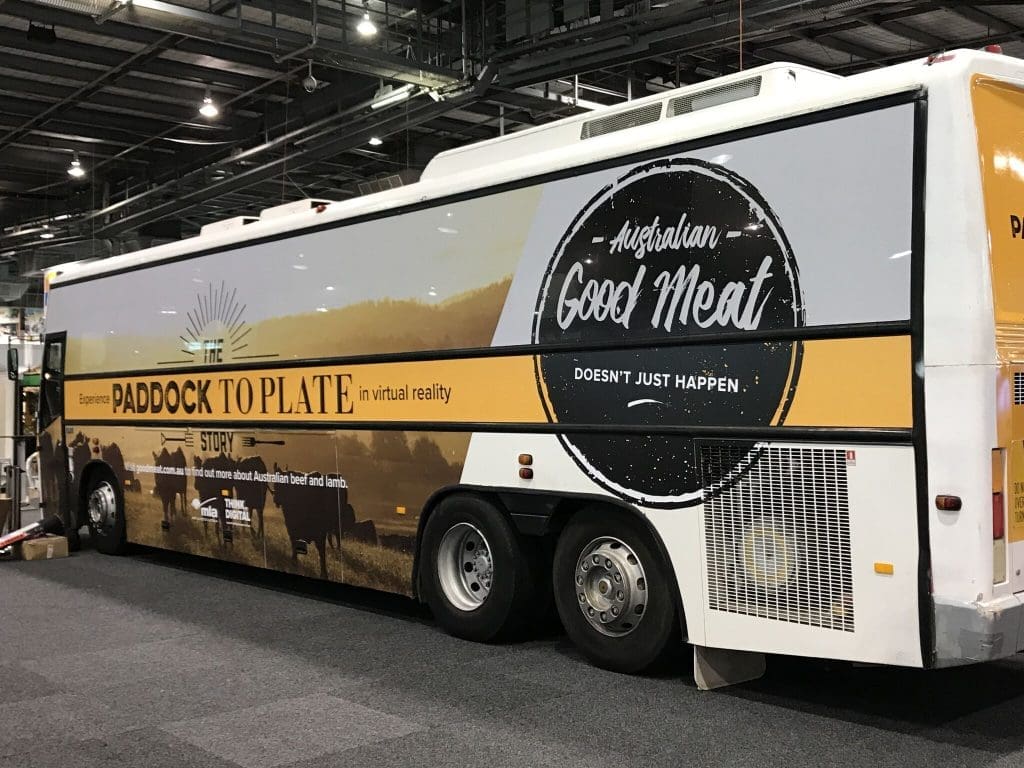 Meat & Livestock Australia's (MLA) virtual reality Paddock to Plate Story will hit the road to showcase Australia's red meat production systems to schools and local communities across Australia.
The Australian Good Meat Paddock to Plate Story roadshow will start the tour at the Royal Adelaide Show and then, in partnership with Think Digital, commence a three-month journey through South Australia, Victoria, ACT and NSW.
The immersive 360-degree virtual reality video informs consumers by telling them the story of Australian beef production, underpinning why Australia produces the greatest beef in the world.
MLA Community Programs Communications Manager Fiona Young said the roadshow will allow MLA to reach thousands more Australians with this fully immersive and engaging resource about Australia's red meat production system.
"Visitors will be given the unique opportunity to put on a VR headset and experience beef production in a truly unique way – and all from the comfort of our coach – including on a cattle farm, transportation, feedlot, processing facility and with end markets such as restaurants," Ms Young said.
"Recent research for MLA shows that only about one in five meat eaters have a good understanding of the Australian beef and lamb industry and there are now almost 20% fewer Australians from urban centres visiting cattle or sheep farms annually compared to eight years ago."
However, the same research reveals consumers' appetite to learn more about food production, with more than 50% interested in how Australian farmers produce beef and lamb.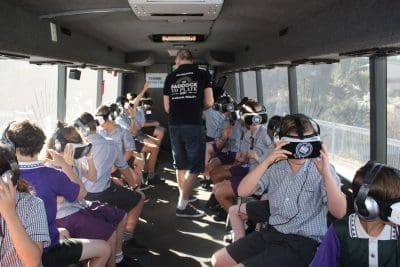 "Immersive resources such as the Australian Good Meat Paddock to Plate Story help inform consumers by addressing their growing interest in sustainability, meat quality, traceability and animal welfare practices within our industry," Ms Young said.
"This unique experience puts students and consumers at the centre of the production journey as well as showcasing our dedicated and passionate Australian beef producers.
"The Australian Good Meat Story is brought to life through immersive 360-degree virtual reality video technology and showcases our world-class supply chain standards, practises and systems that ensure Australia is offering some of the highest quality and most sustainable beef in the world."
Ms Young said the Australian Good Meat Paddock to Plate Story received overwhelmingly positive feedback from participants when it recently featured at the Ekka in Brisbane for the second year, with over 3000 people experiencing the virtual journey across the supply chain.
The Paddock to Plate Story forms an integral part of MLA's Domestic Market Strategy and broader Community Engagement program, which includes the recently launched Australian Good Meat online platform, community events, education and schools program and producer advocate development.
"Informing consumers and demonstrating that the red meat industry is transparent and open is extremely important. Community engagement and trust is integral to a sustainable and prosperous industry in the long term," Ms Young said.
Any school or community event wishing to have the Paddock to Plate Story visit them can view the proposed route and register their interest at https://www.goodmeat.com.au/ supply-chain/vr-roadshow/.