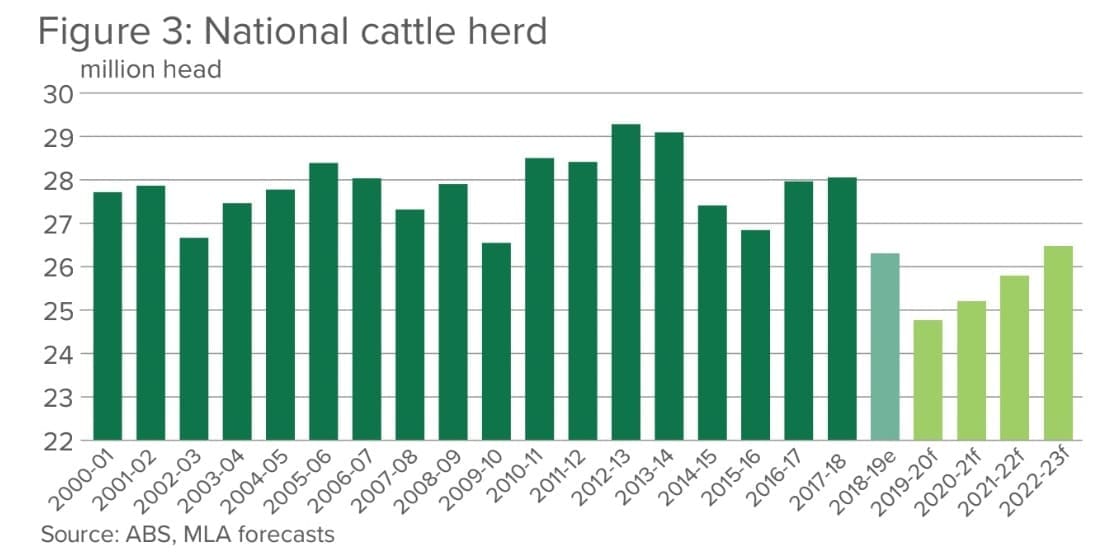 AUSTRALIA'S beef herd is expected to fall to its lowest level since 1992, as cattle producers enter 2020 on the back of one of the most challenging years on record, according to Meat & Livestock Australia's 2020 Cattle Industry Projections released this morning.
Drought conditions in most key production areas prompted widespread destocking in 2019, while financial pressures on producers were compounded by severe flooding in north Queensland last January, and more recently, devastating bushfires.
While useful rainfall in recent weeks has offered encouragement to cattle producers, turnoff is anticipated to remain elevated at the start of 2020, with further widespread follow up rainfall still required.
MLA senior market analyst Adam Cheetham said as a result of the scale of destocking, the national herd is forecast to decline 5.8 percent year-on-year by the end of June 2020 to 24.7 million head. This represents a cumulative fall of 12.4pc since June 2018.
"From a cattle supply perspective, numbers over the next two years are expected to tighten considerably. The extent of tightening will be determined by domestic and global influences, with rainfall and demand from China the stand out variables," Mr Cheetham said.
Adult cattle slaughter in 2020 is currently forecast to fall 15pc to 7.2 million head, with an expected tightening of supply as the year progresses.
Production is forecast to be down 13pc to 2.1 million tonnes carcase weight. However, carcase weights are expected to increase 3pc to average 292kg/head as a result of an anticipated increase in the grainfed portion of turnoff combined with a lower percentage of female slaughter.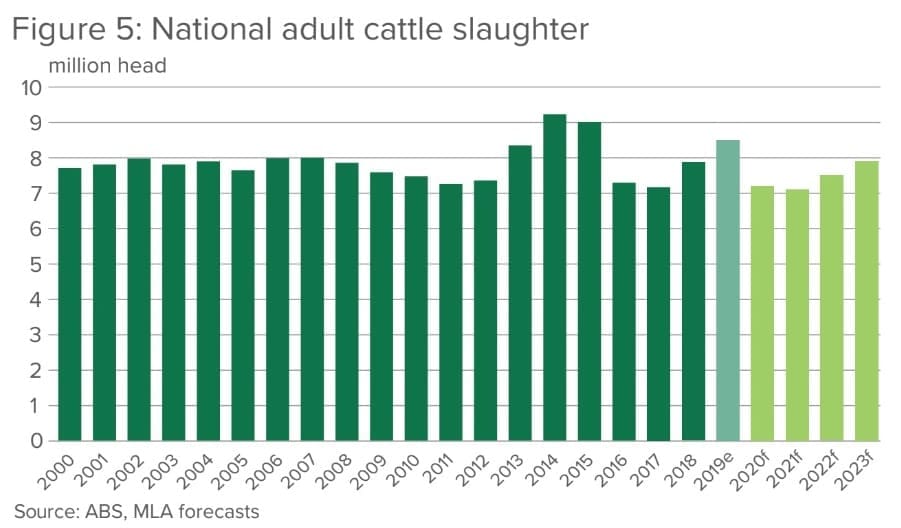 The lotfeeding sector has been growing in recent years in response to strong demand for high-quality grainfed beef and its key role in finishing cattle in drought conditions. More than one million head of cattle on feed has been maintained over the last seven quarters and this is set to continue in 2020, despite the potential for higher feed and feeder costs.
Female slaughter reached new highs in 2019, but is expected to drop off in 2020 as the herd shifts from contraction to rebuild – assuming a return to average seasonal conditions.
"However, with feed and water availability tight in many regions, any return to the extreme dry conditions during 2020 may see a repeat of 2019 trends," Mr Cheetham said.
Despite all of the pressures on producers, global demand for beef has remained robust and helped support cattle prices during these extreme conditions, he said.
"The global protein market experienced an exceptional year in 2019, with the impact of African Swine Fever in China creating a significant protein deficit and reshaping the global meat trade as more product was directed to the China market."
Australian beef exports were very much part of this shift, with exports to China growing 85pc and the market emerging as Australia's largest market by volume.
"The protein deficit in China is set to be just as apparent in 2020, but many shifts in the global landscape will impact how this unfolds, including the US-China trade relationship, production and policies from South American suppliers and policy shifts within China itself," Mr Cheetham said.
"Demand for beef from many other key markets around the world remains robust, but buyers must now compete more fiercely for that product."
In 2020, Australian beef exports are forecast to decline 16pc to 1.03 million tonnes shipped weight –  one of the lowest levels in recent years, but still higher than any year before 2013.
Australian cattle prices are expected to find support in 2020 in the event of a major improvement in seasonal conditions, as restockers, feeders and processors compete for a reduced pool of livestock. The impact of the recent rainfall on cattle prices provided some indication of their likely upwards trajectory in the event of more follow up rain and a solid Autumn break in the south.
"Young cattle and breeding stock prices will be influenced significantly by the extent of the improvement in pasture availability," Mr Cheetham said.
"Even without good rain, finished cattle prices should remain at historically high levels as a result of the strong demand fundamentals."
Click here to read MLA's 2020 Cattle Industry Projections
Source: MLA