In further evidence of consumer confusion stemming from labelling standards across meat and non-meat categories, a Coles customer has claimed on Twitter that she was tricked into buying real chicken because it was placed on a shelf in between vegan products.
A key issue in the ongoing Senate Inquiry into meat category branding surrounds whether current labelling standards, which allow non-meat products to use meat descriptors and to use words such as "beef", "chicken" and "meat" on their packaging, provided qualifiers such as "plant based" also appear, are causing confusion among consumers.
Manufacturers of plant-based protein alternatives to meat claim they do not cause any confusion, while meat producers claim labelling issues are causing problems for consumers in being able to identify real meat versus faux meat products.
In the instance reported on the weekend the shopper said in a Twitter post that she was "disgusted" to see that two chicken products between vegan products.
Sharing a photo of the freezer display, she pointed out that the store stocked products labelled "I'm Free From Chicken Nuggets" and "I'm Free From Chicken Tenders" between plant based protein products.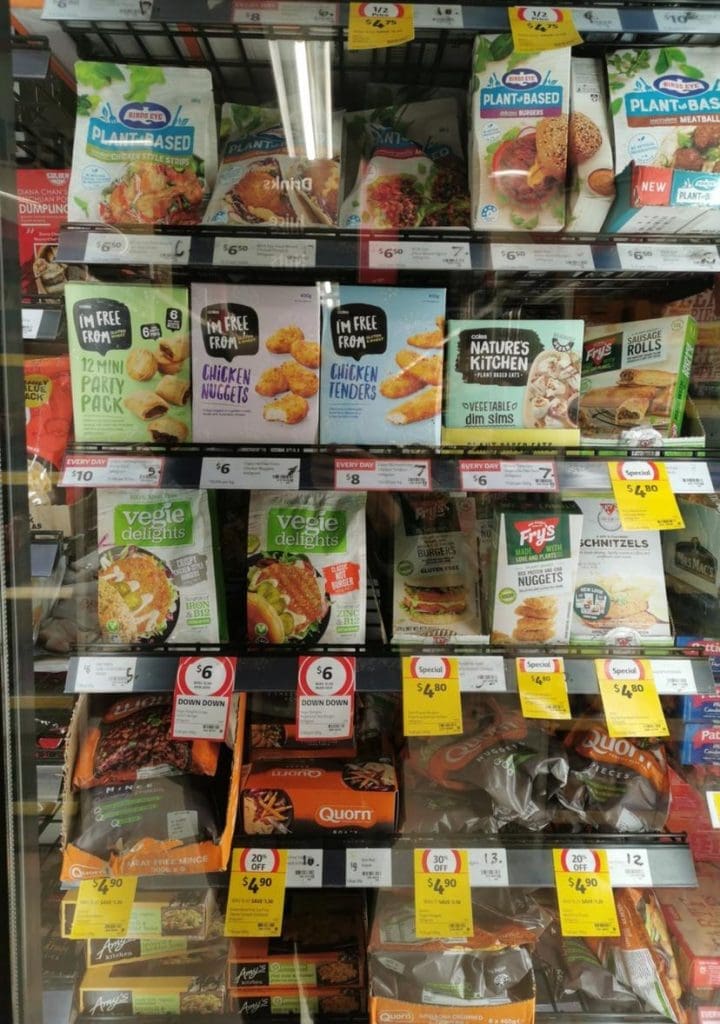 The "I'm free from" products are gluten-free, but contain meat products.
'Is it intentional that you put non-vegan products on the shelf between 2 vegan products?' she wrote.
'I am disgusted that you've just tricked me into buying & eating chicken, when we are all trying so hard to save the planet. Do you not care at all?'
A number of other Twitter users responded by saying the shopper should have been more careful when buying her products.
The supermarket giant responded directly to the Tweet explaining in some circumstances staff are forced to relocate items for space.
'As you can appreciate, in some instances it may be necessary to relocate items to create the additional space required to introduce new products and sections into our range,' Coles wrote.
'We attempt to create uniform layouts throughout our supermarkets however different store sizes and physical limitations mean that this is not always possible.'
'Nevertheless, your specific concerns have been noted and referred to the National Grocery Space Department for their information.'
In comments to Channel 7 news a Coles representative said that the supermarket was committed to providing more options for vegan customers and would investigate this shopper's claims.
"We have a growing number of customers choosing to purchase vegan and meat-alternative products and we are working hard to continue to expand that range to meet their demands," the spokesperson said.
"Where possible we group similar items together, but this is not always possible due to the different shelf space and layouts in our stores across our network," the statement continued.
"We are concerned to hear about this customer's experience and have referred this issue to the National Grocery Space Department for their consideration."
Responding on Twitter the Red Meat Advisory Council said the issue reinforced the need for stronger truth in labelling laws.
"If fake vegan products were labelled truthfully with no meat descriptors or livestock images consumers would be less confused."
Vegan outraged after being unable to tell what is meat and what is manufactured plant protein.

If fake vegan products were labelled truthfully with no meat descriptors or livestock images consumers would be less confused. https://t.co/3s1GtRmoQ3

— Red Meat Advisory Council (@redmeatcouncil) October 3, 2021