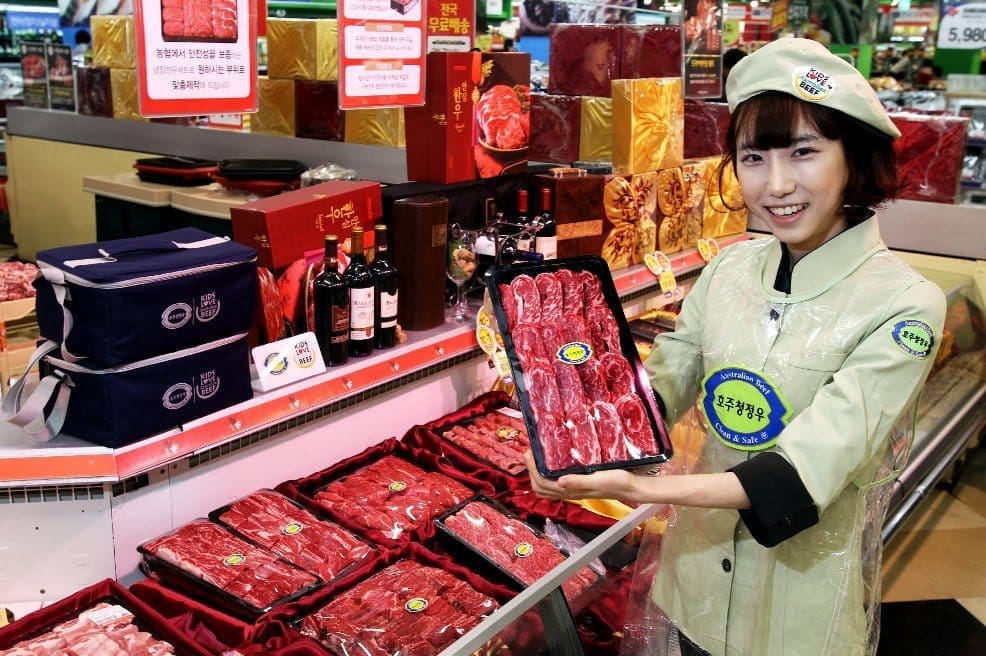 WITH the Korea-Australia Free Trade Agreement implemented in 2014, Australian exporters now enjoy improved market access, and with our clean and green image, the Korean market is rife with opportunity.
While there was huge scope for Australian food exporters to leverage off our clean and green image, it was important to understand some of the key trends driving Korean consumer demand.
These were some of the key messages delivered earlier today in a webinar marking the launch of the Australia-Korea Business Council's 'Food for Thought' Food & Beverage report.
The report identifies four key trends that Australian food exporters need to know before entering the Korean market.
Key trends identified in the report included demographic changes in the Korean population, the rapid emergence of e-commerce distribution channels for food items, and the importance of origin.
As the graph from the report published below shows, beef currently dominates Australia's agricultural exports to Korea.
While volumes to all export markets – not just Korea – were particularly low last year, annual trade to Korea in 2021 reached 165,000 tonnes, marginally up on the year before, and ranking second only to Japan in volume and value of Australia's exports.
One beef exporter – the Australian Agricultural Co, which runs 340,000 head of cattle in Queensland and the Northern Territory – has seen its beef trade in Korea grow by 30 times over the past 18 years. AA Co began with an initial supply of less than 100 tonnes of beef in 2003, now it supplying more than 3000t to Korean customers each year.
New marketing channels
Executive director of the Australia-Korea Business Council, Liz Griffin said the report aimed to prepare the next generation of Australian exporters, so they can take advantage of the Korean market's enormous potential and develop long-term, mutually-beneficial business relationships with importers, distributors and customers.
"Koreans want Australia to pay close attention to the potential of the market. Prospective exporters should do their research carefully and seek to understand Korean customers. Premium gift packaging, product reviews, e-commerce distribution channels, social media and many other aspects can all be vital and, ultimately, impact on eventual profitability. E-commerce, which has boomed since COVID-19, offers new distribution avenues," she said.
As an example, she said one online retailer was selling Australian mangoes to Korean customers for $A23 each.
Few Australian products were currently listed on Korean online grocery platforms such as G-Market, Market Kurley and Coupang, but there was great scope for Australian exporters to feature on these online platforms in future, Ms Griffin said.
There was a large amount of Australian government funding now available for the food sector, largely driven by the Agricultural Trade and Market Access Cooperation Program (ATMAC) which sought to develop strategic partnerships with trade-disrupted industries to support their expansion and diversification, she said.
In January, $500,000 was awarded to the Australian Food and Wine Collaboration Group – comprising Meat & Livestock Australia, Dairy Australia, Hort Innovation, Wine Australia and Seafood Industry Australia – to promote premium Australian food and wine in South Korea.
Clean and Green
"The KAFTA free trade agreement has levelled the international playing field vying for the Korean market – its benefits are clear and the opportunity to enhance cooperation in agriculture through the CSP are promising," Ms Griffin said.
"Yet, while Korea may be Australia's fourth largest overall trading partner, we have traditionally not been active (with notable exceptions, like beef) in the food and beverage market. This opens opportunities for Australian exporters to leverage and expand upon Australia's strong reputation as a high-quality producer of clean, green and premium products."
In particular, combined with a tailored and targeted market entry and promotional strategy, Australian exporters of premium packaged and premium fresh food and beverages have a strong growth opportunity in the Korean market."
Offal growth
Specialist Melbourne-based offal meat exporter Buddhika Ariyagma from BASP Trading said his company's business into Korea had grown since the commencement of trade in 2009.
BASP deals in a range of products including animal feed, pulses and grains, animal protein and industrial commodities.
He said the company had specialised in offals, because the muscle meat export market into Korea was extremely competitive, not only out of Australia, but also from South America and the US.
The company started trade into Korea in chicken feet, but in 2019 moved into beef, pork and chicken offals, at the suggestion of customers.
"Offal business has been consistently going well for us," he told the webinar.
"We aim to keep our customers happy in terms of quality, regular shipping and keeping them updated about what they are buying. Competition is very tough when it comes to beef offals, but the KAFTA agreement has helped us to an extent, in terms of the duties applied on Australian products."
"What we have learned in the Korean market is the need to carry out due diligence, and research, as well as establish the financial capacity and reputation of our customers. Larger companies tend to have high levels of integrity, but with smaller-scale importers, we always have to be quite careful, in establishing their motives and reputation."
"Critically important is keeping close contact with our customers, because Koreans really value communication. Regular communication is vital in understanding what the customers need, and how we can supply it.
"We have also sponsored visits to Australia by some key customers, so they can better understand our supply side. Explaining exactly what the specifications, quality and parameters are is important to overcome potential issues and problems that might arise later, once the product is in customers' hands."
Mr Ariyagama urged the Australian federal and state governments to give some animal protein industries more support in terms of international trade promotion. He said lamb and beef had been promoted by the government well already in Korea, hence some timely action was needed for the poultry and pork product sector now. Extra marketing would increase trade, he said.
Mango industry experience
Australian mango exporter Marie Piccone from Manbulloo Road, has partnered in trade into Korea through Seoul-based distributor Jinwon Trading Co.
"The most important key to establishing and growing the market in Korea was finding a great partner in Korea and focusing really hard on communication and information flow," she said.
"Be consistent, open and honest. If there is a glitch, be upfront about the reason for this and work through solutions with your local partner. Being a reliable supplier is also key, as well as staying in the market for the long haul. You can't dip in and out. That is destabilising for partners, customers and the market as a whole."
Questions at the end of the webinar included future directions for plant-based meat items in a market like Korea.
Health and wellbeing was a growing consumer trend in Korea, the audience was told, suggesting some consumers might consider plant-based meat options.
"I think it has potential for growth," a Korean trade representative said.
Australia-Korea Business Council's Liz Griffin said apart from Korean barbecue, most Koreans typically ate a small amount of meat, included in each meal.
"Compared with Australia, there are not many vegetarians in Korea. However with plant based meat and other similar products, if marketed the right way, they might appeal, especially to the younger generation, which are prioritising health and pushing back a little against the traditional Korean culture – particularly the drinking culture after work with colleagues, several times a week," Ms Griffin said.
"It's that younger generation which is pushing back saying, no thank you, we'd prefer to spend some time with our family, or go and do yoga or something else."
"This is a big trend, and in the next 10-20 years, we may see quite a big shift in terms of Korean culture and working culture, prioritising your own time, your wellbeing and your health over the traditional long-working and drinking culture."