Japanese-produced beef will feature prominently in a Sydney premium foods trade show later this month, convened by the country's trade-advancement organisation, JETRO.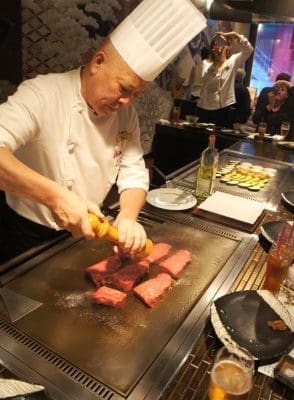 The commencement of Japanese beef trade into Australia (see yesterday's report) has attracted considerable attention in Japan, including ceremonies at airports (all of the first shipments were airfreighted) involving government and industry personnel, and wide exposure in trade and metropolitan media.
The Premium Japanese Foods Showcase in Sydney on August 20 will see 20 well-known Japanese premium food producers presenting their offerings. Included will be nine prominent Japanese Wagyu beef supply chains, such S Foods, Itoham Foods, Kagoshima Meat Export Federation, NH Foods, Zen-Noh International and Starzen (formerly Zenchiku).
Japanese-grown Wagyu will feature prominently in tasting sessions prepared by guest chefs Adam Liaw (himself a Japanese linguist) who often features the country in his television food/travel shows) and Sydney restaurateur, Hideo Dekura. Japanese television is expected to cover the event.
"For the first time in over 17 years, guests will be able to sample authentic Japanese Wagyu in Australia, freshly imported from Japan," the event invitation says. The invitation-only event is targeted at selected Australian food and hospitality trade stakeholders.
Part of Japan's Ministry of Economy, Trade and Industry, JETRO helps small to medium-sized Japanese firms maximise their global export potential. The organisation has 74 overseas offices, including Australia.