New legislation which would introduce jail sentences for people who incite farm invasion and harassment was passed by the House of Representatives earlier this month.
The Criminal Code Amendment (Agricultural Protection) Bill 2019 is now before the Upper House. Earlier this week Senators from the Legal and Constitutional Affairs Legislation Committee questioned a range of stakeholders about its potential implications. The committee is due to hand down the report from its inquiry by Friday September 6.
If passed by the Senate the Bill will introduce two offences:
One where a person uses a carriage service to transmit, make available, publish or otherwise distribute material with the intent to incite another person to trespass on agricultural land. This offence would require that the person is reckless as to whether the other person's trespass or related conduct could cause detriment to a primary production business being carried on on the land.  A person found guilty of this offence could face up to 12 months' imprisonment.
Another where a person uses a carriage service to transmit, make available, publish or otherwise distribute material with the intent to incite another person to unlawfully damage or destroy property, or commit theft, on agricultural land.  A person found guilty of this offence could face up to five years' imprisonment, to reflect the more serious nature of the incited conduct.
'Agricultural land' under the bill would cover farming businesses including intensive operations such as chicken farms and piggeries, as well as businesses operating an abattoir or an animal saleyard.
The Bill also contains exemptions for journalists and those who are making lawful disclosures of information, including whistle-blowers.  Under the exemption for journalists, the offences would not apply to material relating to a news report or current affairs report which is in the public interest and is made by a person working in a professional capacity as a journalist.
"The people who produce the food that feeds us have a right to feel safe in their businesses and their homes without the threat of activists' invasions," Deputy Prime Minister and Leader of the Nationals, Michael McCormack, said when the Bill passed the lower house on August 1.
In eight hours of hearings on Monday senators grilled almost 40 witnesses ranging from farm representatives to animal activists and legal experts.
Some of the central messages to emerge from the evidence provided included:
Mass invasions are creating genuine fear among farmers
Victorian Farmers Federation president David Jochinke, a third-generation grain farmer from the Wimmera, told the inquiry many farmers were now living in fear. Farms were not only a place of work but also a home, and suitable deterrents were needed to prevent future invasions.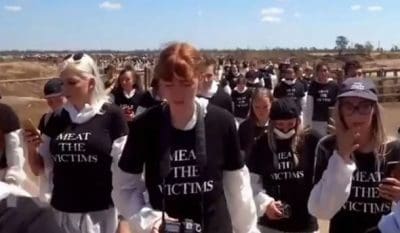 "Many of my members feel persecuted. If our members were a race, creed or colour and had data or evidence put up of their businesses or their places of residence, there would be public outcry," he said.
"Agriculture has been, in the past, an easy target—something that hasn't been protected, something that hasn't been upheld— and we're at a breaking point."
Mr Jochinke said farmers were open to having dialogue, but in a fair and respectful manner, not in a private and uninvited way.
National Farmers Federation CEO Tony Mahar said the recent surge in antifarming rhetoric and trespass "peddled by a small but loud group of activists" came at a time when Australian farmers were already being stretched to capacity by natural weather events and the increased cost of stock feed and water.
Activists had a simple but extreme agenda, he said: the end of animal agriculture.
"NFF strongly supports the right of individuals to protest and express their views in a lawful way, and also in a respectful way. This right should not be compromised, nor, however, should the right of a farmer to conduct their lawful business without the threat of disruption and harassment by trespassers," Mr Mahar said.
"Unfortunately, our legal framework is not providing sufficient deterrent, and trespass attacks are on the rise."
Mr Maher said the fact that no one had been charged under the existing provisions of the  Commonwealth Criminal Code showed existing laws were inadequate. Mr Jochinke said the existing trespass laws were no longer adequate because "technology has moved on".
NSW pork producer and chair of the New South Wales Farmers' Pork Committee Ean Pollard described the personal impact of experiencing a middle-of-the-night property raid by activists, and the ongoing consequences which had lasted well beyond the initial raid itself.
Law abiding farmers expect Govt to protect them from illegal activity
"What we really want is a strong government to oversee these procedures and processes," VFF president David Jochinke said, "to ensure that private information is exactly that; to ensure that when people are conducting businesses lawfully they are also protected; and, especially, in regional areas, where employment, confidence and the community are understood, to ensure that when people make efforts to disrupt that, when we see other forces spreading what are not necessarily truths—and they're becoming more prevalent within the community—there is some protection, some backstop to make sure that the livelihoods of farmers and the livelihoods of rural communities are taken seriously.
"Unfortunately, we're at the stage now where common courtesy is no longer the ruling force.
"We need something stronger, something that will send a message to make sure that farmers are protected and that these communities are heard, but more so that we actually have a rule of justice."
NFF CEO Tony Mahar said the NFF believed the changes in the bill would help to deter individuals and organisations actively encouraging others to engage in illegal conduct.
"We believe the passage of this bill will send a strong message to farmers that the government understands how serious this issue is and is prepared to act," he said.
"Our farmers should not have to live with the threat that their homes, properties and businesses will be invaded by extreme activists who are philosophically opposed to animal farming."
Biosecurity risks from trespassing activists are real
Australian Veterinary Association head of policy and advocacy Dr Melanie Latter said the AVA supported legislation that would prevent trespass or illegal activities on agricultural land, "mainly due to our concerns around the high risks to animal biosecurity and welfare that are involved with unauthorised entry".
"We, being veterinarians, are obviously particularly concerned about disease entry by way of what we call fomites, which is when infectious diseases are carried on the clothing or footwear of people coming into animal farming facilities.
"There is also potential for the direct transmission of diseases, such as influenza to pigs, for instance.
"There is also the risk of anyone who is accessing these facilities being affected by diseases that can be transmitted from animal to humans, and that's what we mean by zoonotic disease. We do see it as a serious concern."
Animal groups: Be more transparent, build trust and activism will decrease
A central message from the RSPCA's contribution to the inquiry was that activism is rising because there is not enough transparency in Australian farming, and many Australians believe the Government is not doing enough to ensure strong farm animal welfare standards are maintained, as evidenced by the 2018 Futureye report.
Acting CEO Dr Bidda Jones said RSPCA Australia did not support any kind of illegal activity in pursuit of animal welfare objectives and did not object to the principle or intent behind the bill.

However she said farmed animal welfare standards in Australia were lagging behind other parts of the developed world and the public was not seeing the improvements needed to satisfy its expectations on animal welfare standards.
Dr Jones said it was important for Australian agriculture to be able to provide accurate information of not only what it does well but what it needs to improve in order to build the genuine trust of the Australian public.
"You need to have that accurate information that explains, in a balanced way, why it is that practices take place and what is being done to try and address them, if they have animal welfare consequences, and how industries are moving to try and move away from practices that do cause animal welfare problems to ones that don't."
The RSPCA believes the solution lies in the Australian government investing in a national framework for animal welfare standards based on independent scientific evidence; supporting industries to transition away from production systems and practices "that are inherently bad for animals"; and establishing a national system for reporting on compliance against animal welfare standards.
"Without this, activists can and will fill the void."
Mike Rosalky, a volunteer lawyer with the Animal Defenders Office, community legal centre that specialises in animal law and is 100 percent volunteer based, said what was needed as not an 'ag gag law', as he termed the new Bill, but greater transparency from industry.
"What we need is legislation that addresses the underlying cause of animal activism – that is, a lack of transparency in animal agriculture that erodes consumer and public trust in industries that exploit and commit acts of extreme violence and cruelty to animals," Mr Rosalky said.
"A legislative response to this lack of transparency, such as requiring CCTV cameras in all animal-use facilities, would eliminate the desire of activists to enter farms and would empower consumers by enabling them to see how their food is actually produced, rather than relying on the often deceptive images and statements of animal exploitation industries attempting to sell animal products."
The Australian Veterinary Association also told Senators a broader approach 'that addresses the underlying reason for these activities,' was needed.
"We feel, in some ways, that this sort of legislation is a bit like treating a symptom but not treating the cause of a problem," Dr Melanie Latter said.
"We feel that there has been a lack of confidence, and there is this particular section of the community who feel that they need to take things into their own hands.
"We feel that building that consumer and community confidence again is key to addressing the problem."
The AVA supported industry quality assurance programs including audits of welfare standards to demonstrate compliance. This was "a great way for farmers to communicate to the public their good practices and what they're doing to improve welfare".
Poor practices could not be tolerated and better monitoring and enforcement of legal protections for animals was also needed. Dr Latter said the AVA also supports the restoration of a national animal welfare framework like the Australian Animal Welfare Strategy.
"All of those things together will help to regain community trust and address the underlying cause."
Activists goal not improved welfare but ending meat consumption
NFF CEO Tony Mahar's comment that activists were aiming to end animal agriculture was reinforced by Craig Hough, director of strategy and policy with Australian Dairy Farmers Ltd.
"That's why this bill is important," he said. "The reason these animal activists do these crimes is fundamentally that they want the animal industry shut down permanently.
"They've been pretty clear about that in submissions they've made to this committee. I quote from Vegan Australia, who've asked the parliament 'to phase out this industry entirely within 10 years'.
"If you have that fundamental belief, you're going to act in a way that's going to achieve that fundamental agenda. They're not going to be objective, and they're not going to be rational in their ways. In fact, as their rationale for that, they portray the animal industries as hiding and condoning animal abuse. Their intention is to brainwash the public and make people adopt plant based diets."
A number of activists who addressed the inquiry made no secret that there is no form of animal farming they will ever accept as humane.
"I wholeheartedly reject that animals can ever be humanely slaughtered against their will,"  said Chris Delforce, the activist who established the Aussie Farms 'farm shaming map' that helped to trigger the push to impose penalties for inciting people to trespass and harass farmers.
When pressed by Labor Senator Kim Carr if they believed the production of animals for food "was improper or should cease", Animal Defenders Office spokesperson Mike Rosalky answered, "in its current state, absolutely, and the law should turn its attention to the ways in which animals are subjected to extreme violence and cruelty'.
Media exposure still best way to achieve animal welfare changes
While stating at the outset it does not support illegal activity, RSPCA Australia's Bidda Jones told the inquiry "there is no more successful means of progressing animal welfare issues than media exposure of them."
RSPCA spokesperson Jed Goodfellow said without a formalised process to show improvement over time reflective of animal welfare science, Australia had to rely on activism and media exposes to bring about the public concern that motivates law reform and policy change.
"It's certainly not a desirable approach to law reform, we would agree with that, but in the absence of having any kind of national framework, it seems to be working at the moment."
Aussie Farms' Chris Delforce said trespass was an "unfortunate necessity" to expose animal cruelty to the public. It was okay to break the law "if the law was wrong", he said. He also rejected terms such as quality assurance compliance and transparent processes in farming as "meaningless buzz words".
Asked if he will take down the Aussie Farms website if the new legislation is passed, Mr Delforce said he certainly would not.
"I always accept that trying to expose these places will likely lead to prosecution. I think that the value of exposing them and providing that resource to consumers is far more important than anything that can happen to me personally."
He said the legislation would make it "harder for us to show people what's happening": "It's going to make it harder for us to work with journalists, to work with anyone, because no-one will want to touch any of this footage".
Mr Delforce denied that in publishing maps showing locations of farms, and publishing footage, he was inciting people to trespass or undertake illegal activity.
Law would stifle legitimate public dialogue
The Law Council of Australia said trespassing and causing damage to other people's property was unlawful and such actions on agricultural properties could cause significant harm, including distress on members of agricultural operations and potential for biosecurity breaches.
However, the Law Council said does not believe it was necessary to enact this bill, as existing state and territory laws already criminalised such conduct.
"We suggest that that State reaction is a more appropriate response than the Commonwealth relying on the telecommunications head of power to create offences of inciting a substantive offence that is already criminalised by the laws of each state and territory," Gabrielle Bashir, co-chair, National Criminal Law Committee, Law Council of Australia, said.
"We submit that the current legislation is unnecessary."
Ms Bashir said the proposed bill was too broad and in its existing form could have the unintended consequence of stifling legitimate public debate about on animal welfare. The law council also expressed concerned about the adequacy of exemptions proposed in the bill for journalists and whistle-blowers, suggesting they were not strong enough to provide adequate protection.
A submission from public broadcaster the ABC also suggested the law in their current form would have 'a chilling effect on reporting and public debate'.
Beware the 'unintended consequences'
The Animal Defenders Office claimed the bill would have the opposite effect of what it intends: "This bill significantly and unjustifiably undermines freedom of expression and will further divide the community," Mr Rosalky said. "The Australian public is overwhelmingly concerned about the mistreatment of farmed animals. And, if passed, this bill may well incite many more people to take up the fight for animals as a backlash against state-sponsored censorship of legal and extreme animal violence and cruelty."
Australian Labor Party Senator Kim Carr also questioned whether the provisions of the Bill might actually be used against farmers. For example the Lock the Gate Alliance which was made up of a lot of farmers had been engaged in "quite vociferous public protests" against mining companies. "Have you considered the implications of this bill for farming protest groups?" the Senator asked.
NFF CEO Tony Mahar said the NFF had considered the implications but said the issue at hand was primarily illegal activity by animal activists. "We would have confidence that the law would be applied on case-by-case basis and addressed on its merits of the day," Mr Mahar said.
To read the full transcript of the Senate inquiry hearing in Canberra click here
What are your thoughts? Have your say in the comment box below