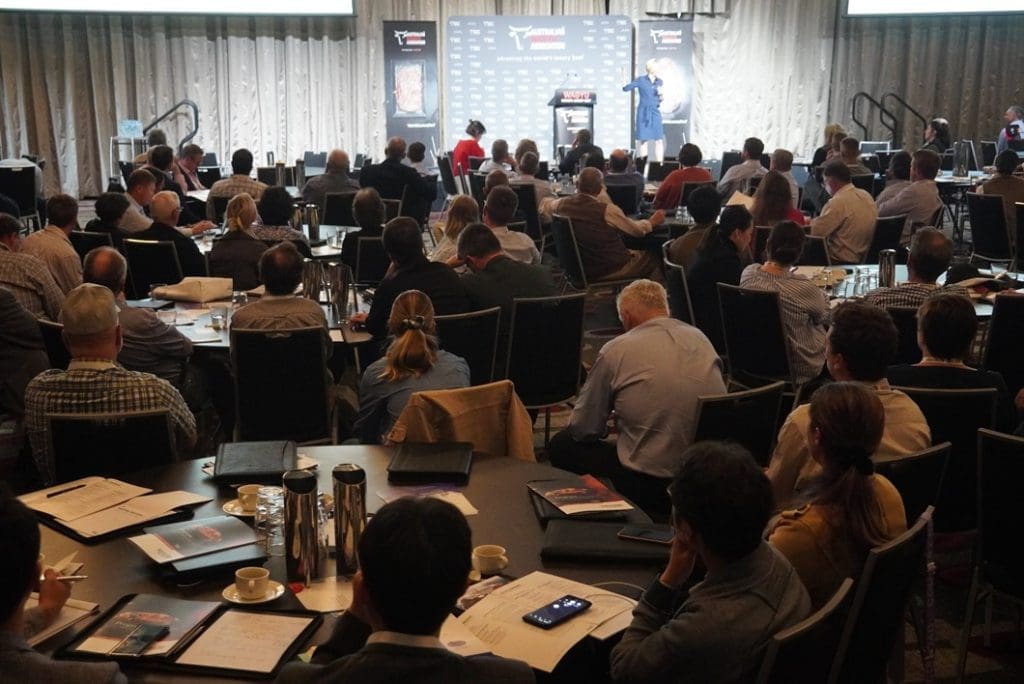 DOES the rapidly expanding Australian Wagyu industry risk reaching saturation point?
The topic was explored by several speakers during the opening stages of the 2022 Wagyu Edge Conference in Melbourne this morning.
If Wagyu feeder cattle prices are anything to go by, that possibility is currently remote, to say the least. Fullblood feeders with desirable genetic backgrounds are currently making around $12/kg liveweight, and well-bred F1 feeder steers, between $9 and $10/kg.
Queensland based vertically-integrated Wagyu supply chain Stanbroke Beef's meat sales manager Mark Harris said while Wagyu production continued to increase, the demand side 'pie' was certainly growing. The number of countries now purchasing Wagyu beef was on the rise, and the volume and proportion of consumers who are able to access and enjoy Wagyu beef is expanding.
"To me, it is sustainable growth, but at the same time it is really important for us – the Australian Wagyu industry – to maintain that top position in terms of quality and marbling performance," Mr Harris said.
"We must maintain that hold on the high-end. Yes, there is a place for lower marbling score Wagyu as well, particularly as the trade extends more into the 'mass market' segment. But we need to really leverage our clean and green reputation, our product's superior shelf-life, and our reputation for quality," he said.
"In terms of shelf-life, Australian processors have now moved from 90 days chilled beef to 120-day shelf life being the norm – and some stakeholders (including Stanbroke) are now toying with 160-180 day shelf life. That is a credit to our processing industry and the phyto-sanitary standards they maintain."
"It is a strong advantage over many of our competitors from other countries. We obviously also have a logistical advantage over international competitors, sitting on Asia's doorstep."
Competitive domestic market
Mr Harris said domestically, there were more players in the Wagyu beef space now than ever before.
"There are the long-standing traditional Wagyu brands that have been around for a decade or more. Those guys, from an outsiders' point of view, only seem to be getting bigger.
"But over the last five or so years, there have also been other meat processing companies that have traditionally not been in the Wagyu space, move into Wagyu programs for the first time. There have also been many producer-owned Wagyu brands emerge in the market – people who would have traditionally sold feeder steers to others, but now retain ownership and market the product themselves.
"There's been many success stories, which is great to see, but also some failures, which is not unexpected. There are challenges in being too reliant on one market, and there is a lot to be said in diversification in Wagyu, in our experience. In our case, we learned very quickly that Japan and Korea were not enough for our Wagyu program, and we needed different markets to take the loin cuts, for example, which Japan and Korea were not so keen on. Trying to sell a fullset into any given market is no longer effective."
More broadly in a competition sense, there was now more and more Japanese-produced Wagyu being sold internationally, to high end markets like Dubai, Singapore, Shanghai and Hong Kong, Mr Harris said. Some Japanese processors had adopted Halal certification, also allowing them to ship into Muslim markets like Malaysia.
"The US Wagyu industry also seems to be growing. Well-known US Wagyu brands like Snake River were now being joined by other new, previously unheard-of US Wagyu suppliers," he said.
Wagyu production was also growing in South America, in areas like Argentina, Uruguay, Paraguay and Brazil, and in Europe, Wagyu beef was now coming out of Poland, Ireland and even Russia.
Marbling the 'currency' of Wagyu
Despite this competitive environment, Mr Harris said Stanbroke only saw the Wagyu space continuing to grow, globally – not only on the beef side, but also on the cattle side.
"But to take advantage of that, we need to maintain that focus on the high-end – and marbling will always be the 'currency' of Wagyu. We need to continue striving for that highest quality product.
"As the global beef environment becomes more and more competitive, there will probably be increased focus on auxillary value – not only the qualities of the beef itself, but more and more, the branding, marketing, customer access tools and other features.
"Sustainability is also a buzzword for us all over the past few years. As Wagyu producers and meat businesses, sustainability is in our DNA, and its something we have always done really well. We're probably just not so good at measuring it and talking about it," Mr Harris said.
"But it is increasingly becoming a demand not only of our consumers, but our big customers. So it is really important that we get these (sustainability/carbon) indexes and measures in place, so we can have something we are able to present, and present proudly, to the consumers buying our beef."
Meat & Livestock Australia's group industry insights and strategy manager Scott Cameron also painted a bullish picture over future Wagyu prospects, and demand.
"Luxury is experiencing a real moment in terms of global consumer trends in the post-COVID era," he told the conference.
Mr Cameron presented a table showing Wagyu demand globally, with the product now available in 2000 cities worldwide, and appearing on 34,000 food service menus.
More on Scott Cameron's presentation at the AWA conference in an upcoming story.