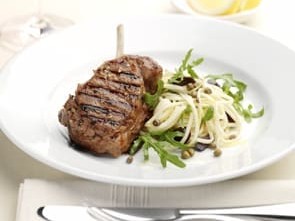 Serves: 6
Preparation time: 20 minutes
Cooking time: 16 minutes
Ingredients
6 veal cutlets
2 tbsp olive oil
2 cloves garlic, crushed
grated rind and juice of one lemon
1 tbsp green peppercorns, lightly crushed
500 g dried linguine
1 bunch wild (baby) rocket, washed and trimmed
1 cup black olives, pitted and cut into slivers
¼ cup black olive tapenade
Method
1. Place the veal cutlets in a shallow dish. Combine the oil, garlic, lemon juice (reserve rind) and peppercorns. Spoon the garlic, peppercorn mix over the cutlets.
2. Preheat the char-grill pan to hot before adding the cutlets. Cook cutlets on one side until the first sign of moisture appears on the top. Turn, brush with the lemon juice and cook further until done to your preference. Turn once only.
3. While cutlets are cooking cook the linguine according to packet directions, drain and toss through rocket, olives, reserved lemon rind and the tapenade.
4. Remove cutlets from heat, loosely cover with foil and rest cutlets for 4 minutes before serving. Divide linguine between plates and top with cutlets.
Tips
Take the veal from the fridge a few minutes before cooking. If the meat is chilled the rate of cooking will be slowed down. As this is a quick cooking method the end result will be better if meat is at room temperature before cooking. Take it from the fridge about 10 minutes before you cook (no longer).
Test veal cutlets for doneness with the back of your tongs. Rare is soft when pressed, medium is 'springy' and well done is very firm. Rest the meat for a few minutes before serving.