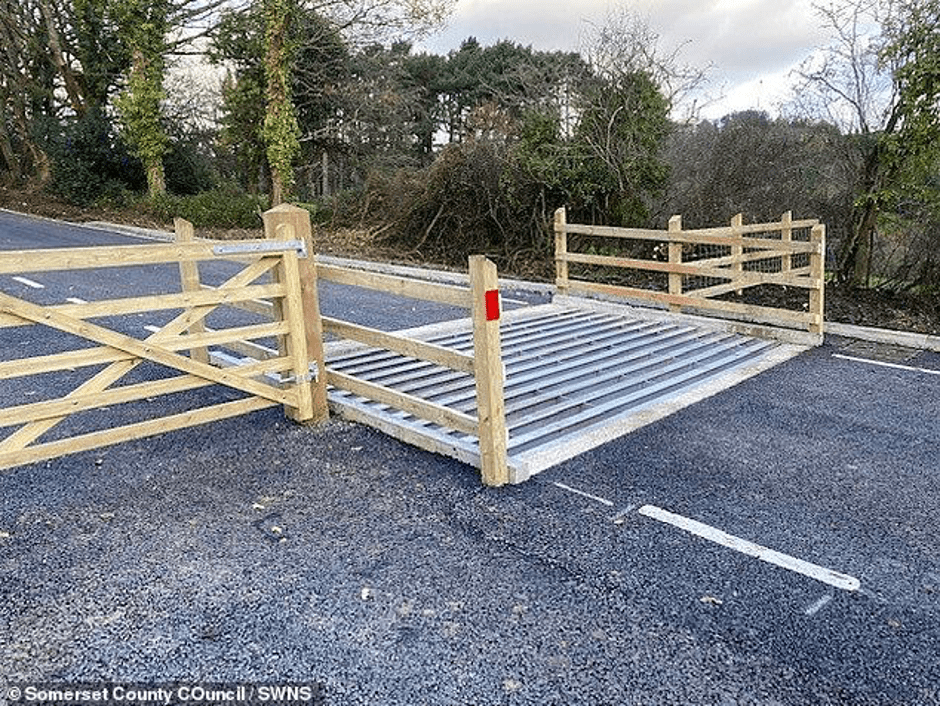 A HUMBLE old cattle grid is sometimes all it takes to trip up the most advanced car computer systems.
A county council in Britain has recently been forced to spend £70,000 replacing a cattle grid on a local highway after modern car sensors mistook the livestock crossing for a wall and automatically slammed on the brakes.
The BBC reports that several cars came off the road after their onboard computers interpreted the grid, which was cut into a steep hill, as an "obstruction".
There were no serious collisions but the Somerset County Council said action was needed because the grid on Hill Road in Minehead had been "causing a very real danger to road users".
The council's highways teams spent a month raising the carriageway approaches by about 90ft (27.4m) to create a "virtually smooth ride across the grid".
The issue was something that would "never ever have been considered" when the grid was put in "many years ago", the council's highways service manager, David Peake, told the BBC.
"It's quite a steep hill and the cattle grid's got to be reasonably level," he said.
"But the problem was this sudden change in gradient. Some of the car's sensors were detecting this as a wall so automatically applied the brakes.
"So we've actually re-profiled it to take out the sudden change in gradient."
Prof Andrew Graves, automotive analyst at the University of Bath, told the BBC that technology like "assist brake" had been around since the 1980s but "a lot of this technology is not clever enough at the moment".
"If you're following something too closely or if there's a barrier in front of you, suddenly the car will apply its brakes," he said.
"Modern cars are pretty good at doing this but they're still not perfect and sometimes they send out a very confused message."
Beef Central asked the RACQ if it was aware of any similar incidences involving cattle grids on Australian roads
RACQ Manager of Road Safety and Technical Joel Tucker said while the specific instance of grids triggering autonomous braking systems was not known to have occurred, similar issues had been reported.
"While we haven't heard of any similar instances here in Queensland, we have had the occasional report of some cars with automated driving features detecting objects near the roadside and applying brakes," Mr Tucker said.
"This technology is still relatively new and as systems improve these kinds of instances will be less likely."
The RACQ's advice to all motorists is to take caution around grids.
"When approaching motor grids we advise drivers to slow down and take extra care so any unexpected issues are minimised," he said.
Other automative experts Beef Central discussed the issue with suggested that Autonomous Electronic Braking in the UK case may have been activated by the fencing surrounding the grid, rather than the grid itself.