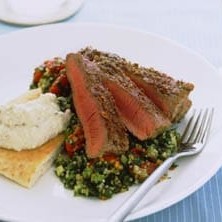 Serves: 4
Preparation time: 20 minutes
Cooking time: 8 minutes
Ingredients
4 x 200g rump steaks
2 tsp cumin seeds
2 tsp coriander seeds
1 tbsp oil
small tub baba ganoush or hummus and pita bread to serve
Tabouli
1 punnet cherry tomatoes, halved
2 tbsp cracked wheat, soaked in 2 tbsp water
1 large bunch flat leaf parsley
1 bunch mint
4 spring onions, finely chopped
1 Lebanese cucumber, finely diced
¼ tsp cracked black pepper
juice of one lemon
2 tbsp extra virgin olive oil
Method
1. Brush the steaks lightly with oil. Season with salt. Combine cumin and coriander seeds and toast in a small dry frypan until seeds are fragrant. Remove from pan and grind/crush into a powder. Rub ground spices on the steaks.
2. Preheat the barbecue flat-plate or char-grill plate to hot before adding the steaks. Cook on one side until the first sign of moisture appears. Turn steaks once only. Test the steaks for degree of doneness with tongs. Rare is soft, medium feels springy and well done is very firm.
3. Remove steaks from heat, loosely cover with foil and rest steaks for 5 minutes before serving. To serve cut the steaks into slices and serve with the tabouli.

To make Tabouli: Preheat the oven to 200ºC. Place the halved tomatoes on a baking tray lined with baking paper and bake in the oven for 15 minutes or until soft. Place in a bowl and add the cracked wheat. Finely chop the parsley and mint and add to the bowl along with the onions, cucumber and pepper. Toss through the lemon juice and oil and season to taste.
Serving suggestion: Accompany with dollops of baba ganoush or hummus, and pita bread.
Tips
You can also pan-fry the steaks for this recipe.
Preheat the barbecue to hot before adding the meat.
Instead of oiling the pan it is better to oil the meat. Either brush it lightly or rub a little oil into it.
Best beef steaks for barbecuing: fillet/tenderloin, rib eye/scotch fillet, sirloin/porterhouse/New York, T-bone, rump, round and blade, oyster blade.