Internationally renowned New Zealand geneticist and animal breeder Professor Dorian Garrick had some pats on the back for Australian Angus breeders at the Angus Through the Ages conference in Albury last week.
But this was followed with a sobering warning that breeders were selecting too heavily on terminal sire traits at the expense of important maternal efficiency traits.
Angus breeders had made "tremendous improvements" in terminal sire traits over the past 30 years which had led to higher weaning weights, higher yearling weights and higher carcase weights, and increased the value of their product.
An average 2017-born steer earned $103/head more than a 1980 steer. (Importantly though not all of that benefit was captured by cow-calf operators, with some captured by feedlotters and processors).
However, they were falling short on key maternal traits that are becoming increasingly important as society demands more efficient production and a smaller environmental beef hoofprint.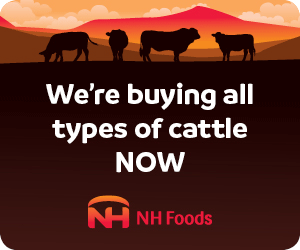 With bigger cattle has come increased feed costs. The cost of feeding the average Angus daughter in 2017 was $57/head more than the average Angus daughter in 1980.
And all of those costs are carried by the cow calf operator.
"So collectively I would say the cow calf operator, the genetic change that has occurred since 1980 has not been what I would consider to be improvement," Dr Garrick said.
"The cloud has moved, it has moved hugely, but it has moved more in a terminal sire direction and not enough in a maternal cow direction."
Dr Garrick has had a distinguished 37 year career as an animal breeder at Massey University in NZ and also at various universities in the United States including Cornell, Colarado State and Iowa State. He is a global authority on livestock improvement through pedigree selection, genetic and genomic evaluations and the development of cross breeding model predictions.
His key message to last week's audience in Albury was that the beef industry needs to improve the efficiency of beef production, which involves focusing on number of traits not being given adequate consideration at present.
Dr Garrick said improved efficiency could certainly be achieved with well-designed genetic selection programs, but had to be focus on total merit indexes.
And the change would need to be led by innovative breeders and entrepreneurs.
Dr Garrick said a rear-view mirror analysis of objective measurement data in a herd or across an entire breed provided a clear demonstration of what was being prioritised in selection decisions.
He offered the below example of data showing the genetic trend of weaning weight and yearling weight in the American Hereford industry from 1975 to 2015.
After rising sharply from 1980s through to the 1990s the rate of ascent clearly slowed somewhat.
Dr Garrick said that bend illustrated the emergence of ultrasound testing in the 1990s, which led to the prediction of merit for carcase characteristics in the American Hereford herd.
"Up until that time selection was primarily on growth, so when Hereford breeders chose to move the cloud they now had the opportunity to put more emphasis on improving the carcase merit and less emphasis on growth, and we can see that here as a bend in that curve for growth rate."
Similar data for American Angus from 1980 to 2015 demonstrated that Angus breeders had not changed their attitude about growth in the same way.
Weaning weight, yearling weight and carcase weight have gone up and up over the same period: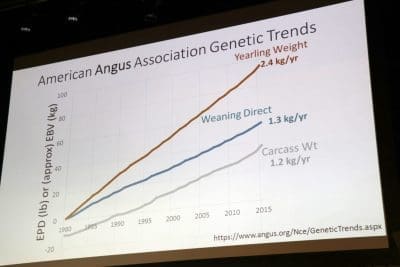 The trend toward bigger and bigger carcases was being driven not by the abattoir or processor end but way back in the bull selection process, a couple of generations animals were born.
It was being driven by American Angus Association dollar indexes such as the one below showing that average 2017 feedlot offspring earned $103 more at slaughter due to improved postweaning performance and carcase characteristics than 1980 offspring.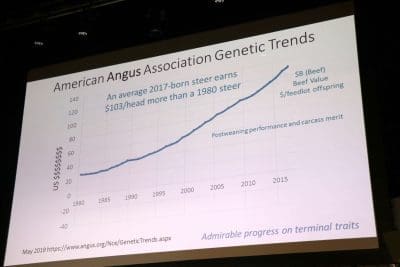 While that had been a fantastic performance on those terminal traits, other genetic trends showed the cost of feeding an average Angus daughter in 2017 compared to 1981 was about $57 more feed per year."

Clear breeding goal essential
Dr Garrick said professional animal breeders can design a breeding program based around the goal a breeder wants to achieve. Every breeder should be able to describe their breeding goal in the time it takes an elevator to rise a single floor.
As an example one dairy breeding client in New Zealand used to have a goal defined by "profit per hectare", but now defines their goal in terms of "profit per 4.5 tonnes of dry matter". (Why 4.5 tonnes of dry matter specifically? That is the average amount of dry matter a dairy cow in New Zealand averaged across breed and her share of replacements eats in a year.)
"So they recognise we're in a pastoral production system, and some cows are bigger and eat more, and some cows are smaller and eat less, but the goal is profit per unit of food consumed," he said.
The next step is to define what needs to change to advance your animals toward your goal. This involves identifying the list of traits you want to change and the relative emphasis of each of those traits which then defines an index to summarise the merit of those animals.
That informs which individual measures are required to produce the relevant EBVs and which animals need to be measured and how the breeding program is structured.
Dr Garrick said in the US an increasing number of commercial Angus cow calf operators were now mating Hereford bulls to Angus cows, because of the view the American Angus Association has not placed enough emphasis on maternal traits. "That is why the Hereford association has seen such a success in bull sales in recent times in the US," he said.
A final step was to do an economic analysis to look at the overall benefit and costs. "I could easily double the rate of improvement in any industry I have ever had anything to do with, but the costs of implementing those improvements could be more than the benefits that flow right through the system. So in my job and probably in your jobs as well it is all about compromise, and only spending the money where we know that we get a good return on that investment."
You are doing a good job of selecting for the income traits – particularly growth and some of the things that affect eating," he said.
"What are the things you could do a better job of selecting on? Well I would argue it is everything else.
"So why aren't these other traits being adequately considered? Well I think part of the problem is that you are not selecting on the total merit indexes."
While most breeders would say they are selecting on total merit indexes, he said a rear vision mirror look often showed that was not the case.
"In particular the one that tends to get missed out a lot is the maternal system traits," he said.
"You are not measuring enough of the less tangible attributes, the things that can't be measured in a production system." This included attributes such as carcase merit on a breeding animal, or ones that were too expensive or labour intensive to measure such as age of puberty. Nor were these traits being rewarded by bull buyers, who tended to like buying the
"If you asked me about the value proposition among the bull breeding sector I would say the big problem with beef industries globally is there are too many animals being recorded and not enough traits being recorded," he said.
The changing regulatory environment was also underlining the importance of maternal traits. Cattle producers in New Zealand for example must now comply with specific urine nutrient excretion limits. It is anticipated dairy markets will increasingly ban dairy products produced from animals that are genetically horned, because they have to be dehorned in ways that social media indicates is not appropriate.
Traits producers could to be a better job of selecting included reproduction, longevity, healthfulness, feed efficiency, animal welfare and environmental hoofprint.
Social media and online forces continued to highlight a perceived lack of efficiency of beef production. Critics of beef production regularly point to figures indicating it takes 25kg of feed to produce 1kg of beef, by far the least efficient of all animal proteins. (People in the beef industry understand that much of that intake is food nothing else would eat, but consumers making a purchase decision still see it as beef being worse than any other animal protein on that score).
"You can move the cloud in anyway you like, so if you wanted to make your goal to improve to improve the protein efficiency of beef production, we could make huge improvements in this particular characteristic, but that is not what you are going to achieve by accident by selecting on things like yearling weight," Dr Garrick said.
50 years ago most people ate beef and lamb every day and chicken on special occasions. Now that trend had largely reversed. These per capita meat consumption trends highlighted the success the poultry and pig industries have achieved in using genetic selection programs to make chicken and pork production as efficient and cost effective as possible.
"One of the reasons that we haven't been able to achieve the same things here is we have been focusing too much on those terminal sire characteristics and not enough on those whole systems aspects," Dr Garrick said.
"So in summary we really need to improve the efficiency of beef production, and we need to be seen to be trying to improve the efficiency of beef production and particularly that means reproductive efficiency, birth to finish efficiency, and doing so involves a number of traits, many of which we're not adequately considering.
"Selection is a proven and cost effective mechanism for doing this, but it needs to be based on whole system indexes, not just say a feedlot index.
"Genomics allows us to get predictions of these things in all kinds of ways we couldn't do in the past, but we need to do it in a way that doesn't give us market failure, and rewards the individuals that invest in those activities.
"And if we are going to do this it is not going to be led by people like me who talk about it, it is going to be led by people like you who do it.
"It needs to be led by innovative breeders and it needs to be led by those among you that are entrepreneurs who can see business opportunities for these kind of things."