This competition takes some winning: More than 1000 steers entered by over 50 individual exhibitors, judged on their liveweight performance on the hoof as well as their processing and eating quality performance on the hook.
The overall winners of the 2017 RNA Paddock to Palate Competition announced at the Brisbane Ekka this morning demonstrated you don't have to be the biggest to produce the best cattle.
There were many winners across the various classes but the biggest winners of all were Ken and Kerry McKenzie of Yaralla Droughtmasters, Blackwater, Qld; Rob and Kelly Lamoureux of Kingsford, Armidale and Alan Hoey and Darren Hamblin in the new Wagyu section.
Overall winners Class 37 – 100 day export
Ken and Kerry McKenzie, Yaralla Droughtmasters, Blackwater have become synonymous with success in Central Queensland liveweight cattle competitions, and have featured prominently in prime cattle championships at the three-yearly Rocky beef expos.
Ken said they saw the RNA Paddock to Palate competition as a blue ribbon event, so made the effort to put their cattle to the test further south for the first time this year.
"We have won a fair few competitions on the hoof so we wanted to see if they hang up all right," Ken explained. "This competition is the whole package – not just live, but finished product, hang up and taste."
They won the 100-day competition in their first attempt with progeny from a cross of Simmental and Droughtmaster bulls over F1 Simmental Droughtmaster cows.
The McKenzies said they began trialing the Simmental Droughtmaster cross on the advice of a feedlot buyer who often buys their cattle and found it to be very good cross.
So what's the secret to their continued high-level success in prime cattle competitions?
"Hard work" Ken said with a grin, before adding that it was also important to try to pick cattle that were middle of the road.
"The females have to be fertile," he said. "Try not to go to extremes, just look to breed efficient functional cattle.
How much of that success comes to down breeding and how much to feeding? "It is a combination – to go in any competition, they have to be on a rising plane of nutrition from weaning, if you have major setbacks you won't win major competitions," he said. "But also the genetics have to be right too."
The McKenzies run about 1600 breeders with the aim of producing progeny to grow to feeder cattle.
Overall winners – Class 38 – 70 Day Trade
Rob and Kelly Lamoureux, Kingsford, Armidale run a small herd of 250 cows near Armidale, NSW. They must be some cows, and the Lamoureuxs must be some producers, because they have just won one of the toughest prime cattle competitions in Australia twice in just two attempts.
They won the same award in their first try last year.
The Lamoureaux's winning cattle were Santa Angus Black Simmental cross, the progeny of Santa Angus cows joined to a home-raised Santa Angus Black Simmental bull.
Their entry also won reserve champion carcase in the 70 day competition, and won the Eating Quality and Highest Individual Index Score in the 70 day competition.
Kelly said the win was a gratifying endorsement of the consistency of their cattle.
"I think coming on the back on the win last year, it just means there is the consistency there," she said. "It shows last year's win wasn't a fluke, a bit of luck, there is the genetic consistency."
Rob and Kelly said their approach to breeding is really about getting the basics right. They explained that they have never been swayed by EBVs, and focus on confirmation and structure of cattle, and putting the right type of cattle to the right type of country.
"We don't try to have the biggest cows in the world, we try to match our cattle to the country."
In some ways smaller scale was an advantage.
"I think that is a bit of a consideration," Kelly said. "Because we're small our cattle get a bit more personal handling, so the cattle are quieter and I think they cope with the stresses of feedlots perhaps a bit more than perhaps calves that have come out of a big mob that aren't handled as often."
Overall winners –  Class 39 –Wagyu Challenge
Pens of F2 Wagyu cattle entered by Alan Hoey and Darren Hamblin dominated the overall inaugural Wagyu Challenge.
Mr Hoey, from Allora, is a genetic consultant who works with Darren and Melanie Hamblin, Hamblin Pty Ltd, who have a large commercial Wagyu breeding operation on several properties from north Queensland to Southern Queensland.
One of the winning pens was sired by Wightman Itoshigenami X91 and another by renowned F1 sire Michifuku.
Using the extensive data collected in the operation, Mr Hoey picked the pens on dam lines.
The six cattle in the winning pen all had the maximum AusMeat marble score of nine.
"Alan picks them on the dam line, he understands genetics like you wouldn't believe, so he picked them all basically," Mr Hamblin said.
"It is the strength of the dam line that made them marble basically, and they all marbled nine.
Ultimately it came down to collecting, understanding and using data, he said.
"You could almost say we have an advantage in that we know our cattle so well we can hand pick cattle to put in a completion – We know every animal, we know every cow, we know how she performs, because our database works that out for us."
Major winners – Carcase section:
37B – 100 day Champion Carcase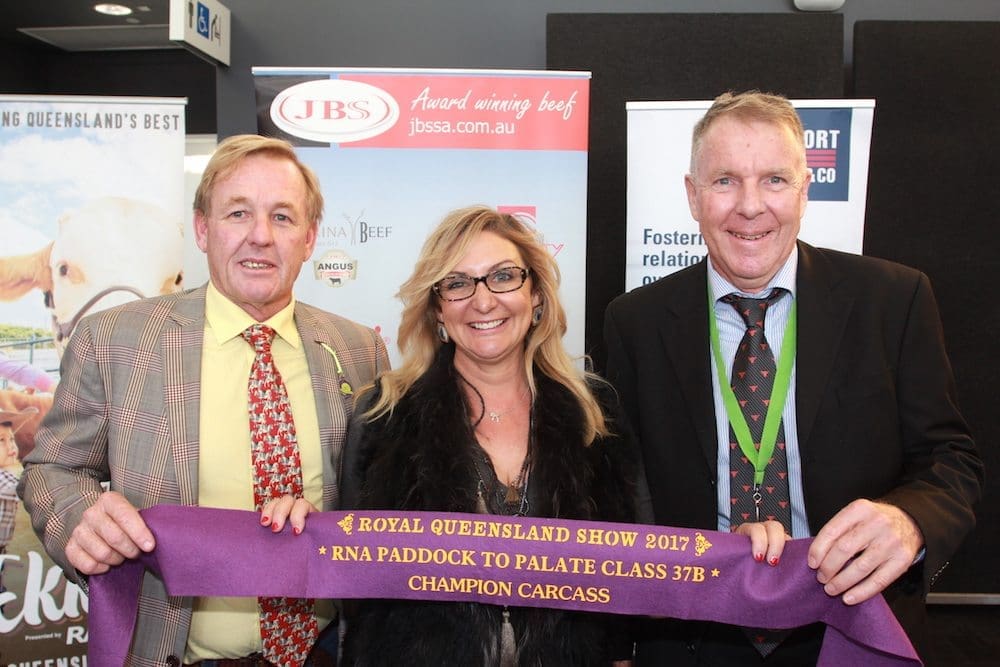 Scott and Jenene McLellan from Dalby, pictured with JBS' Steve Groom, won the award for champion carcase in the 100 day class with progeny of Charolias bulls over a Droughtmaster base. Reserve Champion Carcase honours were won by Brangus/Hereford cross steers exhibited by Ian and Anne Galloway, Galloway Cattle Company, Roma.
Class 38B – 70 day Champion Carcase
All winners and placegetters
Class 37 – 100 day export
Overall winners:
KD & KL McKenzie (Droughtmaster X)
Palgrove Pastoral Co P/L (Charolais)
Riverglen Pastoral Company (Charolais)
Scott and Janelle McLellan (Charolais X)
D & AD Bassingthwaighte & Co (Santa Gertrudis)
Comiskey Bazadais (Bazadais X)
Class 37A
Atkinson Pastoral Co (Angus, Drough x)
Atkinson Pastoral Co (Angus, Drough x)
Gyranda Pastoral Co (Santa Gertrudis)
Class 37A Highest individual weight gain
David Bassingthwaighte and family (Santa Gertrudis)
Class 37B
Comiskey Bazadais (Bazadais X)
John and Estelle Drynan (Charolais/Charbray)
Scott and Janene McLellan (Charolais X)
37B Champion Carcase
Scott and Jenene McLellan (Charolais X)
37B Reserve Champion Carcase
Galloway Cattle Company (Brangus/Hereford X)
Class 37C
Rosedale Livestock Partnership (Charolais x Red Angus)
RB and KK Lamoureax (Santa/Angus/Black Simmental)
G Morgan & Co (Shorthorn)
Class 37C Highest Individual Index Score
McNicholl Family Trust (Angus x Shorthorn)
Class 38 – 70 Day Trade
Class 37 Overall
RB and KK Lamoureax (Santa/Angus/Black Simmental)
Minnamurra Pastoral Company (Speckle Park x Angus)
Greenup Eidsvold Station (Santa Gertudis)
RB and KK Lamoureax (Santa/Angus/Black Simmental)
G Morgan and Co (Shorthorn)
Class 38A Best Weight Gain
Gyranda Pastoral Co (Santa Gertrudis X)
Yulgilbar Pastoral Co (Santa Gertrudis)
Yulgilbar Pastoral Co (Santa, Angus X)
Class 38A Highest Individual Weight Gain
Atkinson Pastoral Company (Ang,Droughtmaster x)
Class 38B carcase
Minnamurra Pastoral Co (Speckle Park x Angus)
RB and KK Lamoureux (Santa/Angus/Blk Simmental)
Tim and Phyllis Carlill (Charolais X)
Class 38B Champion Carcase
Greenup Eidsvold Station (Santa Gertrudis)
38B Reserve Champion Carcase
RB and KK Lamoureux (Santa/Angus/Blk Simmental)
Class 38C Eating Quality
RB and KK Lamoureux (Santa/Angus/Blk Simmental)
RB and KK Lamoureux (Santa/Angus/Blk Simmental)
McCLymont Farming Trust (Black Angus)
Class 38C Highest Individual Index Score
RB and KK Lamoureux (Santa/Angus/Blk Simmental)
CLASS 39 – Wagyu Challenge
Class 39 Overall
Alan Hoey, F2+
Hamblin Pty Ltd F2+
Alan Hoey, F2+
Hamblin Pty Ltd F2+
Hamblin Pty Ltd F2+
S & J Maller, Fullblood
S & J Maller, F2+
Alan Hoey, F2+
Class 39 A Best weight gain
Stanbroke Beef
Wentworth Cattle Co
Bristow Hughes
Class 39A Highest Individual Weight Gain
Stanbroke Beef
Class 39B Carcase
Alan Hoey
Hambin Pty Ltd
Alan Hoey
Champion Carcase
Hamblin Pty Ltd
39B Reserve Champion Carcase
Alan Hoey
39C Carcase Value
Hamblin Pty Ltd
Alan Hoey
Hamblin Pty Ltd
Class 39C Highest Individual Carcase Value
Wentworth Cattle Co
Class 39D Beef Taste-Off
Hamblin Pty Ltd
Alan Hoey
Hamblin Pty Ltd